A Check-Up on What You're Reading: Our Top Healthcare Blog Posts of 2019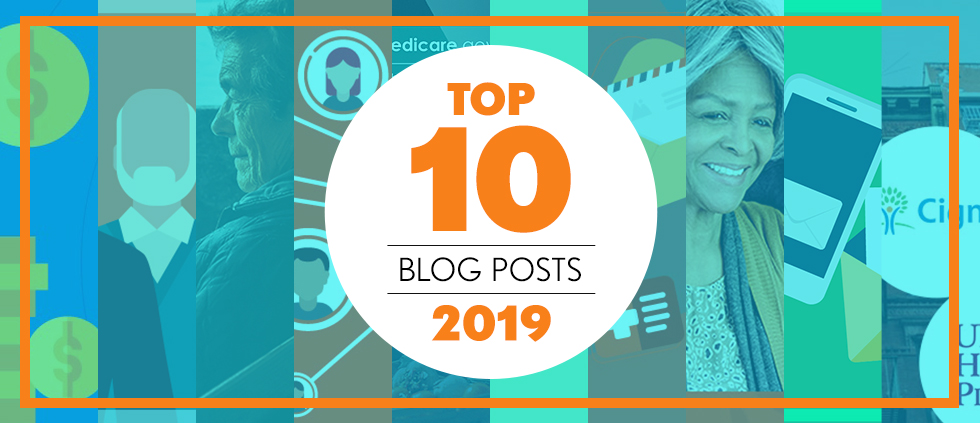 We're so pleased to see the diversity of topics on this year's list of top healthcare marketing blog posts! Of course, Medicare topics continue to interest readers with news from CMS, ways marketers are using paid social advertising, interesting AEP campaign highlights and influencer outreach. Speaking of influencer outreach, readers also wanted to learn more about influencer marketing for healthcare brands along with ways that content marketing can boost health literacy. There was also a lot of interest in special needs plans (SNPs) and the social determinants of health (SDoH) – both trending topics that we will be writing more about in 2020!
Take another look at these perspectives from Media Logic's healthcare marketing experts. We think our most popular posts from 2019 will inspire you to ask more of your upcoming marketing campaigns and explore new opportunities in the coming year.
1.
Health Insurers 'Paid-To-Play' on Facebook for 2019 Medicare AEP Marketing
In 2019, we saw a growth in Facebook advertising and an increase in digital advertising spend by health insurers during the 2019 Medicare Annual Election Period (AEP). With the number of seniors on Facebook, it is a smart addition to your marketing mix – both paid and organic platforms.
2.
5 Ways Health Insurers Are Addressing the Social Determinants of Health
Conversations surrounding the social determinants of health (SDoH) are top-of-mind as the move toward a more value-based healthcare model continues. With this in mind, we took a look at five efforts that health insurers made in 2019 to address SDoH.
3.
2019 Medicare AEP Campaign Highlights from Regional Health Insurers with Strong Enrollment Growth
It's clear that our readers have Medicare marketing on their minds! Year after year, one of our more popular blog posts is our analysis of the previous year's AEP marketing campaigns. For 2019, we decided to switch it up! Our team looked at some successful regional health plans who generated double-digit growth compared to the 2018 plan year and pulled out some interesting creative approaches from their direct mail pieces. We compiled our observations into a SlideShare.
4.
Medicare Marketers, Take Note of Key Influencers
In keeping with the trend of Medicare marketing, our readers were also interested in learning about influencers that they should engage with such as agents/brokers, providers, financial planners, elder lawyers and CPAs. Why? Insights from resources such as Deft Research find that there is a growing number of agents/brokers used during AEP, and they have an increasingly significant role in the decision-making process.
5.
Common Themes Found in D-SNP Direct Mail Marketing Campaigns
Dual-eligible special needs plans, or D-SNPs, are for seniors who qualify for both Medicare and Medicaid.Earlier this year, Healthwise listed these plans (D-SNPs) as one of their "Four Medicare Advantage Trends to Watch." We know that the growing dual eligible population presents a big opportunity for health insurers, so we took a look at some of the direct marketing tactics used by insurers to promote their D-SNP plans.
6.
What's Up with Medicare's New 'What's Covered' App?
There was a lot of news coming from the Centers for Medicare & Medicaid Services (CMS) in 2019! Many of our readers were interested in reading about the release of Medicare's new 'What's Covered' app, which is part of their eMedicare initiative to modernize Medicare. Later on in the year, ahead of the 2020 Medicare AEP, CMS also announced the launch of a new Medicare Plan Finder (MPF). To get more feedback on the overall experience, we asked an actual user to provide a "deep dive."
7.
4 Ways Health Insurers Are Addressing Loneliness, a Social Determinant of Health
With the attention being paid to the SDoH overall, it's no surprise that another blog post found its way onto this list. Once considered "the overlooked social determinant," according to Open Minds, several health insurers are making an effort to tackle loneliness. Cigna even went so far as to address mental health, loneliness and stress in an integrated marketing campaign that we took a closer look at in another blog post.
8.
Influencer Marketing Considerations for Healthcare Brands
There is value in influencer marketing, with two-thirds of marketers increasing their budgets for it in 2019, according to Mediakix. We wanted to look at influencer marketing and how regional health plans and smaller healthcare brands can use influencers effectively, along with a few influencer marketing tips and best practices.
9.
How Content Marketing Aids Health Insurers in Curing Ailing Health Literacy
Health literacy is definitely a problem! According to a report from Accenture, poor health literacy has created an estimated $4.8 billion in administrative costs for payers. We talked about how content marketing is a great vehicle to drive information to the forefront in a way that is simple, informative and compelling for healthcare consumers.
10.
Medicare Marketing Insights: 2019 Senior Media Preferences
Toward the end of 2019, we released the results of "Year Two" of our Senior Media Preferences – 2019 Media Habits Study. These insights can help healthcare marketers optimize Medicare marketing channel selection for both New-to-Medicare marketing and Medicare Annual Enrollment Period (AEP) marketing in the year ahead. Results can be downloaded here.
What marketing topics will be on our readers' minds in 2020? We're looking forward to answering that question. In the meantime, if you have a question or a content suggestion, please feel free to contact us.
Here's to a happy, prosperous and well-informed new year!