Health Insurers 'Paid-To-Play' on Facebook for 2019 Medicare AEP Marketing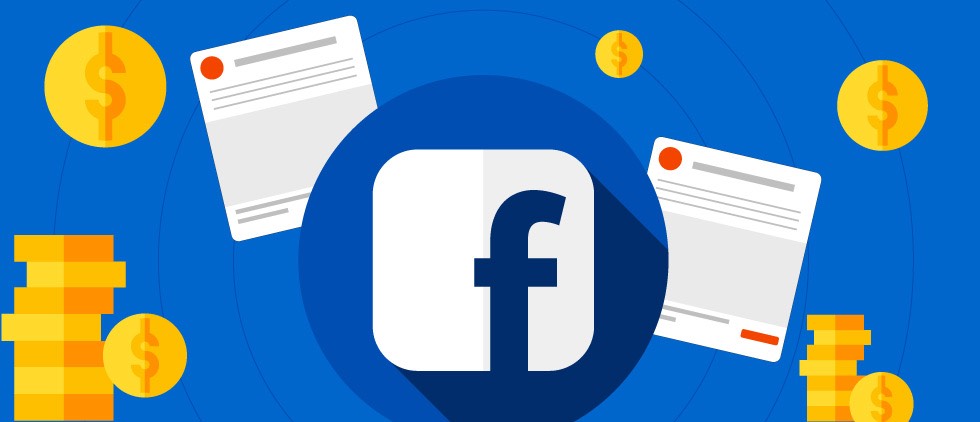 For Medicare marketers, Facebook can be a smart addition to your marketing mix – but be ready to spend some dollars! Sprout Social's 2019 Social Media Demographics found that 65% of 50-64-year-olds and 61% of 65+ year-olds use Facebook. Last year, Facebook rolled out an algorithm change leading to a decline in organic post reach for business pages. However, we are also seeing a growth in Facebook advertising. According to Hootsuite, about 24.2% of all Facebook pages are using paid media (and there are over 80 million business pages out there). As a paid advertising platform, Facebook is very cost-effective, highly-targetable and can be used by health plans to target prospects, website visitors and Facebook page visitors.
According to Mintel's 2019 Medicare Annual Election Period Trends report, digital advertising spending increased significantly year-over-year among leading health insurers in Q4 2017 versus Q4 2018. This number points to an increased spend in paid social media, including Facebook advertising. With some help* from Mintel, we've provided a few creative examples of health insurers who used paid Facebook ads leading up to and during the 2019 Medicare Annual Election Period (AEP).
Ads targeted based on age, location and language
As mentioned above, Facebook advertising is a highly-targetable channel. Facebook Business Manager allows marketers to create custom audiences based on location, age, gender and languages. Kaiser Permanente likely used these targeting features to deliver plans to Medicare-eligible prospects in specific regions of the country and also to Spanish speakers. When translating content, it's recommended to use a professional translator and not a free translation tool. Many times, especially within a marketing context, the message gets "lost in translation" and the overall meaning of the message does not convey properly. An inaccurate translation can even be misleading or offensive.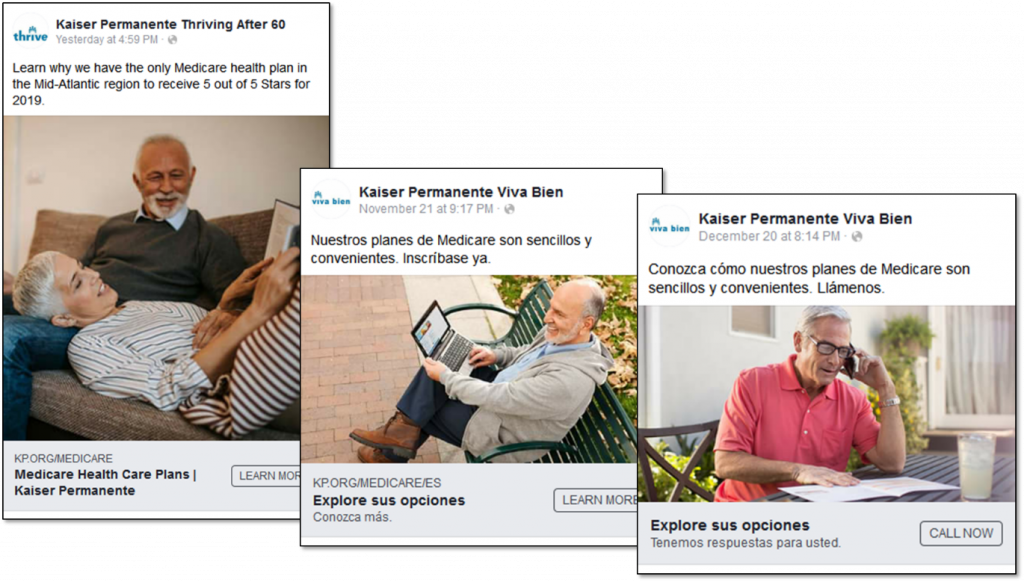 Ads focused on Medicare education
The Medicare process is complicated. Humana ran ads that provided guidance on the ABC's of Medicare and a Medicare Quiz for beneficiaries as an interactive way for them to test their knowledge. The call to action (CTA) leads to a landing page that provides more information on these educational topics. One of the benefits of paid Facebook ads are that they get better reach (the number of unique people who see your content). This can lead to more website traffic and, ideally, more members.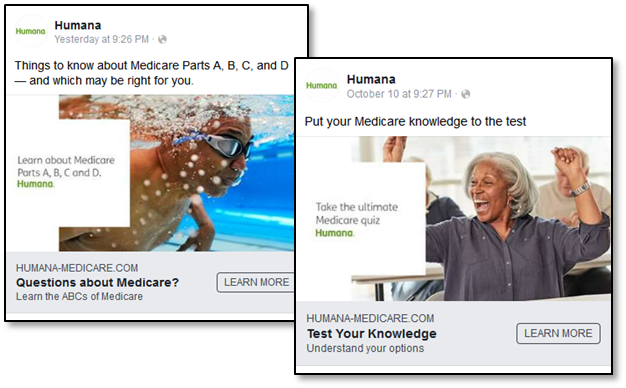 UnitedHealthcare compared choosing a Medicare plan to a navigating a maze. They positioned themselves as the right health plan with the right tools and people to help end the confusion. These ads are a direct pickup of the TV ad campaign that they ran during 2019 AEP. Facebook ads are one of many channels that should be used to execute a surround strategy. For video ads, Facebook says that nearly one half of the ad's value is reached in the first three seconds – keep it short! Have a call to action that directs prospects to either a website or to prompt them to sign up for a brochure, kit or follow-up phone call.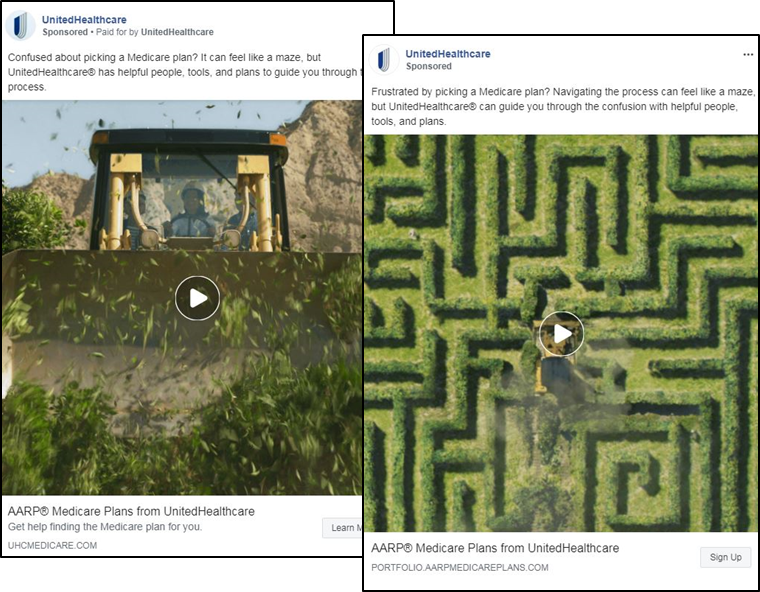 Ads focused on "overall well-being"
All three of the examples listed below focus on the "total approach to your health" and wellness. For Aetna, this was a continuation of their overall campaign messaging used in direct mail and other digital ads. All three health insurers used photography featuring seniors engaged in activities and exercise. In their messaging, health plans are encouraging seniors to improve health and wellness, have fun and get out into the community.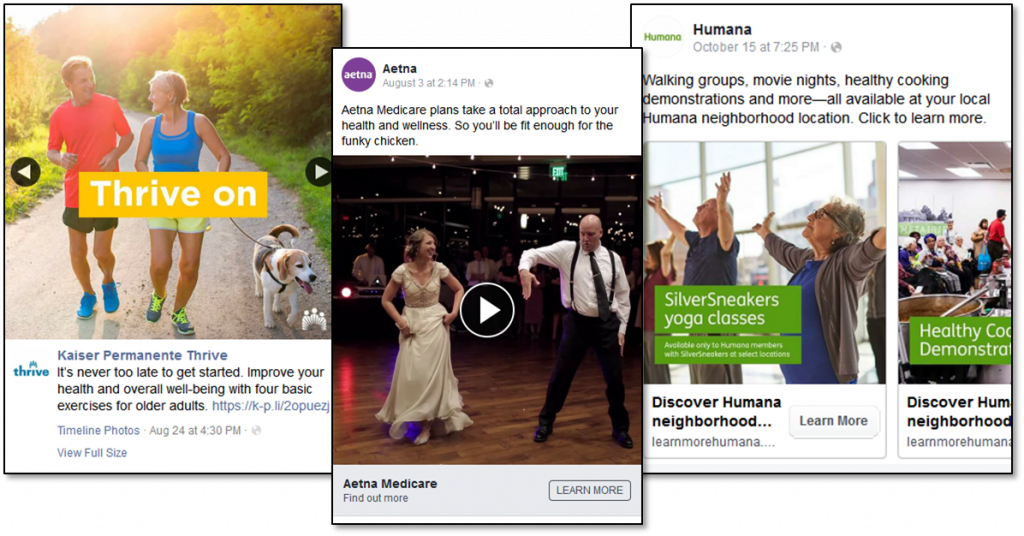 The examples provided were just a few ways that health plans used paid Facebook ads leading up to and during the 2019 AEP. Other examples included reminders of the AEP enrollment deadline and also ways to compare a specific Medicare Advantage plan to that of an Original Medicare or Medicare Supplement plan. Health plans should also consider using Facebook advertising as a way to reach New-to-Medicare and Medicare eligible beneficiaries all year 'round. We will discuss later on in a different blog post.
*Screenshots sourced from Mintel – a leading market intelligence agency.