Twitter Chats for Healthcare Organizations Boost Health Literacy and Patient Engagement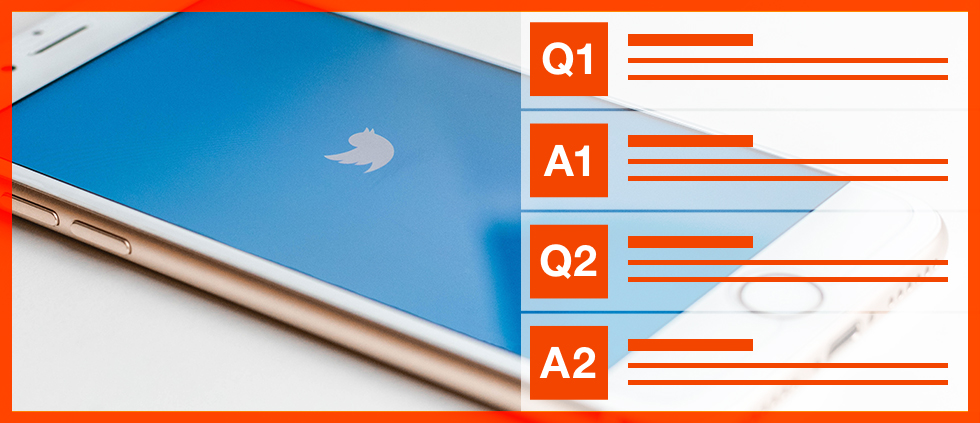 Twitter chats provide a *healthy* way for healthcare organizations to provide resources related to specific health topics, raise public awareness of health issues and/or share resources with fellow professionals and the public. Blogs and social media streams can be popular places to distribute tips and information, but engagement with this content can prove to be a challenge. This is why we took note of a few Twitter chats used by healthcare organizations.
Twitter chats aren't new, and although they may not be as popular as they once1 were, they provide live opportunities for healthcare organizations to engage with followers on important topics. Essentially, here's how they work: at a set time2, the host asks questions labeled Q1, Q2, etc., and an industry expert (or panel of industry influencers) replies with answers – A1, A2, etc. – that correspond with the questions. The conversation is tied together by a unique hashtag that anyone on Twitter can use to follow along or participate.
The result is a discussion that, as explained in Sprout Social's guide to Twitter chats, can help brands "gain exposure, grow [their] following and engage with [their] audience." These benefits are echoed by Hootsuite: "Twitter chats are a great way to grow your social following, generate valuable discussions and feedback and demonstrate thought leadership. Done right, they generate lively conversations and build deep connections between participants and brands."
Below are two examples of healthcare organizations who are using Twitter chats to raise awareness of important health issues. They partner with expert panelists who can help host and or moderate the chat and provide their insight.
National Organization for Rare Disorders
The National Organization for Rare Disorders (NORD) recently hosted a Twitter chat called #lovingrarechat. For the chat, they partnered with Texas Children's Hospital as a co-host. This Twitter Chat was a way to provide patients with advice for raising children with rare diseases and their siblings, answer any questions parents might have, provide good resources and advocacy, and also drum up engagement and excitement for the organization's upcoming "Living Rare, Living Strong NORD Patient & Family Forum." They promoted the Twitter chat ahead of time and used images with similar look/tone/feel to highlight information before and during the chat.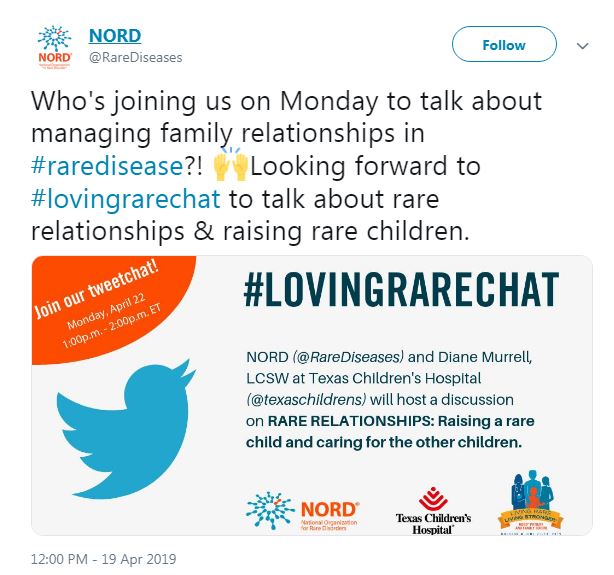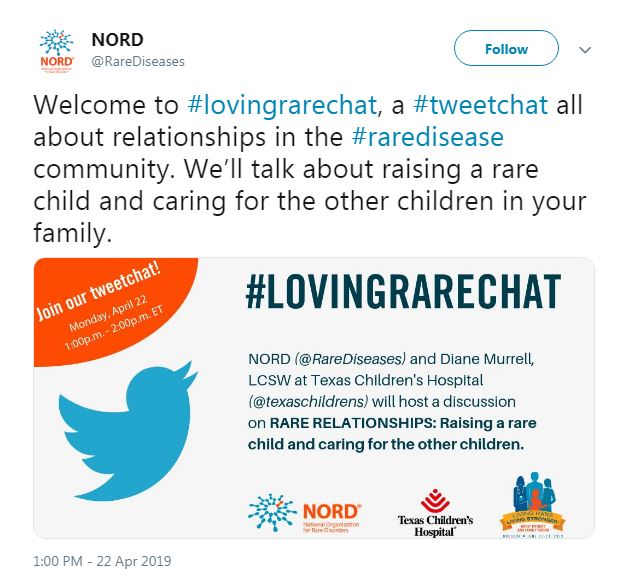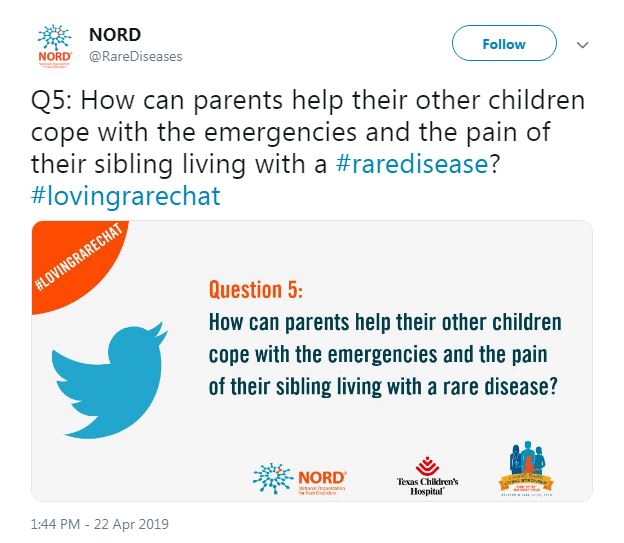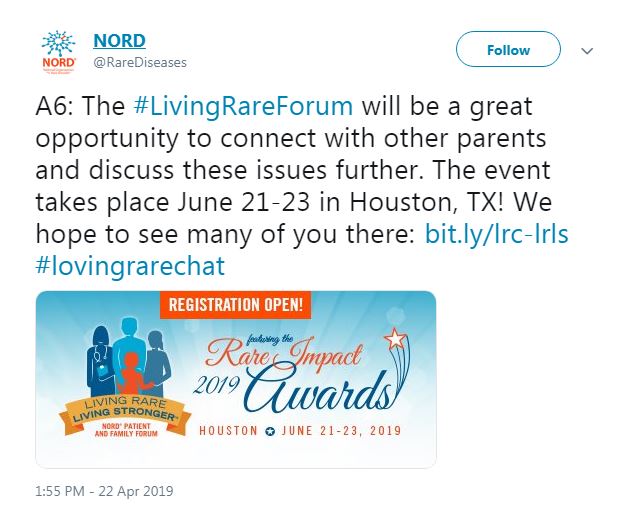 Breast Cancer Social Media (#BCSM)
The #BCSM Tweet Chat began in 2011 as the "first tweet chat dedicated exclusively to breast cancer." The most recent chat was hosted by the Society of Breast Imaging (SBI), a non-profit organization that provides services to professionals working in breast imaging. The theme of the chat was "Busting Mammography Myths." They invited an expert panelist – in this case, Dr. Anjali Malik, a breast radiologist with Washington Radiology, to moderate the Twitter Chat. They, along with Dr. Malik, promoted the chat ahead of time, encouraged users to introduce themselves to get engaged, and during the chat used images with similar look/tone/feel to highlight information during the chat.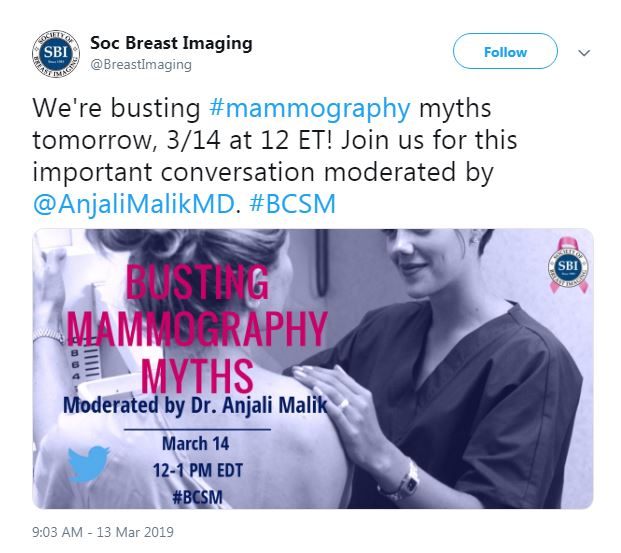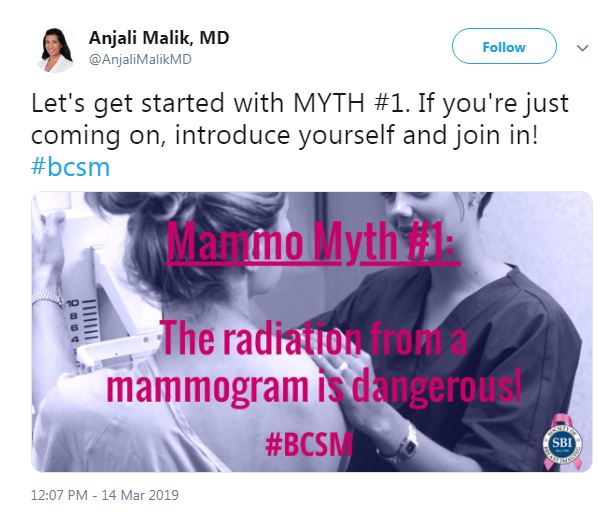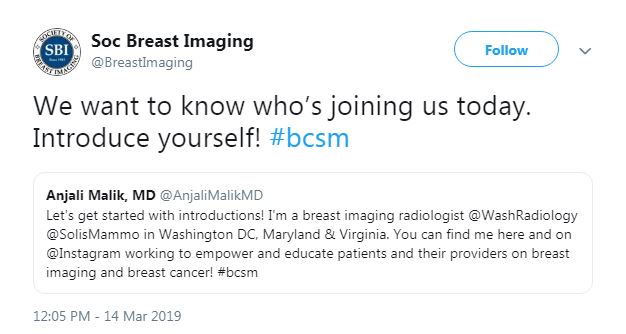 Considerations
For healthcare organizations interested in hosting a Twitter chat, the key is planning and preparation. Due to the structure of Twitter chats, the hosting healthcare organization is primarily providing a forum for the conversation and guiding the discussion with pre-determined questions. These questions, as well as any healthcare material the organization provides in response to those questions, can be vetted ahead of time.
The spontaneous components of the conversation – how guests and panelists interact with participants and how the healthcare organization itself interacts with participants – are unlikely to wander into unexpected territory. Most healthcare brands on social are already familiar with existing social media policies that guide online conversation with consumers. Responses by the healthcare organization outside the Twitter chat's pre-planned Q&A (like if a customer asks a question about their own private health during the chat or complains about the brand) can be handled using the same approach to customer service inquiries and issues the healthcare organization is already taking on these platforms.
……….
1 In the early 2010s, according to some background provided in this piece in The Atlantic
2 Conversation around a topic of shared interest in real time is what sets Twitter chats apart from other content on social media that can get zero discussion going or, due to their asynchronous nature, launch a back-and-forth that stretches on for hours or days.
Tags:
content marketing for healthcare
,
health literacy
,
social media for healthcare
,
Twitter
,
Twitter strategies