A Closer Look at Cigna's Integrated Marketing Campaign to Address Mental Health, Loneliness and Stress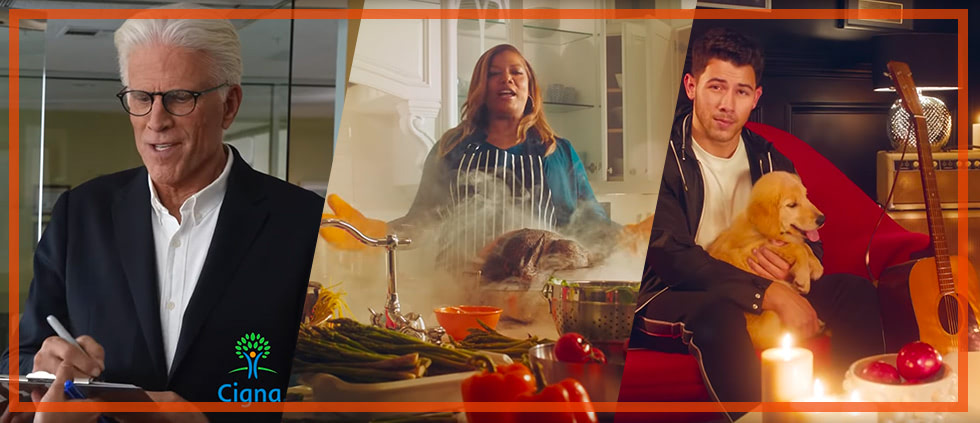 In our observations as healthcare marketers, we're always looking for interesting content-driven initiatives by healthcare brands. We're also paying attention to key topics and trends in the healthcare industry such as the social determinants of health (SDoH) and the different ways that health insurers are working to address them. We previously wrote on the efforts undertaken by a few health insurers to address loneliness. Cigna, in particular, addresses mental health, loneliness and stress in an integrated marketing campaign that exercises their creative muscle and includes effective content marketing strategies. With some help* from Mintel, we decided to look a little closer into this campaign to point out a few stand-out components and some key takeaways for healthcare content marketers.
Sponsored Content
Sponsored content is material in an online publication that resembles a publisher's editorial content but is paid for by an advertiser to promote their brand or a particular product. It is produced as a collaborative effort between the brand and editorial staff from a publisher, is hosted on the publisher's site and reaches the publisher's audience. In the example below, you'll see that Cigna works with the Washington Post on sponsored content through the WP BrandStudio, an in-house agency that produces branded content and native advertising for its partners. The benefit to Cigna is that they reach the Washington Post's audience and that they also can work collaboratively with storytellers on the content creation. The article provides tips and advice for employers to help address loneliness in the workplace and has Cigna's President and CEO in the byline. All content is clearly labeled as sponsored content and includes the name of the advertiser.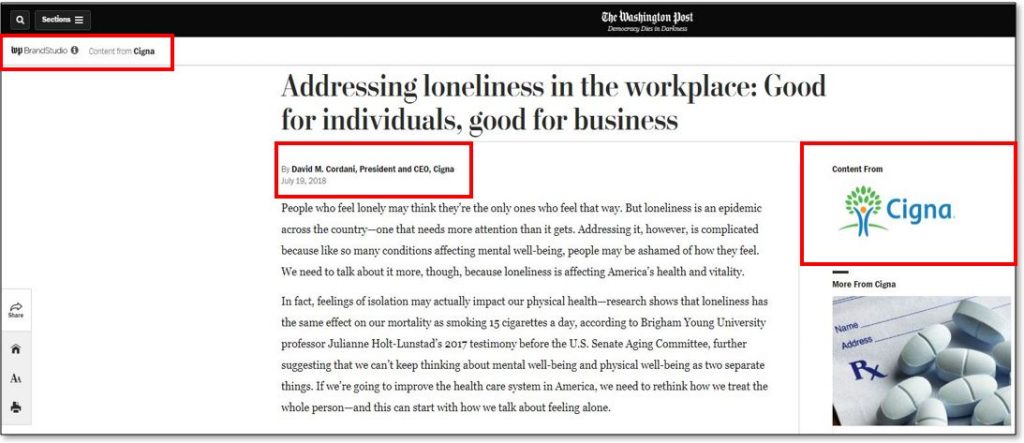 Overall, consumers are often very quick to pick apart ads that are biased by a brand's voice. Sponsored content is a more effective way to build trust and thought leadership, involving impactful storytelling that can incorporate the style and tone of a publication while also incorporating the goals of the brand. Healthcare marketers can use sponsored content to create entertaining or educational content that can reach the consumer on a more emotional level rather than just talking about a product directly.
Content Partnership
Cigna was key feature in a TIME article by Jamie Ducharme titled Why Spending Time With Friends Is One of the Best Things You Can Do for Your Health. According to Mintel, the article in the magazine's mental health section mentioned Cigna's research on loneliness and showed a good example of a content partnership between the insurer and a major publication. Cigna's Dr. Stuart Lustig, national medical executive for behavioral health, was quoted in the article, establishing thought leadership for the insurer on this key health topic. TIME also previously wrote about the results of Cigna's loneliness study.
Content partnerships can really boost your healthcare content marketing strategy and extend your reach. Partnering with another business in your industry, or a content partner relevant to your industry can help bring your brand's name to their audience. The most common example of content partnership comes in the form of "guest blogging." To get started on finding the right, relevant opportunities, we recommend taking a look at these five steps from Convince & Convert.
Influencer Marketing
Cigna used three influencers – Queen Latifah, Nick Jonas and Ted Danson to address mental health topics such as loneliness and stress. These influencers were used across multiple channels from television to social media to other digital platforms.
They chose these three celebrities across different age groups to reach a broad age audience, their VP of global branding told AdAge. Cigna ran a series of TV spots such as the one below where Queen Latifah speaks candidly about stress and how it can impact your overall health. You'll notice that the commercial discloses that Queen Latifah was paid for her appearance. Disclosure is an important in accordance with the Federal Trade Commission (FTC)'s endorsement guidelines. These videos ran on TV and across digital advertising platforms for Cigna.
Another component of this campaign included sponsored ads which were posted from the celebrities' social media accounts. Cigna ran organic posts and paid posts on their own social media and digital channels. These sponsored posts were an extension of their campaign, leveraging the celebrity's reach and frequency of their social media channels. For a celebrity like Nick Jonas, this meant potentially reaching his 14.3M Twitter followers, according to Mintel.
Of course, partnerships with mega influencers can come at a hefty price. For regional health plans and smaller healthcare brands, we recommend using micro influencers (10,000 – 50,000 followers) or nano influencers (800 to 10,000 followers). We like to refer to them as "niche influencers." While they may have less followers, they are more relatable to consumers and generate more engagement with their content. You can read more influencer marketing considerations in our recent blog post.
There is no one-size-fits-all strategy when it comes to marketing. This example from Cigna used celebrity influencers as driver for their integrated marketing campaign, and while a large budget may not be available for you, healthcare marketers can learn from this willingness to try new things. Just remember to stay "on-brand" and offer consumers value, or whether it be for education, entertainment, etc. when creating content.
*Screenshots sourced from Mintel – a leading market intelligence agency.