Top 10 Healthcare Marketing Blog Posts of 2021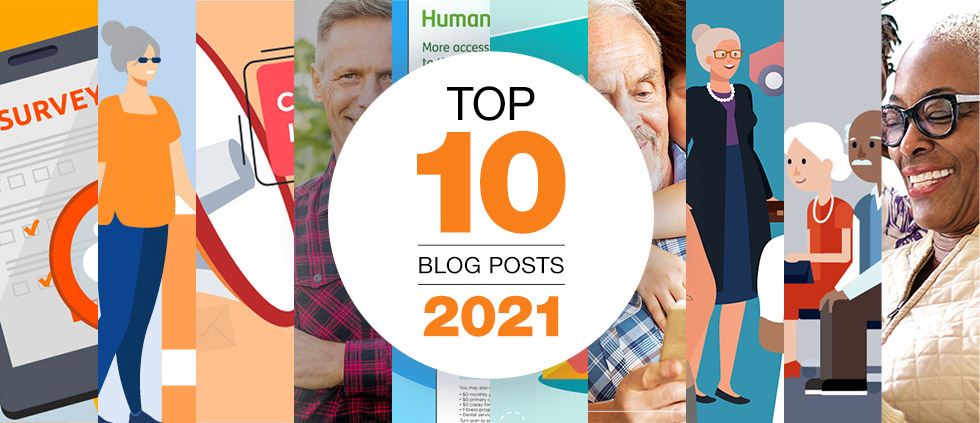 While some of us are still processing 2020, it's hard to believe that 2021 is coming to a close! A look at our top healthcare marketing blogs from the last 12 months reveals marketers' keen interest in marketing content about Medicare, New-to-Medicare, D-SNP and trends related to the 60-65+ demographic.
Whether you're finding our healthcare insights for the first time, or you've returned to catch up on the latest healthcare marketing news, we encourage you to pull on your most comfortable pandemic sweatpants, grab a cup of coffee and get comfortable as we recap our most popular content of the year. We hope these top healthcare marketing blogs provide you with a fresh perspective and renewed energy to tackle 2022—and whatever it may bring.
1. 3 Common Themes Found in 2021 Medicare AEP Direct Mail Marketing Campaigns
Each year, we look at overall Medicare Annual Election Period (AEP) enrollment numbers to see which health insurers had substantial enrollment gains and compile examples of their direct mail marketing efforts. See how urgency, simplicity and reassurance worked their way into the 2021 AEP.
2. A Quick Look at 7 Innovators that are Disrupting Primary Care for Seniors
The move towards value-based care got a shot in the arm during the COVID-19 pandemic. We like to keep a pulse on what payers and providers are doing to innovate and improve primary care for seniors and provide examples worth watching. From house calls to wellness centers, this blog looks at seven disruptors offering fresh approaches to care for seniors.
3. Medicare AEP 2021: A Closer Look at Direct Mail Calls to Action (CTAs)
Direct mail continues to be at the foundation of many Medicare AEP marketing campaigns and a key funnel for lead generation. This year, we decided to compile a list of all calls-to-action (CTAs) and offers used by Medicare marketers throughout the 2021 AEP. See how gift cards, meeting registrations and fulfillment materials came into play.
4. A New-to-Medicare Marketing Tip Sheet to Modernize and Improve Your Recruitment Efforts
The New-to-Medicare (NTM) market is more important than ever, but the demographic is quickly changing. We put together some key insights to help you modernize and improve your NTM recruitment efforts.
5. Provider Marketing Strategies to Drive Medicare Enrollment
Doctors and other medical professionals are consistently rated among the most trusted influencers in the health plan decision-making process. This is especially true for Medicare. When marketing through the provider channel is an option for health plans (there are many reasons why that may not be the case), it can provide a powerful implicit approval.
6. 6 Direct Mail Marketing Observations from 2021 D-SNP Plans
We continue to see a growth in popularity of dual-eligible special needs plans (D-SNPs), and we are always interested in how they position themselves. We compiled direct mail marketing campaigns aimed at dual-eligible prospects and found six common themes.
7. Our Flash Survey Results Are In! We Wanted to Find Out Seniors' Plans for the 2021 Medicare OEP
We were curious about just how many seniors changed their Medicare coverage during the 2021 AEP and if they planned to take advantage of the subsequent Medicare Advantage open enrollment period, or MA OEP. We conducted a flash survey of 400+ seniors enrolled in a Medicare Advantage plan across the U.S.
8. Medicare Marketing Insights: 2021 Senior Media Preferences
For the fourth year, Media Logic surveyed more than 450 men and women aged 63 and older on their media habits. We asked them a series of questions about which types of media they prefer for news versus entertainment, what devices they view media on and which services they use most often. Plus, we added questions around the convergence of media and telemedicine, smart speaker adoption, Zoom calls and virtual sales meetings during AEP.
9. A D-SNP Marketing Tip Sheet to Reach a Growing Dually Eligible Population
Tapping into and strengthening existing Medicare marketing efforts can help you effectively reach a D-SNP audience. In addition, you can build awareness of dual-eligibility and D-SNP coverage options with even a limited budget. We put together a tip sheet with more insights to help you better inform your D-SNP marketing campaigns.
10. Medicare Shoppers Ready To Meet Face-to-Face Again During Fall AEP
In-person, face-to-face Medicare sales meetings and health insurance seminars were understandably in low demand during the 2021 Medicare AEP. Ahead of the 2022 AEP, we looked at how in-person interaction channels could make a comeback. These insights were valuable for marketers heading into AEP and show the importance of in-person, face-to-face interaction during open enrollment.
What healthcare marketing topics will be on our readers' minds in 2022? We're looking forward to answering that question. In the meantime, if you have a question or a content suggestion, please feel free to contact us.