Our Flash Survey Results Are In! We Wanted to Find Out Seniors' Plans for the 2021 Medicare OEP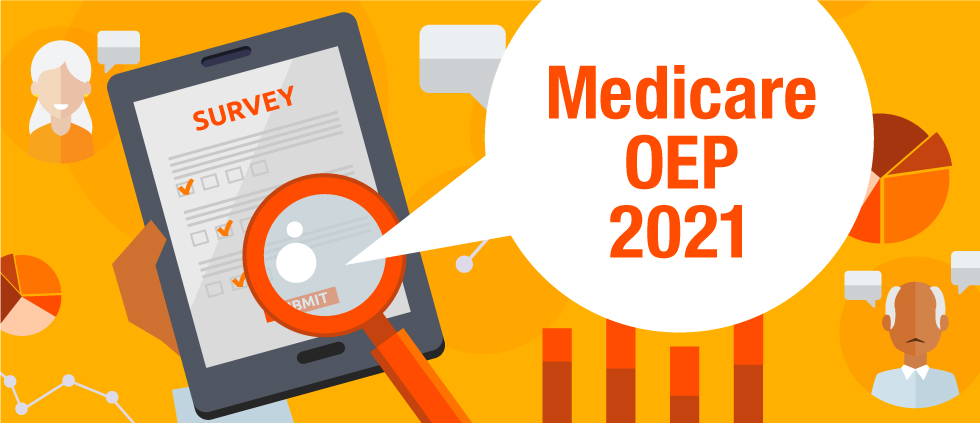 We knew that this year would be a challenging and irregular selling season for Medicare Advantage plans. This piqued our curiosity on just how many seniors changed their Medicare coverage during the most recent AEP and if they planned to take advantage of the subsequent Medicare Advantage open enrollment period, or MA OEP. We conducted a flash survey of 400+ seniors enrolled in a Medicare Advantage plan across the U.S. Our survey was in-market just after the 2021 AEP wrapped up. Here is a summary of our findings.
1. Overall, our survey found that 83% did not change their plan during the most recent AEP.
A majority of those surveyed were not going to see a big shift in coverage including changes to premiums (56%), OOP maximums (60%), provider network (75%) or drug copays (62%).
2. 64% of seniors surveyed said that they were aware of the MA OEP, but only 4% of responders said they would be interested in shopping during OEP.
Their main reason not to shop during the MA OEP was satisfaction with their current plan (88% of respondents). Of that small audience that said they would consider shopping, working with an agent/broker and online research were the two preferred ways to shop.
3. 20 – 30% of seniors surveyed are not even sure their premium, co-pays, OOP maximums or drug copays might change.
This could be a combination of a non-disruptive year in terms of plan changes as well as a bit of a "hunker down" mentality. It may also be proof that Medicare consumers, don't know or study their plan benefits, and are simply not that engaged in the details of their health plan.
Our takeaways
After looking at the results from our Medicare OEP flash survey, we were able to extract three reasons for a lack of switching during the 2021 AEP:
Plan benefits either improved or didn't significantly change.
The COVID-19 pandemic, between health uncertainty or challenges in traditional shopping methods, made people more risk averse to switching to a new plan.   
There is a percentage of Medicare recipients that aren't really engaged in understanding the specific details or their coverage and are not aware something better might be out there.  
Given these findings, the OEP period is unlikely to spur new shopping and re-evaluation. Rather, focusing on starting off on the right foot with your new members is likely to return better results. Pump up your onboarding efforts with communication around plan benefits, available programs and value. It is a great opportunity to provide education and increase literacy through easy-to-understand benefits tools, consistent member communication and content marketing.
Lastly, we see that agents and brokers continue to be key influencers for seniors. Make sure that your agents/broker partners have good materials for those who do plan on taking advantage of the MA OEP. Any questions about our survey findings? Contact us today.