Medicare Marketing Insights: 2020 Senior Media Preferences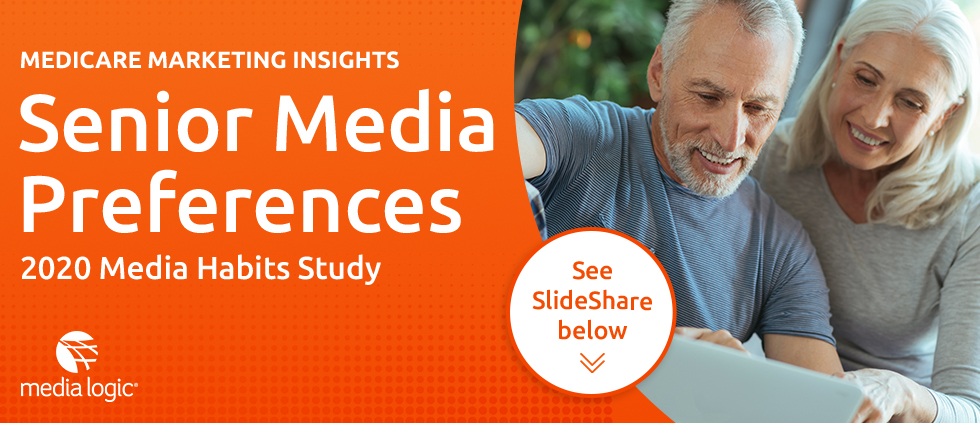 We are halfway through 2020, and the COVID-19 pandemic has impacted our lives in many ways, including our media habits. A large portion of the world's population has been under some form of quarantine or shelter-in-place to help curtail the spread of the coronavirus. As a result, levels of media consumption have reached "unprecedented levels", according to multiple sources including the World Economic Forum (WEF) and J.P. Morgan Research. Consumers want to stay informed at all times, but they also want to escape reality and be entertained. And while overall media consumption is up, the form of that consumption varies across generations.
Coincidentally, it is against this backdrop that Media Logic conducted year three of our Senior Media Habits Survey. This year, we surveyed over 450 men and women aged 63 and older about their media habits. Each year, we ask a series of questions about which types of media seniors prefer for news versus entertainment, what devices they view media on, and which platforms they use the most. This year, we added questions regarding the use of videoconferencing (such as Zoom), telemedicine and receptivity toward attending virtual sales meetings. Answers to these questions can help health insurers when planning sales outreach for the upcoming 2021 Medicare Annual Election Period (AEP).
Our findings support other insights from sources such as Deft Research, who found that during COVID-19, seniors increased their overall screen time – including television viewership. Insights from our annual study on senior media preferences can be used to help healthcare marketers in many ways – Medicare marketing channel selection, targeting for both New-to-Medicare marketing and Medicare AEP marketing If you would like to see all of the insights from the 2020 Senior Media Habits Survey, you can click through the SlideShare below or download a printable PDF.