Are You Getting What You Need From Your AEP Analytics and Reporting?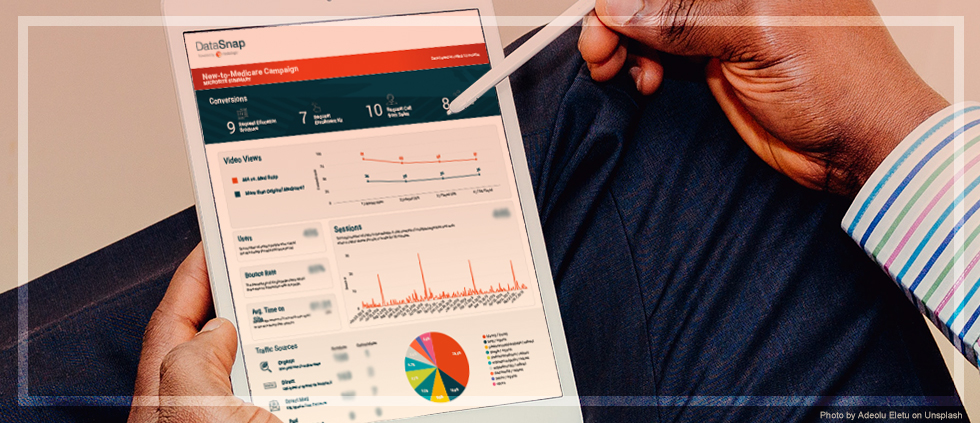 One of the biggest challenges that Medicare marketers face is having timely access to the data and metrics needed to help guide actions before, during and after the Annual Enrollment Period (AEP). Some don't have enough data, while others find themselves trying to drink from a firehose. The challenge is compounded by the fact that the data usually comes from several different sources and needs to be organized, normalized and analyzed before it can be helpful.
With this in mind, the team at Media Logic developed a proprietary tool, DataSnap, to optimize campaign tracking and reporting. Our DataSnap dashboards, which are customized for each client, are used to monitor all engagement, lead generation and sales activities in near real-time. As new data comes in, it gets added to the mix, and becomes immediately accessible from any computer or smartphone.
Which keywords and ads are working best in paid search?
Are leads from paid social ad outpacing BRCs from FSIs?
Which DRTV call-to-action seems to be resonating most?
How do CPAs compare to projections?
With DataSnap, users see the results in a clear and easy-to-digest way. Our team then analyzes the data and offers expert observations and recommendations throughout the entire AEP season – typically, on a weekly basis.
When AEP wraps for the year, we put together a comprehensive end-of-campaign report, which breaks down where leads came from, which tactics delivered the lowest cost-per-lead and cost-per-acquisition, which predictive models worked best, and so on. We also offer helpful comparisons to benchmark data that we have compiled over the 15 years we've been working with Medicare plans across the country. And we provide a recap of the top competitors based on their AEP membership growth, and we look at the creative they used to drive their success.
All of this data is then carefully analyzed for implications, from which we make recommendations for next year's AEP. For one client, the data helped us identify an opportunity to shift a substantial amount of money from digital display and print into other more productive media channels, while also reducing their overall spend. In some cases, our AEP learnings enable us to make recommendations for New-to-Medicare and Late-to-Medicare campaigns.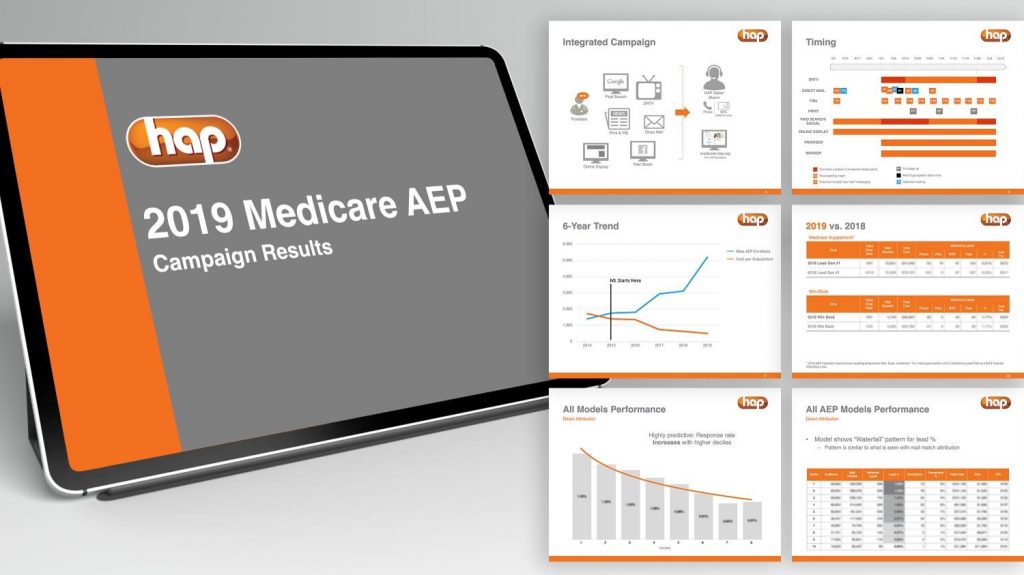 That way, when we all start planning for the next year, we're better equipped to make decisions on where media dollars should be invested. The AEP analytics and reporting data also helps our clients demonstrate to their C-suite the return on their marketing investment. It can also be used to support requests for budget increases, when appropriate. And, in some cases, can be used to help guide decisions around product design and pricing.
If you'd like to learn more about our approach to AEP analytics and reporting, please contact Jim McDonald, director of business development at 518-456-3015.
Tags:
data gathering
,
healthcare marketing
,
Medicare
,
medicare aep
,
Medicare marketing