A Checkup on You (And What You're Reading): Top 10 Healthcare Blog Posts of 2020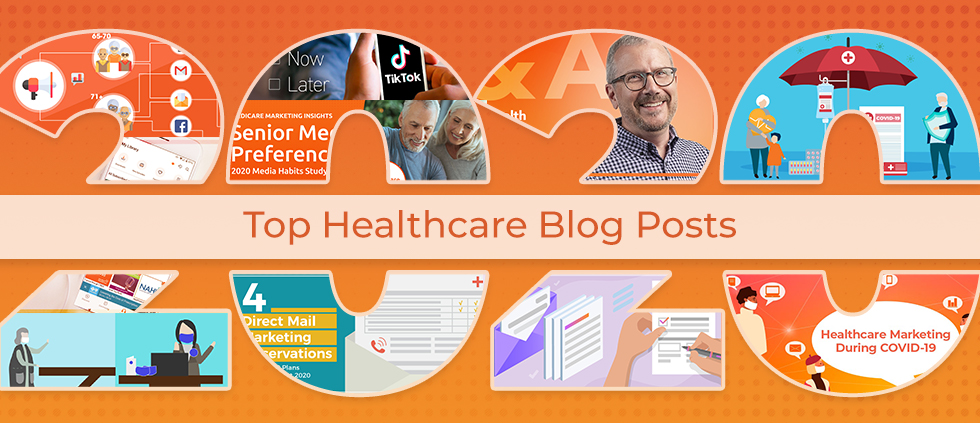 What a year it's been! (This is an understatement, of course.) 2020 is a year to be remembered due to many events from the COVID-19 pandemic to civil unrest to the presidential election. So, before we provide a "checkup" on the top 10 Media Logic healthcare blog posts for this tumultuous year, we'd like to "check up" on our readers and make sure you're all having a happy and safe holiday season, given the circumstances, and we'd like to wish you all an early happy new year!
1. What Should Health Insurance Marketers Do During the Pandemic?
Back in April, when the pandemic first hit, healthcare marketers were faced with what to do during this time. Healthcare brands (including health insurers) were in a unique spot this year, as they were highlighting a solution or filling a community need rather than selling a product or a service, so we decided to dive into this topic further.
2. Branding During the COVID-19 Pandemic: Health Insurers Focus on the Customer Experience
Our second most-read post this year was also COVID-19-related. Branding during a crisis is all about the appropriate response. We took a look at what difference health insurers were doing to help with the customer experience. (Also, later on in 2020, we looked at what health insurers were doing to provide financial relief for consumers.)
3. What Can Healthcare Marketers Learn from Emerging Social Media Platforms
We decided to focus on one of the fastest-growing social media platforms in the world… TikTok (and also what healthcare marketers can learn from emerging social media platforms). As savvy marketers, it's always a good idea to keep a beat on what's trending in social media marketing, even if the platform might not be the right "fit" for your brand.
4. Medicare Marketing Insights: 2020 Senior Media Preferences
Next up were Medicare marketing insights from our 2020 Senior Media Preferences Survey, conducted annually for the third time. This year, we added questions regarding the use of videoconferencing and receptivity toward attending virtual sales meetings to help Medicare marketers prepare for the upcoming AEP. Insights from this year's survey showed media consumption was up due to stay-at-home orders and social distancing protocols.
5. 4 Direct Mail Marketing Observations from D-SNP Plans with Significant 2020 Enrollment Gains
Both large, national payers and regional payers are making moves to expand their D-SNP offerings, so it came as no surprise that readers were interested in our yearly blog post looking at direct mail marketing campaigns aimed at dual-eligible prospects. We chose creative samples from D-SNP plans with significant year-over-year gains and noted our observations.
6. Direct Mail Marketing Highlights from Insurers with Top 2020 Medicare Advantage Enrollment Gains
Each year, one of our most popular blog posts each year is our review of direct mail campaign highlights from insurers with top gains following Medicare's AEP. This year's creative samples and observations were compiled in a SlideShare for readers to scroll through and also download as a PDF.
7 & 8. The Importance of Marketing Segmentation for 2021 Medicare AEP Marketing
Beyond Meetings: Medicare Marketing and Sales Strategies During COVID-19
In preparing for the upcoming Medicare AEP (Annual Election Period), the presidential election and its impact on the media landscape were on the minds of many Medicare marketers. Then along came the COVID-19 pandemic and its impact on many things, including consumer behavior and daily life. With this in mind, we put together two popular blog posts that provided tips on Medicare AEP marketing during COVID-19. The first blog post was on setting up a marketing segmentation strategy. The second blog post talked about Medicare marketing and sales strategies beyond in-person meetings.
9. COVID-19 and Health Insurance Marketing
Of course, COVID-19 was top-of-mind for many of us throughout the year. Media Logic Founder & CEO David Schultz shared his thoughts, insights and thought leadership around health insurance marketing in the context of the recent pandemic.
10. What Healthcare Organizations Need to Know About Podcasts and Podcast Listeners
And then rounding out our top posts for the year was a blog post that provided insights on podcast and podcast listeners in the U.S. along with considerations for healthcare marketers on the strategic role of podcasts to engage with consumers, healthcare professionals and/or current and future employees. Podcasts are a growing medium, and we expect to talk more about them in 2021.
What marketing topics will be on our readers' minds in 2021? We're looking forward to answering that question. In the meantime, if you have a question or a content suggestion, please feel free to contact us.
As we close out an unusual year, cheers to a happy, prosperous and well-informed new year!