Tick Tock, TikTok. What Can Healthcare Marketers Learn from Emerging Social Media Platforms?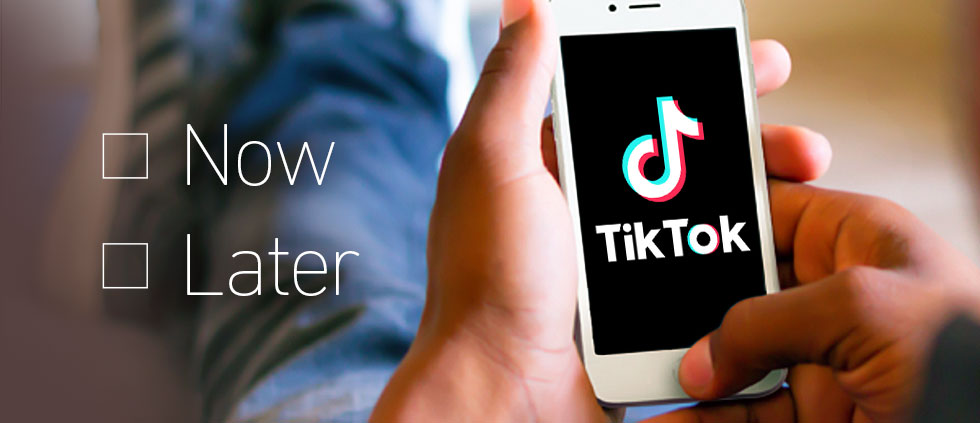 As we kick off a new year and a decade, it's important to keep an eye on social media trends in particular because they evolve at such a fast pace. Part of many New Year's marketing resolutions include assessing current strategies and finding new ways to engage with both prospects and current consumers. Don't let emerging social media platforms intimidate you. It is important to understand them, as well as evaluate if they fit with your marketing goals.
Most of us like "shiny things." When looking at a fast-growing video social platform like TikTok with over 1 billion users and a YoY growth rate of 395%, many social media marketers may want to get on the platform right away. First things first. When considering a "social network on the rise," evaluate whether that platform will work for your brand. We found a great infographic from One Productions, a video production agency that specializes in content across media formats, that breaks down the platform and asks important questions including: Should your brand use TikTok?
First, take a look!
TikTok is a video -sharing social networking service used to create short lip-sync, comedy, and talent videos. Their mission is to 'inspire creativity and bring joy'. In the social media space, TikTok is considered a disruptor. It's popularity with GenZ consumers provides marketers with a snapshot into the younger generation, how they express themselves and what they are passionate about. While GenZ may not be in your target sales demo right now, they will be in a few years. Forward-thinking marketers should look at ways to build loyalty with these consumers and grow with them.
The move from the individual to building communities shows the way people are consuming social media is changing.
As marketers, we have to adapt accordingly. In their lists of social media trends for 2020, Sprout Social recommends that marketers build a community [on social media] that's in it for the long haul. We've seen a large shift toward this already with Facebook and its redesign last year shifting focus toward groups and events. TikTok itself is a platform full of community. People respond to other people's videos. The duets feature promotes collaboration between users.
Think of ways that your healthcare organization can build a community on your existing social media platforms. Examples include Twitter Chats, Facebook Live, creating and monitoring discussions on Facebook groups or live Q&As via Instagram stories. The same applies to advertising on social media. Be less invasive, especially when trying to target GenZ and Millennial consumers.
Influencer marketing isn't going away, but it's shifting.
Last year, we wrote about influencer marketing for healthcare brands. There is definitely power and value in influencer marketing. The Digital Marketing Institute reports that 49% of consumers depend on influencer recommendations, and Millennials and GenZ consumers trust influencers more than celebrities. Influencers are categorized based on their number of followers. Jodi Harris of the Content Marketing Institute (CMI) says that there should be a shift in influencer marketing from celebrities to more meaningful influencers. "Influence should be based on a tastemaker's authentic experiences and genuine interest in positively affecting the lives of their followers," she adds. Influencers may not be those we expect as consumers feel more connected to smaller, more niched experts (micro and nano influencers) who have built communities and content that consumers find relevant, engaging, helpful and most importantly… authentic. The value of micro and nano influencers is huge, even if the follower base is small, because that follower base is very engaged and passionate about a particular topic. Mom bloggers, nutritionists, expert doctors and healthcare professionals and patients living with a specific condition come to mind. Think quality over quantity.
A great example is Dr. Rose Marie Leslie who has started posting regularly on TikTok to reach teens with a message about the dangers of e-cigarettes, as reported by CNBC. TikTok is a great platform for nano influencers to use (and a great place to find nano influencers to work with). Outside of TikTok, healthcare marketers can find nano influencers in many ways. Through social listening, you can track conversations around their brand, specific topics and keywords in the healthcare industry. Pinpoint people who are already writing about or engaged in the services that you offer. You can find these micro influencers on targeted blogs, forums or websites, or by looking at their social media channels on Facebook, Instagram, LinkedIn, Twitter and YouTube. Also, look within your own social media platforms and blogs to see who is interacting with your content by commenting and sharing.
Don't have social media FOMO!
While TikTok might not be a fit for your brand, healthcare marketers should be monitoring what's going on within the platform and how other brands are using it in both promotion and crisis mode. In 2019, a [now former] Panera employee reached instant internet fame after exposing how their famous mac'n'cheese was made using a humorous TikTok video that went viral. There was much 'ado about whether or not it was right to do what the employee did or food safety best practices or Panera's decision to fire the employee. Panera's response to this social media crisis was through traditional media outlets.
The viral moment was a missed opportunity for Panera, said writers from PR Daily. Their take? The response from the restaurant chain did not compete creatively and humorously with the employee's TikTok video. "A statement to reporters just won't get the airtime it once did, and as consumers jettison old media formats for social media and internet entertainment, companies will have to get better at meeting their customers where they are," said the authors Often, when a crisis or similar incident comes up, consumers check a brand's social media accounts for a response. Consider this as a recommendation, even if you opt to release a statement using more traditional means also.
No matter what, as savvy marketers, we should always keep a beat on what's trending in social media marketing and how brands across industries are using platforms effectively – or ineffectively. (For inspiration, we recommend the Washington Post, the NFL, the NBA, Guess, elf Cosmetics and Chipotle as a few examples brands that are doing a good job producing content on TikTok.) It's all about knowing where the puck has stopped and also where it is going.
Tags:
content marketing
,
content marketing for healthcare
,
healthcare marketing
,
social media
,
social media for healthcare
,
social media marketing
,
TikTok