Millennials Think Differently About Healthcare (And So Marketers Should, Too!)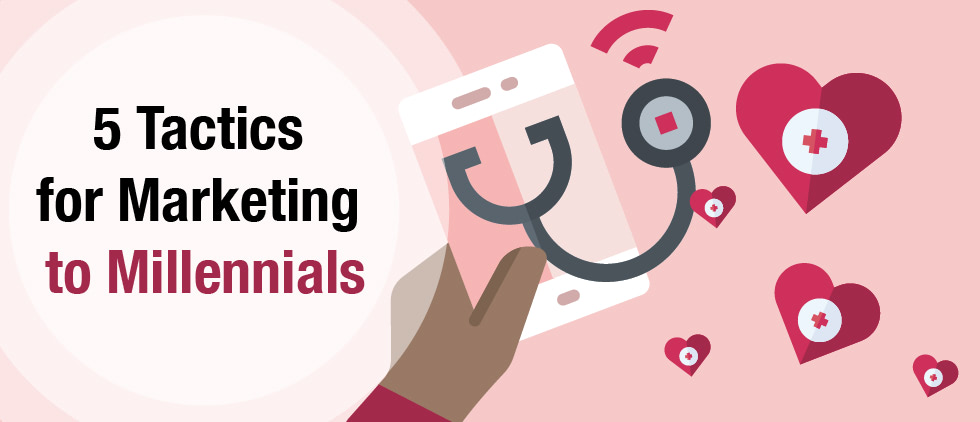 The Internet is chock full of articles, blog posts and tip sheets on marketing to Millennials. It's a smart idea, after all. According to the U.S. Census Bureau, Millennials, aka those born between 1982 and 2000, account for 83.1 million of the U.S. Population. They also spend about $600 billion in the U.S. each year, according to Accenture. The oldest Millennials are now approaching age 40, and the youngest group are now over 18 and are entering into the workforce.
As marketers, we know how important it is to understand a particular demographic in order to reach them effectively. Recently, the Transamerica Center for Health Studies (TCHS) surveyed 1,172 Millennials to really get inside their heads and tap into what they think about the healthcare industry, how they use health insurance, their own health and healthcare policy. Here are a few takeaways from the study that we thought healthcare marketers would find compelling:
The number of Millennials that are uninsured has increased to 16%. They cite affordability as a major barrier. One in five Millennials say they cannot afford routine healthcare expenses.
Overall, their satisfaction with the healthcare system has decreased since 2016, with 21% not satisfied with the quality of healthcare.
They are more likely to rely on Internet sources for information about their healthcare (43% vs 35% of GenXers and 33% of Boomers).
They are more likely to rate their health as excellent or good.
They consider preventive healthcare and self-care most important with 55% of Millennials saying that their priority is staying healthy and covering basic preventive healthcare expenses.
Millennials are more likely that Gen X or Boomers to report zero doctor's office visits in the past 12 months, however they're likely to report more mental health visits, chiropractor/massage therapy visits, or acupuncture visits. 
Over half of Millennials surveyed said they are committed to a job because the employer supported employee health and well-being.
Millennials are more likely to take advantage of workplace wellness programs such as healthy food options, on-site health clinics wearables, or mindfulness, meditation, yoga, or relaxation training.
With these facts and figures in mind, where do healthcare marketers go from here? It's definitely time to look beyond traditional marketing tactics, if you haven't already started to do so.  
First and foremost, get mobile. There are multiple surveys out there from a variety of sources that all say the same thing – Millennials get most of their information online and lead the way in smartphone usage. Most websites are optimized for mobile, but just in case, it's important to make sure. Given that Millennials value convenience, patient experience and cost-effectiveness, it's a good idea to provide options on your mobile-friendly website that allow features such as online scheduling, online payment, text updates or a robust provider directory.
Second, push telehealth (if you offer it). On the sixth bullet in the list we provided from the TCHS study, we said that millennials are likely to report zero doctor's visits. In fact, a 2017 poll from the Employee Benefit Research Institute found that 33% of Millennials said they did not have a primary care doctor, instead preferring urgent care centers or walk-in clinics. Millennials value convenience, which makes them a generation that could have quite the appetite for telemedicine. In a previous article, we provided key actions steps for providers and also for health plans that cover and/or provider telemedicine. The results from the TCHS study remind us as healthcare marketers to effectively market telemedicine services through multiple channels. More traditional tactics such as personalized direct mail and email can be used along with content marketing, video and across social media platforms.
Third, be authentic. A report from Stackla found that 90% of Millennials said that authenticity is important when deciding which brands they like and support. Keep this in mind with your content approach – shareable, knowledge-rich and valuable editorial content such as infographics, videos or blog posts may be more effective than traditional advertising. They also consider user-generated content (UGC) the most authentic form of content. Tweets and other social posts, blog posts, testimonials, etc. about your organization can be leveraged to build community among Millennials and influence them positively.
Fourth, be engaging. This piggy-backs off of being authentic. Use your social media platforms – both paid and organic – to your advantage. It's one thing to just post for the sake of posting. It's another to post content that your target audience might find meaningful. For example, knowing that Millennials find preventive healthcare important may prompt you to post content related to free health screenings in their area. A focus on wellness might lead you to post tips and best practices on the best ways to live a healthy lifestyle.
Fifth, manage online reviews. We know that millennials rely on online reviews to make purchasing decisions. The same is true when they are selecting a physician, urgent care center or hospital. Sure, not all reviews will be positive, but it's important to address negative reviews in a timely manner. As marketers, work with your administration team to come up with a plan on how to handle reviews – both positive and negative. In doing so, you're showing prospects that you're a responsive and engaged and are looking to fix the situation, no matter what. And don't worry – negative reviews have no impact on your website's SEO! This will go a long way in being more transparent – something that Millennials want to see.
According to the Pew Research Center, Millennials will overtake Boomers as the largest generation by 2019. There is a lot to gain or lose by not understanding them and adapting to their preferences and mindset. With so much information out there on Millennials, their character traits, spending habits and other behaviors, it's important to take what you read, as marketers, and start to apply it to your overall strategy. Millennials think about healthcare differently. As such, we need to think differently about our marketing approach.
Tags:
content marketing
,
healthcare marketing
,
millennial marketing
,
Millennials