Facebook's Latest Redesign: What Does It Mean for Healthcare Marketers?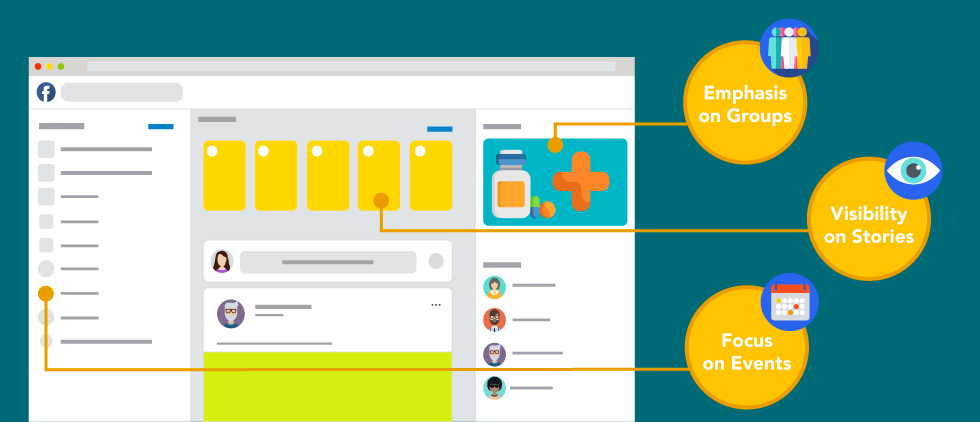 Facebook has been in the news (and not always in a good way) for the last three years, mostly for privacy scandals and user-data issues. Recently, Facebook announced a desktop and mobile redesign (F5) at their F8 Developer Conference. According to the New York Times, "the redesign is the most tangible sign of how the privacy scandals and user-data issues that have roiled Facebook are forcing change at the company." Founder Mark Zuckerberg hopes that features such as the integration and encryption of Facebook's messaging services (Messenger and WhatsApp) will make the platform more secure and trustworthy. Besides aesthetics (removing the Facebook blue from the title and menu bar), here are a few notable updates that we'd like to draw attention to:
Greater emphasis on Groups with the addition of a Groups tab to the main mobile app and desktop menus. Content from groups will also be featured in users' news feeds. Also, Facebook says they will be "introducing new features for different types of groups." For example, Health Support groups will allow members to post questions and share information without having their name appear on a post. An example of a health plan already using Facebook Groups is Blue Cross Blue Shield of Minnesota with their Group "Medicare in Minnesota" monitored by the plan. It is a place for "Minnesotans to ask questions about Medicare, changes to plan type availability and how those changes may affect them."
Greater visibility on Stories with an updated design. With the desktop design mimicking the mobile design, stories will be featured prominent at the top of the page in the center. Stories expire after 24 hours, unless archived by a user. Examples of ways that health plans can use Facebook Stories are for important announcements such as open enrollment dates and deadlines, dates/times/locations where members can get free healthcare screenings, sharing clips of events they are attending or sponsoring and important tips on topics such as open enrollment or wellness
Greater focus on Events with an updated Events tab that gives people the option to discover events in their area. The Events tab will also help users discover local businesses, get recommendations and plan events with friends to get together. For health plans, this is a great opportunity to use the Events tab to promote community events, Medicare seminars, health fairs, etc.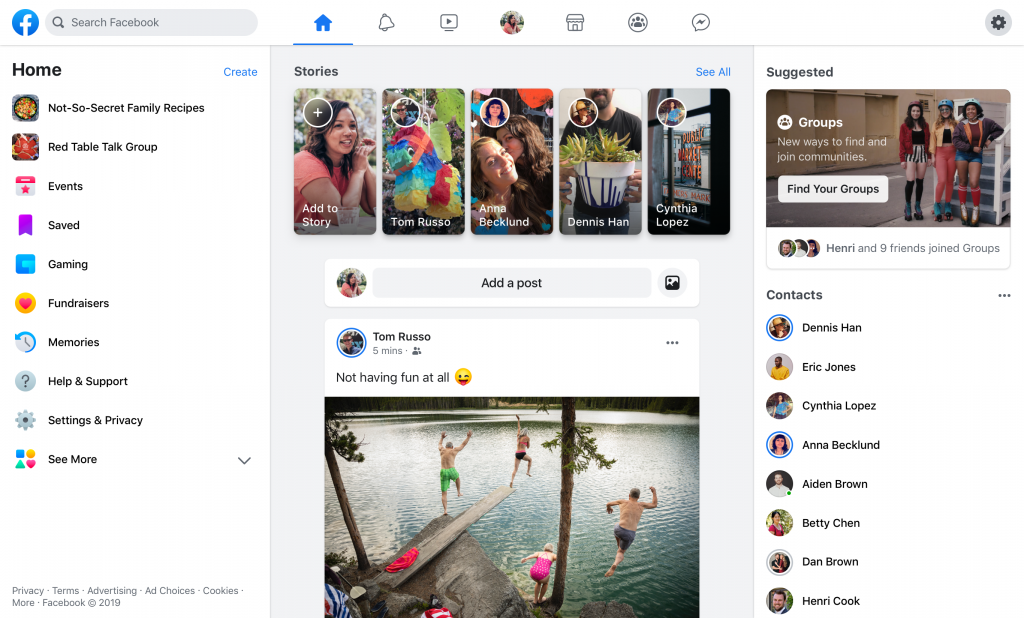 But how will these Facebook changes affect marketers? Here are a few takeaways:
"On the bright side, Facebook will push us to think of two-way content that is not a simple broadcast of our news. From now on we need to treat our audiences as a growing community and meaningful engagement will be key. If your brand can benefit from the creation of a Group then now is the time to consider creating it one. Beware, there's no need to create one for the sake of it, but it's useful to review your Facebook marketing strategy and your objectives before your tactics become ineffective." (SOURCE: Tereza Litsa, ClickZ)
"This move to groups-centric content also shows that—no matter how painful it might be—brands and marketers need to embrace Facebook ads. Because without these, your page posts will be seen by few—if any—Facebook users." (SOURCE: Andrew Kunesh, Social Media Today)
"Facebook's new direction to build a privacy-focused messaging platform does not bode well for brands who have already lost organic engagement on the platform. Facebook Groups, though, offer a loophole for marketers willing to put the time and effort into building out a community via the platform." (SOURCE: Amy Gesenhues, Marketing Land)
"The implementation surrounding reducing permanence could affect brands relying on an engaged audience in their Stories platform, according to [Tim] Gelinas [associate creative director of MarketReach]. 'However, without the specifics, social media marketers shouldn't expect these changes to affect their marketing strategies, at least not in the short-term,' he said." (SOURCE: Dom Nicastro, CMSWire)
We agree – healthcare marketers, no need to make radical changes for the short-term. Last year, we wrote about Facebook's latest algorithm change that emphasized content from friends and family over public content from brands, businesses and media. In that post, we talked about the growing importance of paid Facebook ads, and also the need to have an all-encompassing social content marketing strategy that includes multiple platforms. This holds true after Facebook's latest redesign.
It's not completely clear right now how these latest changes from Facebook will affect Pages, but it's definitely time to start thinking about it. Now, prior to open enrollment, Medicare AEP and OEP, brainstorm how to incorporate these opportunities into your marketing strategy. As healthcare marketers, how can you best integrate Facebook Groups, Facebook Stories and event enhancements into your social content marketing strategy in a compelling way? These are definitely top-of-mind items moving forward.
Tags:
content marketing
,
content marketing for healthcare
,
Facebook strategies
,
facebook updates
,
healthcare marketing
,
social media marketing