Top 10 Financial Services Marketing Blog Posts of 2021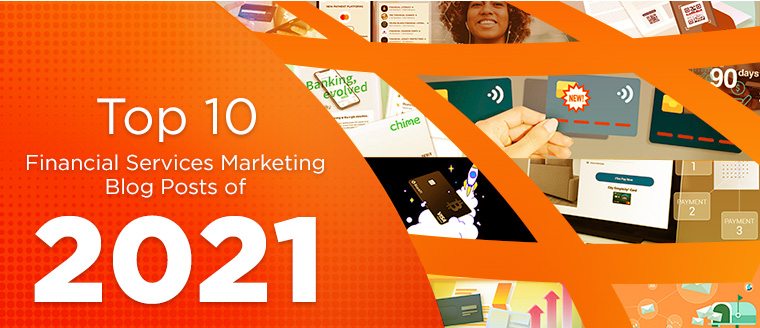 Is it just us or did 2021 disappear while we were all still processing 2020? Although it's hard to believe that the year is already almost past us, a look at our top financial services marketing blogs from the last 12 months reminds us that we still managed to learn—and share—a lot about the latest trends in financial services marketing. From Clubhouse to Bitcoin, you'll notice overlap between some of 2021's biggest buzzwords and our FS intel.
Whether you're finding our insights for the first time, or you've returned to brush up on the latest financial services marketing news, we encourage you to pull on your most comfortable pandemic sweatpants, grab a cup of coffee and get comfortable as we recap our most popular content of the year. We hope these top financial services marketing blogs provide you with a fresh perspective and renewed energy to tackle 2022—and whatever it may bring.
1. Video, Email and Social Media Marketing Help This Challenger Bank Win GenZ and Millennial Customers What's fueling the growth of Chime, the challenger bank "of the moment"? We explore how Chime is using digital media to get its message out and capture the attention of the GenZ and Millennial audiences.
2. Fintech BlockFi Takes a Nontraditional Approach to Credit Card Product Launch Bitcoin trading platform BlockFi entered the competitive rewards credit card scene in an unexpected way. Here's a look at what brands can learn about product launches from the approach.
3. High-Value Conversations Will Be Key for Financial Brands on Clubhouse This overview from our Emerging Media Team answers some of the early questions about Clubhouse. It features a brief background, notes about what differentiates Clubhouse, consideration for its financial services marketing potential and starter recommendations for financial brands.
4. 2021 Trending: Premium Card Marketing Strategies from Chase and American Express It's no coincidence that both Chase and American Express rolled out premium card product enhancements this past summer. Here's a look at their marketing efforts, reflecting possible motivation and strategy from these issuers.
5. Credit Card Onboarding: Evolving Strategies Are Critical to Success An effective Early-Month-on-Book (EMOB) program can positively impact activation and early card use because when customers engage frequently within the first 90 days of card ownership, their long-term value is up to three-times greater.
6. Direct Mail Insights from Marketing Leaders According to a recent report, direct mail remains "a vibrant and high-performing channel." Take a look at these takeaways to see how DM campaigns are outperforming digital channels, including email, on critical KPIs like response rates and ROI.
7. "Buy Now, Pay Later" Marketing Best Practices for Credit Card Issuers "Buy Now, Pay Later" marketing can create opportunities for credit card issuers to compete with fintech brands offering installment options at POS. These best practices from our financial services marketing team can get you started.
8. Financial Services Direct Mail Marketing: Volume, Formats and Informed Delivery We spotted three key financial services direct mail marketing trends that are supported by our work in the industry and analyses of consumer data: how much direct mail is in-market, which direct mail package formats are preferred and how direct mail is responding to consumer adoption of the USPS Informed Delivery service.
9. Popularity of Cash Back Rewards Drives 2021 Credit Card Acquisition Rebound Acquisition activity heated up in 2021! See what's been motivating cardholders to seek new cards and how issuers are leveraging cash back — the most highly favored rewards currency.
10. Innovations Breathe New Life Into Direct Mail Mintel highlighted innovations in direct mail, including QR codes, scratch-and-sniff elements and more. Here, our team took a look at how these fresh approaches can be applied to financial services.