High-Value Conversations Will Be Key for Financial Brands on Clubhouse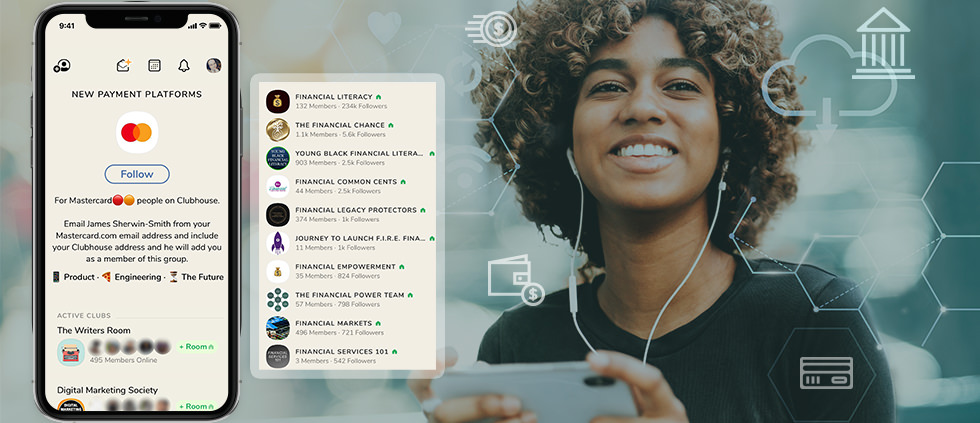 Clubhouse isn't yet broadly available, but that hasn't prevented the new app from exploding in two key areas: buzz and users. As an audio-only social network, Clubhouse is trying to carve out a unique space for itself, and although it's still in beta mode, influencer and brand interest is already high – including growing curiosity among Media Logic's financial services clients.
This overview from our Emerging Media Team answers some of those early questions. It features a brief background, notes about what differentiates Clubhouse, consideration for its financial services marketing potential and starter recommendations for financial brands.
Clubhouse description & background
The Clubhouse App Store listing calls it "a space for casual, drop-in audio conversations—with friends and other interesting people around the world. Go online anytime to chat with the people you follow or hop in as a listener and hear what others are talking about." Essentially, Clubhouse makes podcasting both live and social.
The app launched in test mode in April 2020 and still remains in beta (as noted here). In this case, that means it's strictly iOS and available via invite only.

Beta is temporary, of course, and in its first blog post, the company says, "We are building Clubhouse for everyone and working to make it available to the world as quickly as possible. It's not intended to be exclusive; we just aren't ready to ship the general release version yet."
Despite limited availability, early growth takes care of any exclusivity implied in the beginning. In May 2020, it had roughly 1,500 users, but according to The New York Times reporting, the app had over 600,000 registered users by late December 2020. Earlier this year, NPR reported, "More than 2.3 million people in the U.S. have downloaded the app," and now, according to one site, the new social network has "10 million weekly active users." Most other reports, however, including this infographic published at Social Media Today, indicate that Clubhouse has 6 million registered users, including 2 million who are active weekly.
So how does Clubhouse work?
Clubhouse aggregates live audio in list format on each user's homepage. Clicking on a "room" – the app's moniker for conversations – instantly streams the audio on the user's mobile device. Users can scroll through a list of conversations in progress, click a calendar icon to see what's upcoming, search for specific people and topics or start a room of their own.
We find these top-level explanations of the app's functionality to be helpful:
"You're greeted with a pretty plain-looking homepage that lists the discussions that are happening at that time, as well as chats scheduled for later. Your algorithm corresponds with both your address book and who you choose to follow — so, depending on your field of work/interest/friends, you'll see chat rooms hosting talks on music, film, culture, race, tech and beauty." (SOURCE: Vogue)
"When you open the app, you can see 'rooms' full of people talking—all open so you can hop in and out, exploring different conversations. You enter each room as an audience member, but if you want to talk, you just raise your hand, and the speakers can choose to invite you up. Or you can create a room of your own. It's a place to meet with friends and with new people around the world—to tell stories, ask questions, debate, learn and have impromptu conversations on thousands of different topics." (SOURCE: Clubhouse blog)
Like all social networks, Clubhouse has its own jargon. We've already mentioned "rooms," which all users can create. These are named by the specific discussion topic and, according to NPR, "Each individual Clubhouse room has a maximum capacity of 5,000 people." There are also "clubs," which are broader themes for ongoing conversations or series. Users can follow clubs but can't create them until meeting specific requirements.
The Clubhouse Community Guidelines describe three specific roles for users: moderator, speaker and listener. The moderator starts the room, can speak in the room and has the "special power to add/remove other speaker." Speakers are those actively in discussion: they "have the mic." All others in the room are listeners, who are muted by default. Speakers may be planned in advance (like a panel) or added during the conversation when a listener "raises their hand."
These roles are visible in the room, and users can tap profile icons to learn more about other listeners and, in the interest of networking, start a separate room to connect for a side conversation.
Clubhouse occupies unique social content space
What's most exciting about Clubhouse is that it offers live audio, something new among social media networks (for the moment anyway; see below). This live format serves up content that's purposefully "in the moment." If you're not on the app when a conversation happens, you miss it: it's against the Community Guidelines to record or transcribe audio from the app; the conversation is just for those who show up. In this way, Clubhouse uses live audio to add urgency. FOMO, anyone?
In addition to the live aspect, Clubhouse creators believe audio itself is "a very special medium" due to its ability to inspire more engagement than other forms of content: "Instead of typing something and hitting Send, you're engaged in a back-and-forth dialogue with others. The intonation, inflection and emotion conveyed through voice allow you to pick up on nuance and form uniquely human connections with others."
Media outlets reporting on Clubhouse agree:
"Because every user is able to join a room and have a real conversation with anyone, there is a sense of intimacy that you just don't get on other platforms." (SOURCE: Refinery 29)
"Unlike most social media apps where you can get caught up on the day's news after the fact, Clubhouse is one where you've got to be there to avoid missing out." (SOURCE: Oprah Daily)
"People want to focus on smaller, more intimate communities because the existing large public squares on other social platforms are extremely noisy. Facebook and Twitter have become public squares, while Clubhouse feels more like you're at your dining room table." (SOURCE: Alex Taussig, a consumer technology expert cited by Vogue Business)
We agree that these qualities are both refreshing and valuable and speak to the app's potential in the thought leadership and content marketing landscape. Already, however, the approach is becoming less unique: in response to the buzz around Clubhouse, several other social networks – including Twitter, Facebook and LinkedIn – are launching audio functions. Time will tell who ultimately does it best.
Potential for Clubhouse in financial services marketing
As a space focused on thought leadership and networking, Clubhouse creates natural opportunities for financial services marketing, keeping in mind the primary content marketing caveat: provide value and avoid the hard sell.
The platform is currently ad free and, at least at the moment, appears to be less interested in advertising that leverages a user base (a la other platforms) and more invested in monetization tied to access to content/influencers. This includes possible channels for ticketing, tipping and subscriptions, according to TechCrunch. The approach builds on the "exclusivity" energy Clubhouse tapped (purposefully) in its "invite only" launch.
Whichever revenue model the company chooses, it's clear that conversation is king at Clubhouse. This means that financial institutions interested in the platform must lead with subject matter experts and others who can tap the brand's relevant, interesting knowledge base to share with listeners. "The rise of Clubhouse," Vogue Business reports, citing marketer Reena Rai, "as well as platforms like Discord, Patreon, Onlyfans and Substack, may mark a return to quality content that people want to pay for. People are looking at those who want to add value and contribute to the conversation."
Financial services professionals are already finding their way to Clubhouse. This includes a handful of FS brands, such as Mastercard, Klarna, BBVA and Wescom Credit Union.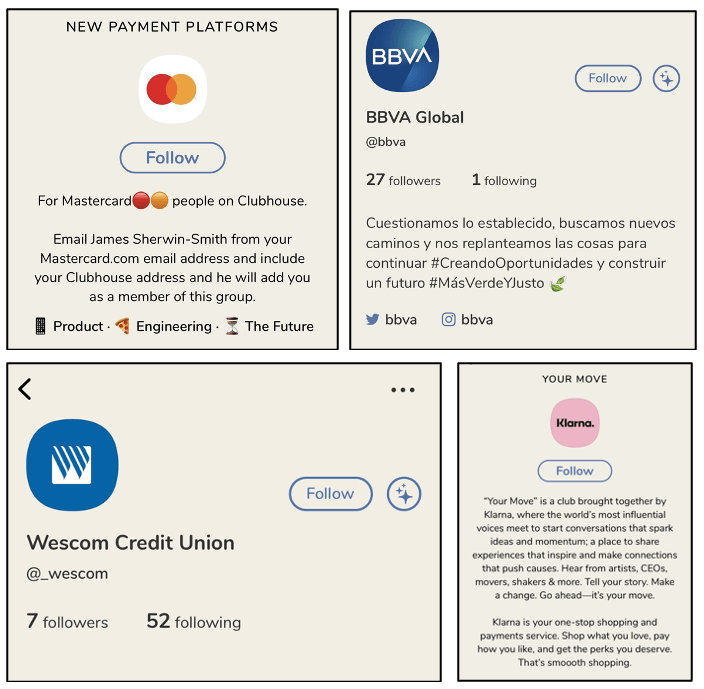 Preliminary searches show these early adopters are focused on industry knowledge (like The Points Guy and Financial Times) and financial education. There are, for example, clubs dedicated to personal finance, fintech, payments and marketing.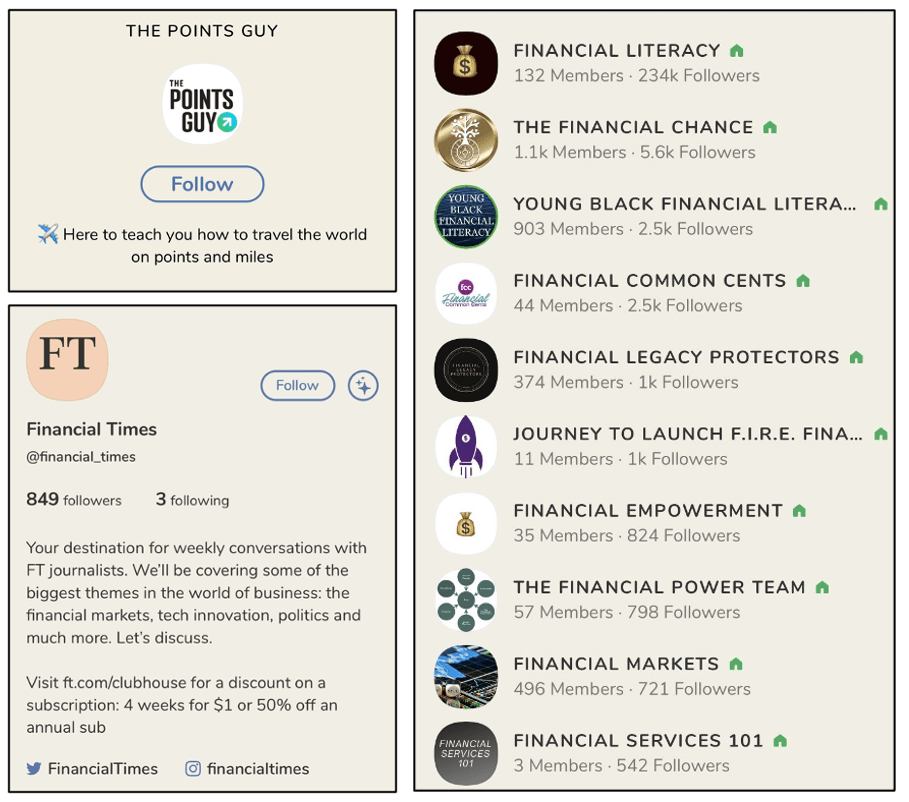 In addition to financial education, these evolving marketing opportunities are already creating buzz:
Early recommendations for financial brands on Clubhouse
We agree with Digiday's reporting when it says, "Despite [an] initial use of influencers, Clubhouse is likely to remain brand-lite for a while yet. Like many new social platforms, ads and how marketers can leverage ads, come last." While that means the app's marketing opportunities aren't fully formed, it doesn't mean brands need to sit on their hands when it comes to Clubhouse.
Consider these recommendations as a warm-up:
Grab desirable, branded usernames, including profiles for key subject matter experts and brand executives. We're already seeing users claim brand names (Venmo and Paypal, for example). This appears to be against the rules – users must provide their real names and details – but we've seen those guardrails fail on other platforms. It's always easier to start by owning your name than having to fight for it later on. Mashable explains, "Right now, you still cannot join Clubhouse without an invite. If you're an iPhone user, though, you can download the app and reserve a username, if that sort of thing interests you."
Familiarize yourself with the platform – Get in there and play. Investigate firsthand what works and what doesn't work. We agree with others who say it all rides on the quality of the conversations. In a recent The New Yorker article, for example, Anna Wiener writes, "If Clubhouse sticks around, its success will be bound to the quality of its content, which is still very much in flux."