Video, Email and Social Media Marketing Help This Challenger Bank Win GenZ and Millennial Customers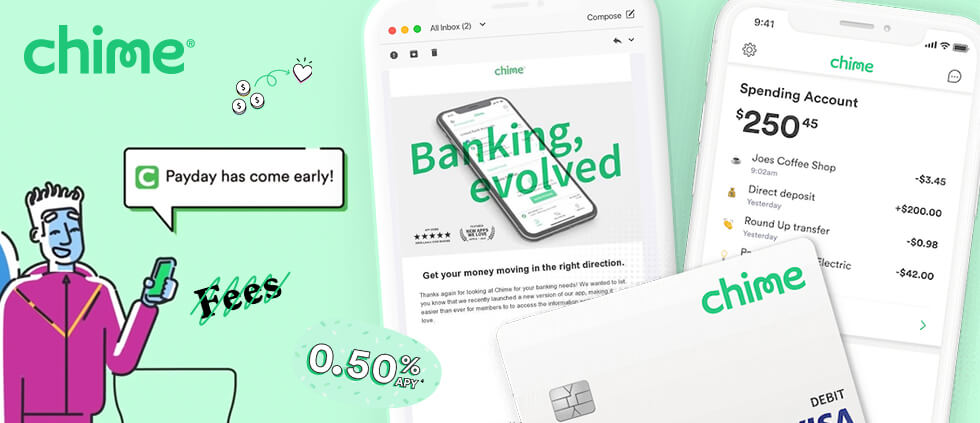 Chime Bank has been getting a lot of attention recently. In the last six months, venture capitalists have invested a reported $700 million in the "challenger bank" of the moment. Consumers have also been jumping on the band wagon: Chime has grown from 8 million at the start of 2020 to 12 million customers in the last year. That kind of growth can't be ignored, and in the financial press, it has not gone unnoticed.
But what is fueling this growth? Chime's play for GenZ and Millennial consumers may be working. In 2020, attitudes in this demographic appeared to shift towards challenger banks. In January, 4% considered a primary checking account from a challenger bank, but by December that number was up to 15%.
In the last few months, we've been watching as Chime Bank has used digital media to get its message out and capture the attention of the GenZ and Millennial audiences. If those growth numbers are correct, it seems to be working. Chime uses marketing that focuses on a few key features/benefits and has exploited them to great effect. Case in point, this video posted on YouTube which I first noticed as a 30-second spot on Hulu. It is an example of over-the-top (OTT) media, aimed towards the target demographic.
Similarly, this email that we spotted on Mintel Comperemedia serves as an introduction to some of Chimes leading features.

These creatives serve as terrific introductions to Chime and clearly establish a brand look and feel that speaks to the target audience. In other digital media, Chime is more laser-focused on a single benefit, while still maintaining this branding.
Early payday
A defining feature of Chime allows customers to get paychecks early, provided they have direct deposit set up. In the FS industry we call this Earned Wage Access (EWA), which gives customers early access to their wages (there are a number of banks that offer this feature). So, for example, if a customer gets paid on Friday, but Chime knows the funds are coming, they can receive funds on Wednesday.
Chime used a "member-get-a-member" strategy to promote this feature and encourage new sign-ups among friends of customers: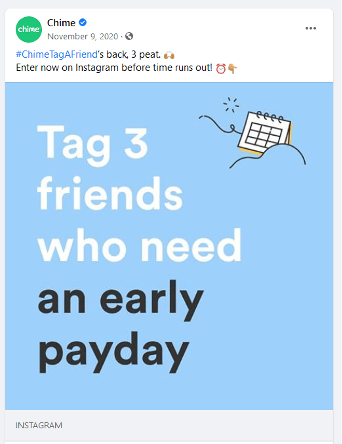 And, it's not for just payday, Chime extends this benefit to tax returns and even stimulus payments.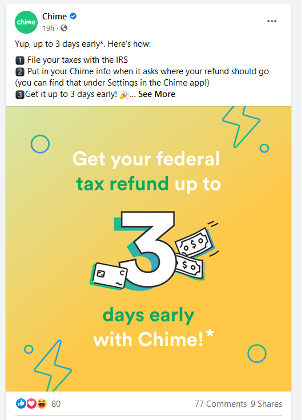 No hidden fees
Chime prides itself on not charging fees for its bank account and uses email to tell the story. In just three short sentences, Chime proclaims that no-fee banking is at the heart of what they "believe" as a bank. It is a simple and clear message to customers who agree with the sentiment.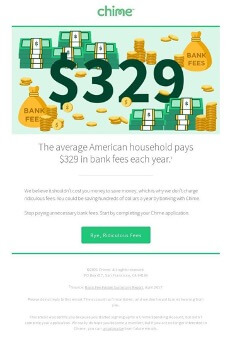 SpotMe
Chime's SpotMe feature allows its customers to make debit card purchases with no overdraft fees (up to $500). The brand recently encouraged Facebook fans to share their stories of how SpotMe has helped them "in clutch."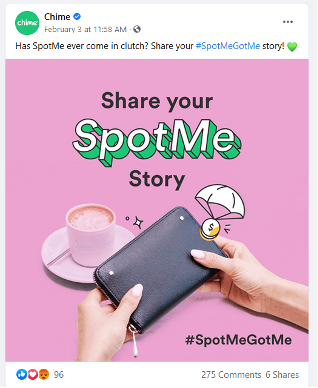 Credit Builder Visa
Most recently, Chime introduced a new product, the Credit Builder Visa Credit Card. It features no annual fee or interest, no credit checks for application and no security. It is squarely focused on the new-to-credit audience. Among other channels, the bank used Twitter to announce the launch. The campaign featured retweets from customers showing their new cards, which feature a metal finish.
And it's not just owned or earned channels that Chime is employing in its digital strategy. I also came across this paid, third-party affiliate ad on the Google mobile app.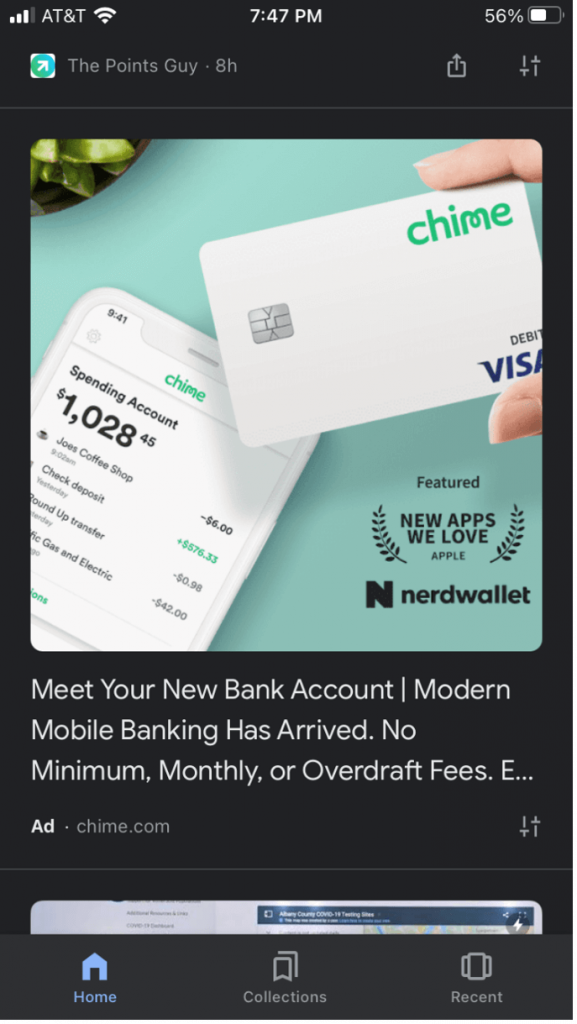 You can add to all this an engagement strategy Chime ran earlier this year — a sweepstakes focused around money goals in the new year.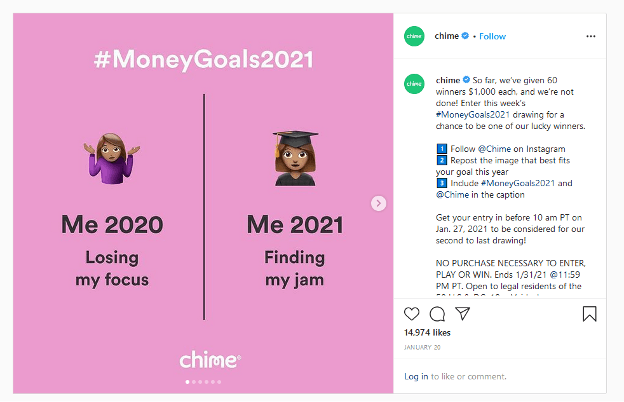 And finally, Chime is not shy about "meeting the moment" or meme, if you will, with this post featuring a viral image of Bernie Sanders at the inauguration.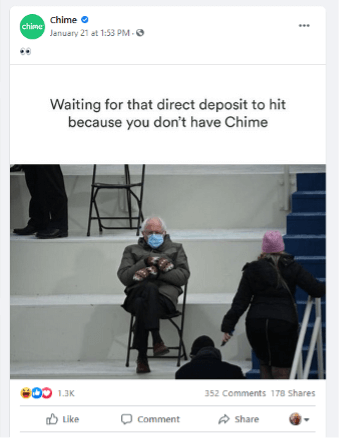 Media Logic's take
For us, Chime's digital strategy represents a bevy of best practices that we recommend to our clients.
Robust channel strategy. Check.
Single focused communications. Check.
Interactive and engaging. Check.
Continuous. Check.
Everything we've seen shows that Chime Bank can execute on a cost-effective digital strategy. Perhaps most importantly, however, is that the brand seems to be talking to its key audience in a way that resonates.