Financial Services Direct Mail Marketing: Volume, Formats and Informed Delivery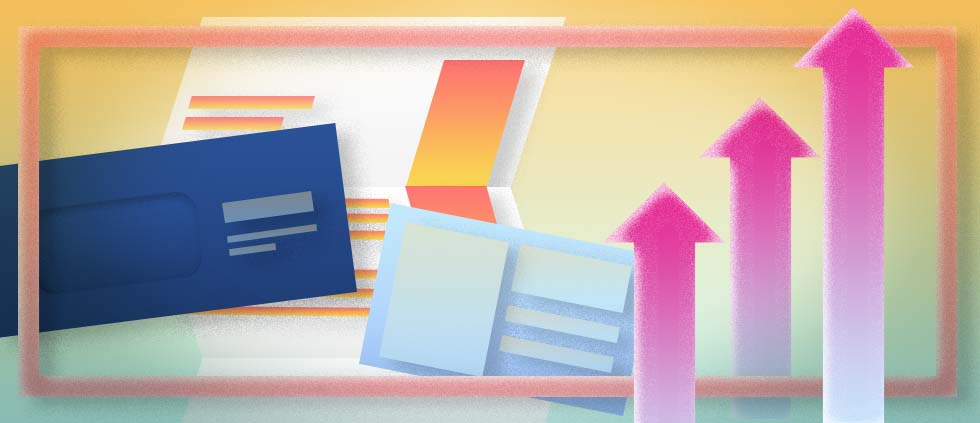 In our ongoing work with top financial brands, we've learned to spot industry-wide trends related to direct mail marketing, like activity levels, formats, channel enhancements and other innovations. To validate our observations – and continue to evolve best practices for our clients – Media Logic regularly monitors reports from Comperemedia, Competiscan and Who's Mailing What!
Doing so recently, we spotted three key direct mail marketing trends that are supported by analyses of consumer data: how much direct mail is in-market, which direct mail package formats are preferred and how direct mail is responding to consumer adoption of the USPS Informed Delivery service.
Direct mail volume growth in 2021
Competiscan reports that Q2/21 "was the first quarter we really saw a flood back into the mailbox" by issuers, a direct result of almost every top 10 issuer of credit cards increasing mail volume from the previous year. The market research firm also points out that the time period – Q2 – is typically a quarter where there's less mail direct mail activity related to credit card promotion. (Mail volume is usually concentrated around the holidays.) However, Q2/21 was different and may contribute to a paradigm shift away from mail seasonality.
Media Logic's financial services marketing blog has pointed to both consumers' pent up spend behaviors and their stated desire to acquire new and better rewards cards. As the 2021 recovery solidifies, we know that issuers' focus has been on refreshing and relaunching existing credit cards and launching new products with high consumer appeal. The result: a quick return to direct mail acquisition marketing along with the continuation of digital acquisition marketing.
Trends in direct mail formats
A look at the trends in formats used by commercial mailers, as captured by Who's Mailing What! from formats they tracked between 2009-2021, shows the use of postcards continues its upward trend year-after-year, while letter packages and self-mailers are declining in use. (Keep in mind that this reflects the use of formats across multiple sectors and years.)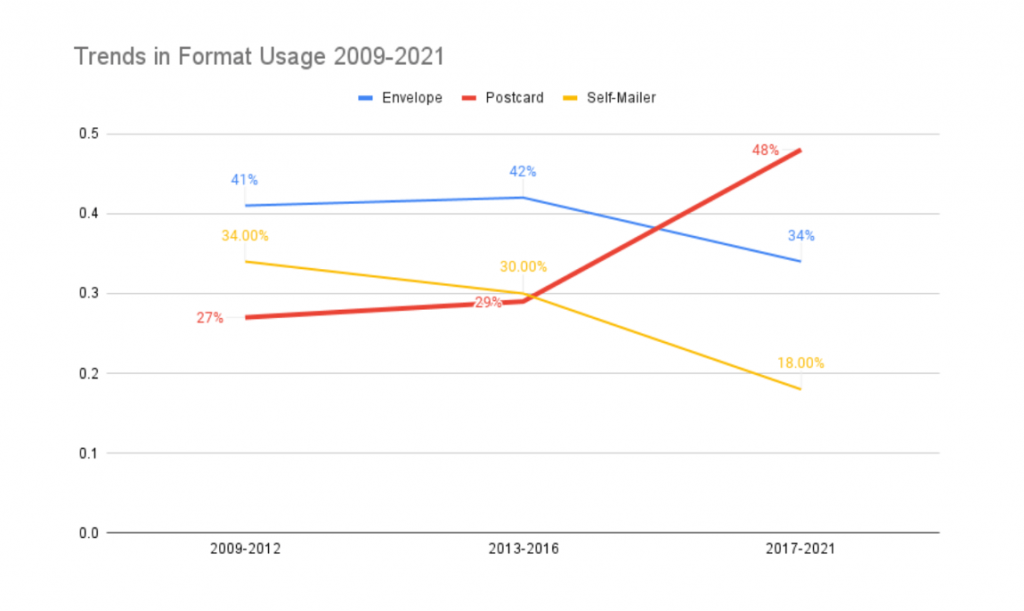 A look at use of the letter package ("envelopes"), as seen in the Who's Mailing What! data, reveals that only the non-profit sector, with its reliance on long copy to engage and motivate donors, currently outranks the financial services category for use of this format. In addition, the financial services category continues to rely most on the DM letter package format versus other choices. It has proven to be practical, says Who's Mailing What!, because it accommodates not only complicated value propositions associated with rewards but also robust features and benefits sets, product terms and regulated legal disclosures.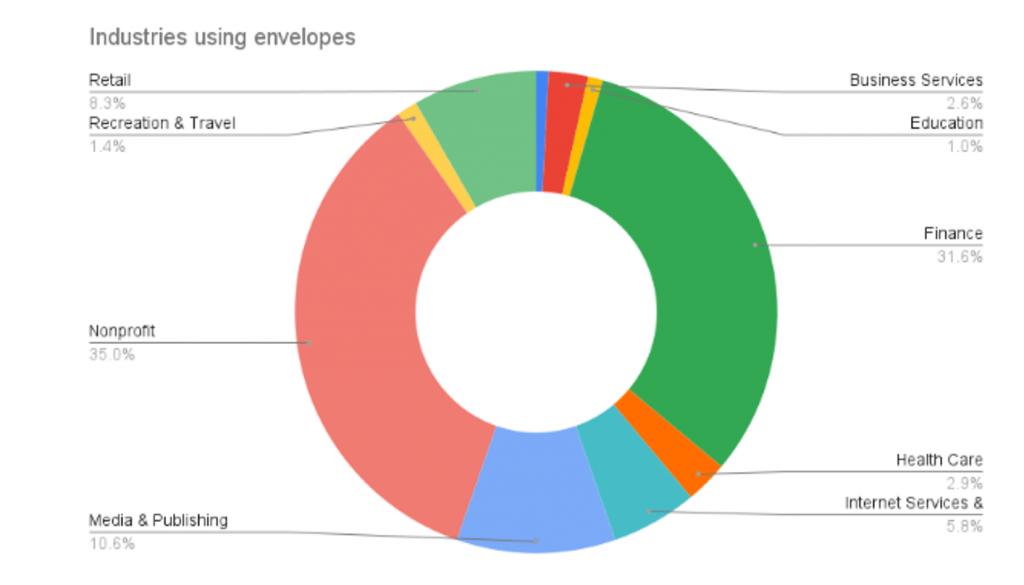 It's important to note that the recent increase in mail volume is not cannibalizing the growing use of digital channels. For example, Comperemedia points to the growth in video as a trend it predicted – and can now validate – for 2021: "Video has thrived in 2021. Video as a marketing channel is especially crucial in financial services, which has seen a 10% year-over-year increase in online video marketing spend in the first half of 2021. Some of the top creatives (by spend) in the sector came from fintechs, such as Credit Karma and Cash App, which have been especially strong adopters of the channel to establish themselves in an increasingly crowded landscape." Comperemedia also identifies traditional credit card issuers Capital One and Discover as top investors in online video.
Informed delivery growth impacts envelope mail
The direct mail letter package trend now has an additional consideration with the proliferation of USPS Informed Delivery (ID), a service that allows consumers to preview what is being delivered to their mailbox ahead of time by delivering outer envelope (OE) scans via email. (Note that ID only captures the address side of the OE, and the scan results in a greyscale preview for the enrolled consumer.)
We see ID as important because USPS reports more than 37 million registered users. These are consumers with the ability to interact with mail ahead of delivery with a daily open rate of 64.7% as of March 2021. Of the 20 top brands using the service, eight are in financial services.
In 2021, the USPS expanded ID to include an Informed Delivery Campaign option – which expands the initial service as follows:
Participating mailers can supplement their digital mail piece with a clickable and interactive color image below the grayscale image or provide an image to replace the grayscale image.
Users are able to click either the ride-along image (this could be an offer) or the "Learn More " button to access the mailer's digital content.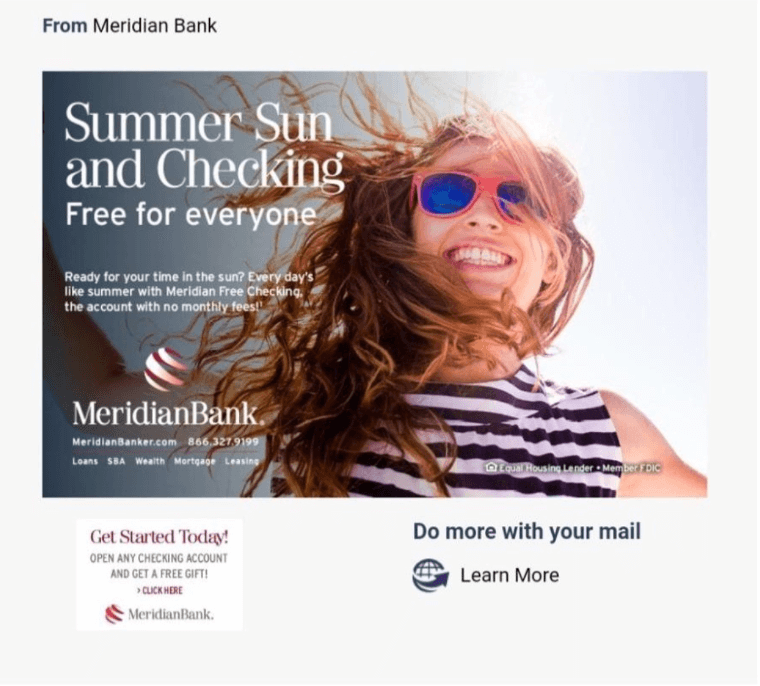 How credit card acquisition wars play out on OEs
Given the continued reliance on "envelope" direct mail, Media Logic captured recent OEs dedicated to credit card acquisition. Our latest flipbook – Credit Card Battles in the Mailbox – points to OE examples that use best practices from issuers who are experienced in the share-of-mailbox acquisition battles. We also provide OE examples that consider Informed Delivery in their OE design and content, plus a few "fails" we've noticed, too.