2021 Trending: Premium Card Marketing Strategies from Chase and American Express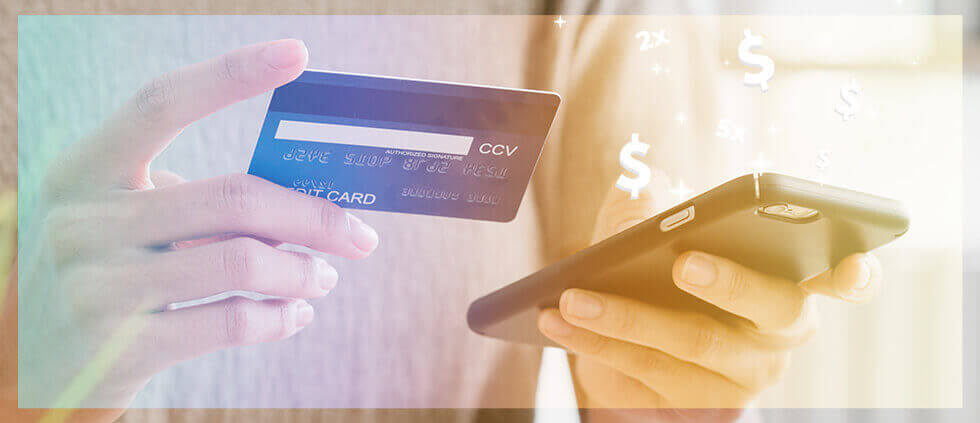 Near simultaneously, Chase and Amex have reinvented or refreshed their highly-regarded premium credit cards – Chase Sapphire Reserve (CSR) and The Platinum Card from American Express – adding or enhancing both the base value proposition and benefits. While CSR's annual fee holds steady at $550, Amex Platinum really packs in the new and enhanced benefits and now must work hard to effectively communicate the card's aggregated value against its new annual fee: $695, an increase of $150.
Coming off the last pandemic wave (and in the throes of anticipating the next one), there may be a short window of time for issuers to go to market and acquire new cardmembers, cross-sell premium products to existing cardmembers and educate current CSR and Amex Platinum cardholders about the new cards. The communications streams for both products indicate all three activities are already in play.
What's behind this premium card reinvention trend? Clearly it is not coincidental or serendipitous, and a short review of the product changes will help marketers understand possible issuer motivation and strategies.
July: American Express introduces the "new" Platinum (BIG annual fee and BIG value)
When it comes to the premium category, Amex has a long and storied legacy. Amex is associated with high levels of customer service, as well as robust dining and travel perks. Amex is reframing the Platinum card itself through marketing language like "Make everyday a new adventure." We don't see this as a new positioning since Platinum has been continually evolving, but as The Points Guy observes, the card is clearly being framed as a lifestyle enhancement:
"The Platinum isn't shedding its travel roots, but it's expanding beyond to become a lifestyle card — and Amex seems to be going all-in with this overhaul. During Amex's 2020 third-quarter earnings call, Chairman and CEO Steve Squeri said the company planned to "look at other travel and entertainment value proposition enhancements" for its premium cardholders."
To that end, acquisition marketing declares, "The card known for travel now packs more value for everyday experiences. More than can fit in this mailing." The marketing of everyday value is more familiar in Amex "everyday" product marketing (e.g. promoting partnerships like Uber, Saks, Equinox, subscription services, etc.), but within Premium marketing, it helps Amex rationalize a $695 annual fee, which is critical as Amex seeks to further contemporize Platinum and target desirable age cohorts. Clearly, this is not your father's American Express Platinum.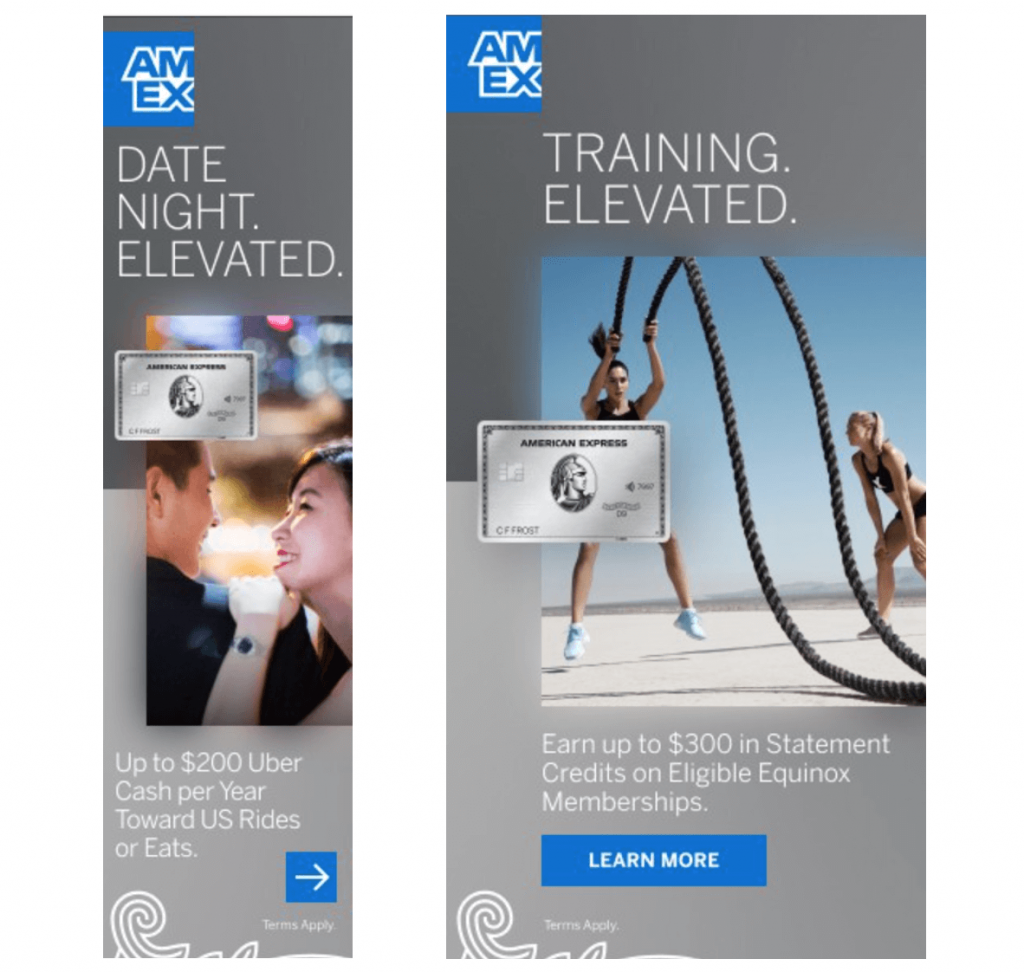 In fact, gone are the days of Platinum's premium direct mail formats featuring high production values, ivory velum stock and embossed metallic envelopes. The new "premium" marketing leans toward an oversized outer envelope, a letter and multi-panel brochure with many images – but not a Rolex-laden executive or private jet.
The cross-sell DM packages that landed in our mailbox also feature a "do the math" chart to demonstrate that the $695 AMF can be offset by $1400 in value annually. The pure prospect acquisition DM captured by Comperemedia features a variation on that transparency and persuasive tactic: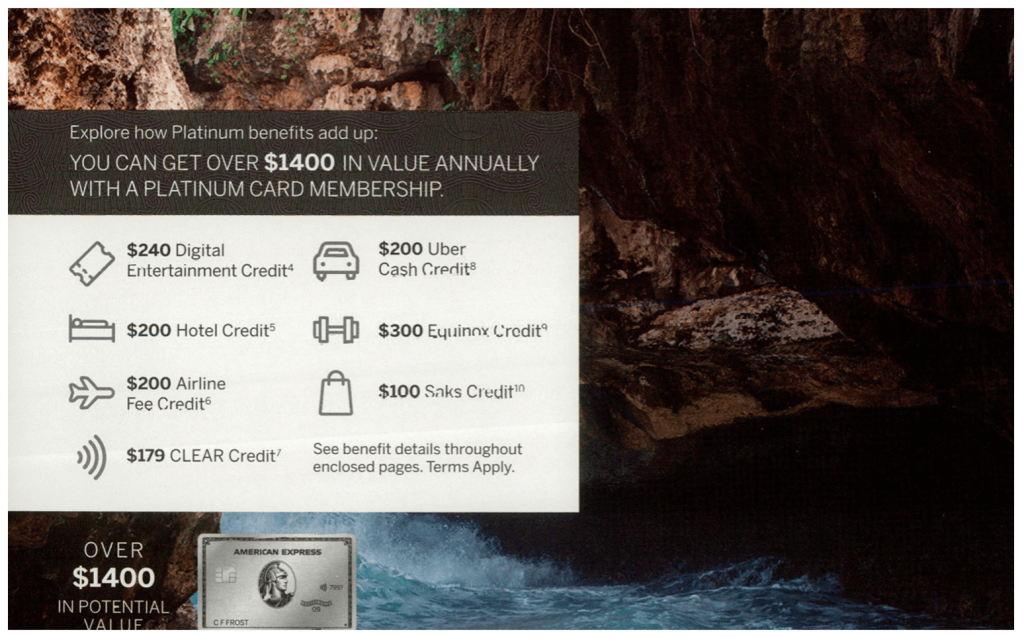 When it comes to the new Platinum, there's a lot going on. Smartly, Amex calls out "card member favorites," language that effectively serves as an endorsement and lends credibility.
Here's a breakdown of new and enhanced benefits:
Travel benefits
$200 hotel credit and $200 annual airport fee credit
Clear Credit ($179) for airport and stadiums – New!
5X points booked airlines/Amex travel ($500k cap) – Cardmember Favorite!
Expanded access to lounges Amex Global
Everyday lifestyle benefits
Equinox fitness credit of $300 – New!
Up to $200 Uber savings yearly – Cardmember Favorite!
Up to $240 digital entertainment credit (Audible, The New York Times, SiriusXM and Peacock) – New!
Cellphone Protection – New!
Dining/shopping benefits
10x points at restaurants and U.S. Shop Small Merchant purchases
Global dining access by Resy – New!
Earn $100 Saks statement credits
Despite the targeting of super-prime prospects, Amex also promotes its version of Buy Now, Pay Later by touting the control afforded by Plan It® to pay for large purchases (e.g.,"when you book that big vacation"). Promoting Plan It appears to be defacto for Amex across product marketing and communications streams.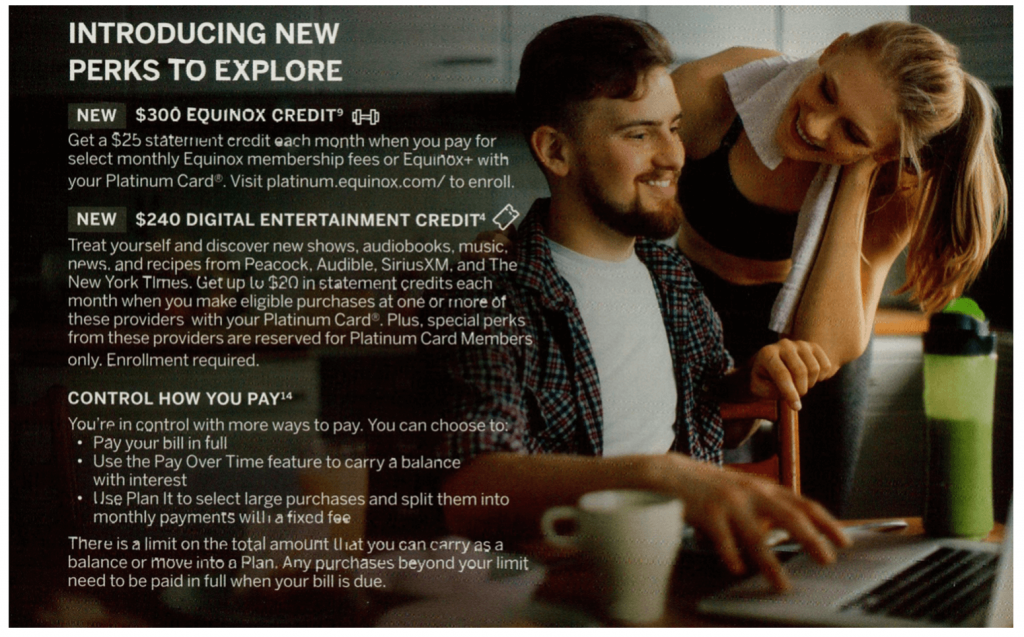 August: Chase re-energizes the Sapphire brand to meet you "where you are"
Is it a coincidence that approximately five weeks after Amex launched the new Platinum, Chase issued a press release announcing its new premium card facelifts? Both Chase Sapphire Preferred and Chase Sapphire Reserve are now enhanced, although CSR is our focus here, as it's the card that's directly competitive with Amex Platinum.
As it contemporizes CSR, Chase (like Amex) card marketing includes everyday perks, while not abandoning its core travel and dining benefits and focus. The press release reads, in part:
"We are continuing to evolve benefits and introduce new perks to meet customers where they are without departing from what they love most – travel and dining."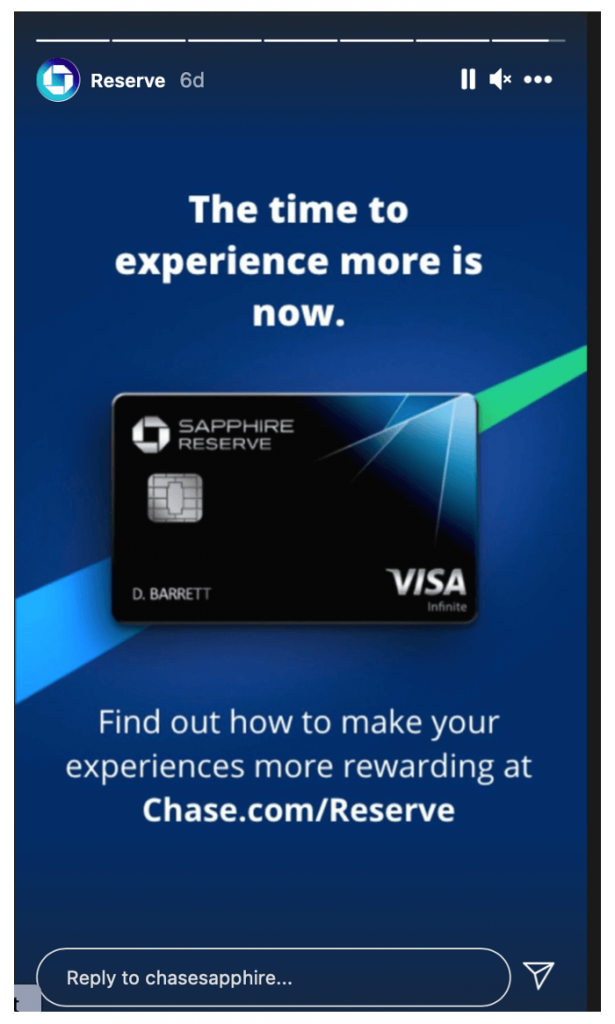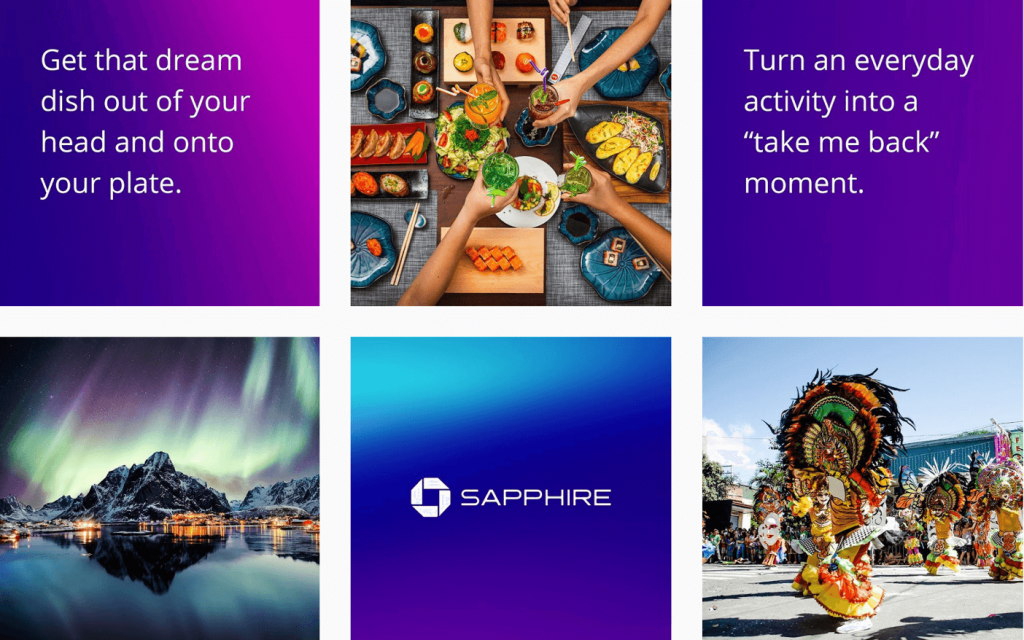 Chase originally skyrocketed the demand for the Sapphire brand by touting the "experiential," and the issuer is careful not to step too far away from successful messaging around accessibility and adventure. (Remember that the original positioning and bonus offers really resonated with prospects. The demand for Chase Sapphire Reserve was so great that, as reported by Market Watch, Chase ran out of the metal sub-strait used in the manufacturing of CSR cards.)
History aside, what's new with CSR? In addition to existing earning structure of 3X points on travel and dining and 1 point per dollar everywhere else, CSR continues to offer:
$300 annual travel credit
$100 application fee credit for Global Entry or TSA Pre✔®
Luxury Hotel & Resort Collection™ cardmember benefits
Points that are worth 50% more when redeemed for travel through Chase Ultimate Rewards
Everyday lifestyle limited offers with Peloton Digital, Lyft, DashPass and DoorDash (ending late 2021 and early 2022)
Now, Chase is introducing more bonus categories with accelerated earning power:
Travel
10X total points on hotel stays and car rentals purchased through Ultimate Rewards – New!
5X total points on air travel purchased through Ultimate Rewards – New!
Chase Sapphire Airport Lounges (two domestic and one international airport locations with future expansion in late 2021) – Cardmember Favorite!
Dining and shopping
10X total points on Chase Dining purchases through Ultimate Rewards – New!
Access to "Reserved by Sapphire," featuring exclusive opportunities to book reservations at some of the most sought-after restaurants (TBD 2021 launch) – New!
Thinking about recent research into the consumer mindset about credit cards and rewards, perhaps the key to success will continue to be the flexibility of rewards using the Chase Ultimate Rewards Portal, including the popular Pay Yourself Back redemption option.
Amex and Chase premium card marketing strategies
Chase and American Express seem to be leveraging similar strategies in 2021, as we see premium card acquisition stats on the upswing.
Capitalizing on the resilient super-prime segment
The super-prime segment remains an opportunity: At the close of 2020, the U.S. accounted for 365M open credit card accounts, of which 203M were super-prime (commonly defined as those cardholders with 720+ credit scores, according to the Consumer Financial Protection Bureau). The number of credit card accounts decreased for the third quarter in a row (ABA, May 2021). However, the number of super-prime accounts, as reported by creditcards.com, rose to an all-time high since the ABA's card ownership data from 2015-2016.
Ensuring cards are pandemic-proof
The remarkable pandemic response by card issuers resulted in quick shifting of value prop, offers and rewards – both earn and burn – away from travel and restaurant dining and aligned instead with the most desired and used merchant categories. Across 2020, the Media Logic Financial Services blog looked at many rejiggered value propositions and offers for grocery stores, take-out, subscription services, media streaming, delivery services and online merchant offers that made social distancing and working from home easier and better.
It seems that, in balancing out travel/dining with other rewards earn-and-burn options, Chase and Amex may be ensuring premium cardmembers are well served for any possible "next normal."
Evolving further to meet consumer rewards expectations
We explored the Ipsos/GigaPoints survey last month, and the survey's consumer insights and preferences about credit cards are relevant to super-prime consumers, too. This includes the desire to find a new credit card and the continuing importance of rewards including flexible and better redemption: Both are evident among the affluent segment.
Capitalizing on pent-up consumer spending
According to Forbes, Amex experienced a consumer "revenge" spending surge during Q2 2021, as vaccines became common and positively impacted transactions at restaurants, shops and entertainment venues. This obviously helped Amex, a company that has success in corporate payment cards and consumer charge cards and "took a hit in the pandemic."
This is an opportunity for Chase and Amex to actively drive pent up demand amongst the premium segment. Both issuers, therefore, are focusing on segments with demand for fee-based Platinum cards, which Forbes reports is getting stronger. In fact, it cites stats showing that American Express registered 2.4 million new cards in the quarter.
Targeting and cross-selling with pre-approved offers
Amex is cross-selling its customer base to convince cardmembers to switch to Platinum. Recent direct mail activity indicates the issuer is using pre-approved offers targeting "loyal Card Members" and inviting them to enhance membership with the new Platinum. Its successful cross-sell relies primarily on the following:
a very attractive acquisition bonus offer (the highest we have seen is 125k MR points requiring $6k spend in first 6 months), plus 10X MR points accelerator at restaurants and Shop Small merchants for the first 6 months up to $25k in spend; and
addressing possible annual fee barriers by being both transparent and assertive, showing how easy it is to get $1400 in value annually from benefits when paying $695.
Both issuers are acting fast while consumers are in an acquiring mindset and are hopeful that travel and dining restrictions are firmly in the rear-view mirror. The credit card pundits are weighing in and arriving at fair conclusions when comparing the two cards: Nothing is like the new American Express Platinum card but prospects need to carefully and realistically evaluate just how much value they can recoup to justify the fee. In the meantime, Chase Sapphire Reserve is the more often recommended premium choice.
Additional sources used to detail product enhancements:
American Express press release, July 2, 2021
Chase press release, August 10, 2021