Issuers Can Deploy Digital Payment Options to Help Accelerate Business Travel Recovery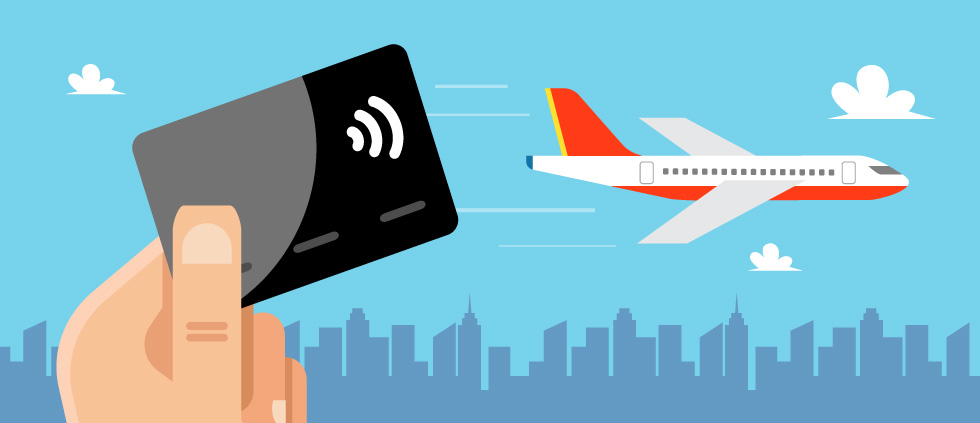 BTI Outlook provides annual insights into the state of business travel. The findings are of interest as we look beyond the positive rebound in consumer travel to better gauge what to expect in the business sector, including when business travel will return to "normal" and what factors will impact associated card spend.
At a high level, BTI expects a complete recovery to pre-pandemic levels of business travel by 2025. In the meantime, here's how business travel will most likely recover over the next four years, as forecasted in the report and cited by CFO Daily News:
Business travel spending is expected to increase 21% in 2021, mostly towards the end of the year and corresponding to the increase in domestic and global vaccination rates.
BTI Outlook forecasts a significant increase in 2022 travel, as group meetings and international travel rebound. (This is expected to be well above the historical average rate of growth.)
It won't be until the close of 2024 when annual business travel spending will reach approximately $1.4 trillion, the level of spending reached in 2019 before COVID-19.
The study explains the trajectory of this recovery depends upon key dependencies, like the pace and efficacy of global vaccine rollout, "duty of care" policies (whereby companies have to take steps to make the travel experience easier and safer for their employees), business traveler sentiment about safety, national travel policies and restrictions and major shifts in behaviors.
CFO Daily believes, "Travel will return, but it will be in slow stages. Business travelers may take domestic trips to visit specific clients in 2021 before they head to international client meetings in 2022 or large, congested conferences in 2023."
The consensus among business travel pundits is that corporations in the near term will support travel for major initiatives, like new business opportunities, while they relegate service calls and business-as-usual meetings to phone and online.
For a second opinion on overall travel trends and how they impact business and corporate card issuers, we turned to Mercator Advisory Service. Mercator has a somewhat optimistic outlook based on its review of recovery dependencies, including growing vaccination rates in key countries and what looks to be a return to in-person trade shows in the U.S. (In fact, several large trade shows like Money 20/20 are now scheduled for autumn of 2021.)
Business sentiment, as measured and reported by Amadeus in "Safer, Easier and Better" (April 2021), indicates a large majority of business travelers – 87% of frequent flyer business travelers and 84% of all business travelers surveyed – are eager to travel with some concerns about safety and corporate "duty of care" policies.
When Amadeus asked international business travelers to rate the measures designed to reassure employees about the resumption of business travel, the survey uncovered payment concerns that can be addressed. For example, contactless payments ranked fourth by frequent business travelers. On a scale of 1-10, they gave "ability to pay with contactless" an 8.1 rating and "contactless hotel check-in" an 8.0 – putting both concerns above "mandatory test/vaccine certificate for boarding plane."
Amadeus reports, "Our findings show that travelers are eager to travel if the right safety measures are in place, which is hugely encouraging for the business travel industry."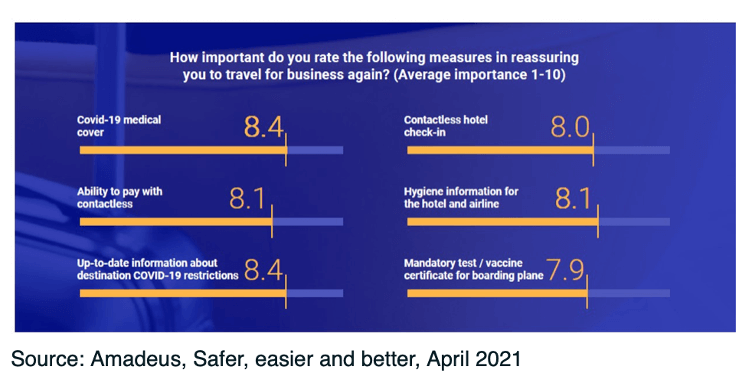 Drilling into card spend, Mercator's card expert sees "some reason for optimism as we move towards 2022." Mercator observes that non-travel commercial credit card use – for supplies and other non-travel transactions – is replacing some of the travel spend and may have been encouraged by increasing supplier acceptance of cards for B2B transactions.
Issuers of business cards and corporate cards can do their part to accelerate business travel recovery by providing digital solutions – like with contactless card options, mobile wallets and virtual cards – to address business traveler concerns.
Airplane vector created by titusurya at freepik.