Tips for Marketing "Secret" Credit Card Benefits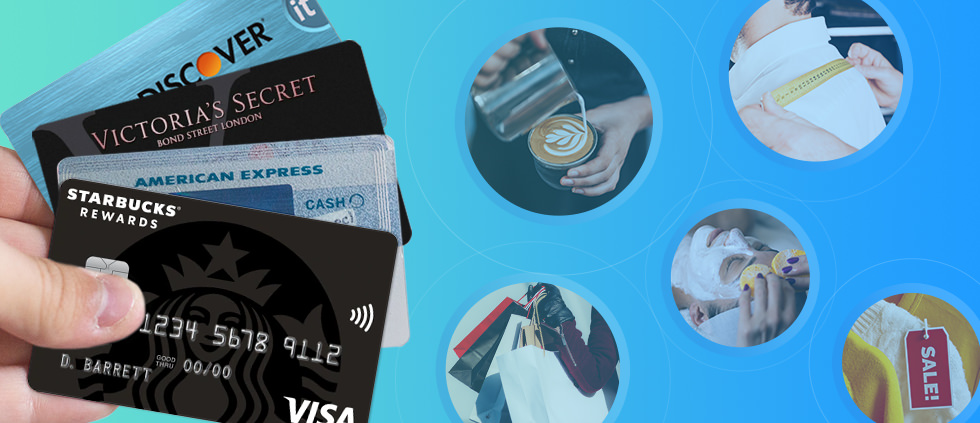 The desire for exclusive access is a powerful incentive that brands often leverage to their advantage. Consumers appreciate and are drawn to "secret" stuff — menus, content, perks, communities and extras — and as such, it can be used to establish and reward loyalty and engagement.
In January of 2014, Time Magazine wrote about the appeal of secret menus, which had become popular with quick service restaurant (QSR) venues:
"Secret menu items — which aren't listed on order boards, but are readily available to those who ask — are regularly rounded up by the likes of The Daily Meal, Ranker, and Secret Menuholic. McDonald's, Starbucks, Taco Bell, Jamba Juice, KFC, Denny's, Five Guys and White Castle are just a few of the big-name restaurant chains with secret menu items."
In a similar vein, richer, deeper content that's available when you pay to unlock access is also an engagement model that leverages the appeal of the secret. For example, the popular "A Thing or Two" blogger/podcaster team of Claire and Erica serve up personal takes on what they are doing, making and thinking as it relates to the content they consume. There are two paths to engaging with their content: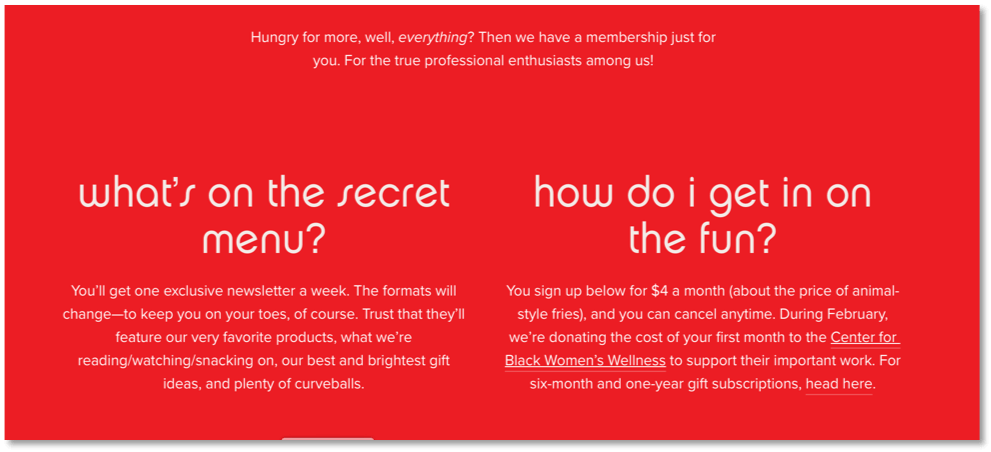 Universal Standard (US), an online clothing retailer known for inclusiveness, bakes the element of surprise into secret offerings, which consumers find simply irresistible. For its annual "Mystery Boxes," shoppers select a themed box and, based on survey input, US curates three items of clothing with a retail value anywhere between 2x to 4x the box cost. These boxes quickly sell out despite being non-refundable. In 2021, US added scratch-off game cards into each box further creating social media buzz when some shoppers scored the coveted $100 discount.
How issuers apply the "secret menu" concept to credit card perks
Both bank-branded and co-branded credit cards understand the appeal of perks and benefits, including those that fly under the radar. It seems credit card "secrets" fall into two categories — secret by design and secret by circumstance — and we'll share examples of each.
Credit card perks that are secret by design
Engineered to appeal to loyalists and to create card envy, these lightly promoted "secret by design" perks play to consumers' love of access, exclusivity and surprise. Typically, the highest tier of card, spend or loyalty qualifies for insider perks. Here are a few examples:
Starbucks Rewards Visa Signature Card – When this co-brand revamped its credit card program and changed the value proposition to the dismay of many loyalists, Starbucks added two secret-like benefits (free perks sent to your inbox each month and barista-curated drinks) as a thanks for being a cardmember.
Visa – The payment network has several "hidden" offers (like exclusive Hudson Yards access) that are unlocked by using a valid Visa branded credit card, including this one: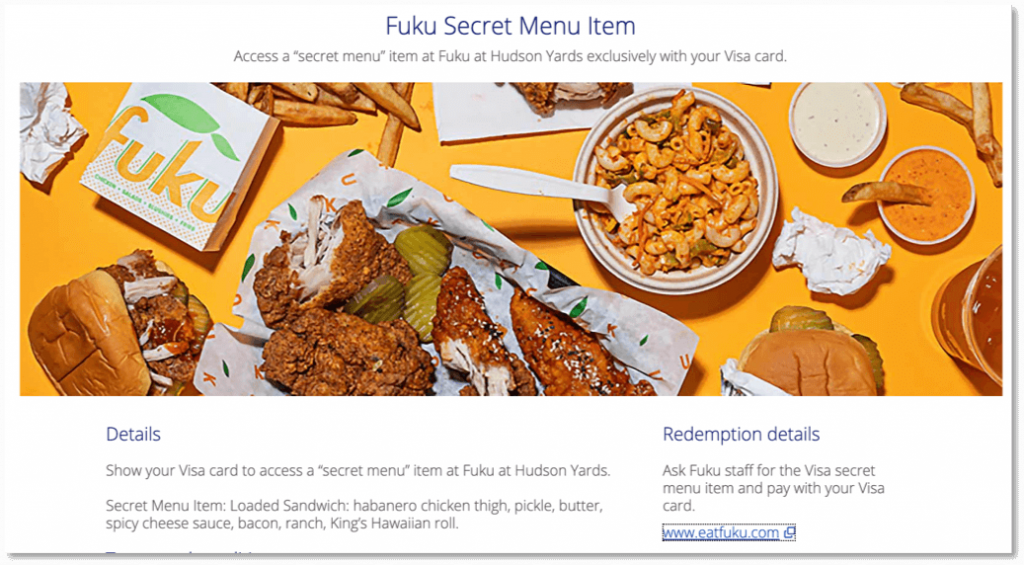 Victoria Secret Private Label Credit Card – Higher tier silver and gold cardholders receive Perks of the Month, Birthday Treats, Half-Birthday Treats and Credit Card Anniversary perks. One credit card review site describes "Angel Card Month" as an annual event available to all loyalists with exclusive perks, outstanding offers, sweepstakes, and event access.
Discover It – Offers for college students include Good Grade Rewards, which give a $20 annual statement credit for achieving a 3.00+ GPA. (This offer requires submission of a written request across five years of eligibility.)
Banana Republic Luxe Visa – This card comes with free basic alterations, a valuable perk that has been around for years. The benefit should have high appeal to female shoppers, who usually don't qualify for gratis alterations (versus male counterparts).
American Express Platinum Card – Not publicized by Amex (but well-known thanks to cardmember bragging rights), Amex regularly sends out free merchandise, gift cards and exclusive discounts at luxury retailers and spas. Amex has also been known to gift cardmembers during the holidays as they visit Centurion Lounges. The result? "Surprise and delight" has become intrinsic to the Amex Platinum brand.
Credit card perks that are secret by circumstance
Some more utilitarian, valuable and needed credit card benefits are vastly under-promoted due to circumstance and environment. The cost to fund these benefits is a major reason, but there are additional factors:
Communication priorities and consumer information overload – Often, co-brand and rewards cards have a heavy lift as they focus on the complex core value propositions that differentiate them. During the acquisition marketing phase, issuers are forced to limit promotion to bonuses, rewards and cash back/points earn and burn. This practice carries into activation communications, too.
Channel space constraints and best practices – Use of emails and digital ads require marketers to be concise, eliminating mention of deeper benefits. Often ancillary benefits also require hefty copy blocks containing terms and conditions.
Seemingly "out-of-fashion" card benefits – Purchase protection, extended warranty, price protection and card-related insurance appear to be relegated to tier two and three in messaging hierarchies. With the demise of robust, physical welcome brochures, most brands (except for the super-premium) may be forced to rely on consumers being proactive about these benefits. Unless they have a specific need, it is unlikely cardholders are benefit-aware.
Changes in wants and needs – Gen X, Z and younger Millennial cohorts (those most desirable to card marketers) are aware, attracted to and swayed by the experiential, digital solutions/tools and hefty acquisition bonuses with potential for immediate gratification. Once theses cohorts become more exposed to "out-of-fashion" benefits, they are more likely to broaden their mindset toward more utilitarian card benefits.
The belief that customer service is at parity – Touting service as a benefit was once a "must" that appears to have become less of a priority. With the exception of a few issuers, providing an 800# seems to check the box.
How should issuers approach secret and under-promoted credit card benefits?
We're all for keeping some mystery in credit card marketing, but distinguishing between benefits to keep secret and those worth invigorating is best made on a card-by-card basis. However, there are fundamentals to help guide benefit marketing to achieve a win-win.
1. Differentiate and prove value
We agree with Comperemedia when its analyst observes1 that card ancillary benefits can differentiate a product from the pack and prove value. That's a good rule of thumb when making marketing decisions about why, how and where to promote benefits.
2. Assess cardholder interest
Understand the hierarchical benefit rankings from your cardholders' perspective, as well as their level of awareness and use. When proprietary research is not possible, Visa, Mastercard and American Express will likely have aggregated consumer insights that can help issuers. You may be surprised about the low levels of awareness and your cardholders' benefit rankings in terms of assigning interest and value.
3. Follow best practices
Comperemedia also suggests1 that issuers who follow best practices will "adopt a long-form strategy to present benefits as singular, relevant and accessible." For example:
Acquisition marketing, as noted earlier, may be best left "as is," but a solid onboarding and early month on book (EMOB) strategy will help determine which ancillary benefits get promoted, in what channels and at what point across the initial 90-day window.
Consider a digital benefit guide in lieu of or in addition to a printed, physical welcome brochure. Digital delivery can efficiently support customization to address various cardholder segments based on differences in age, income and lifestyle.

Or, better yet, follow Chase's lead and, where channels allow, build interactive websites that support exploration of robust, engaging content.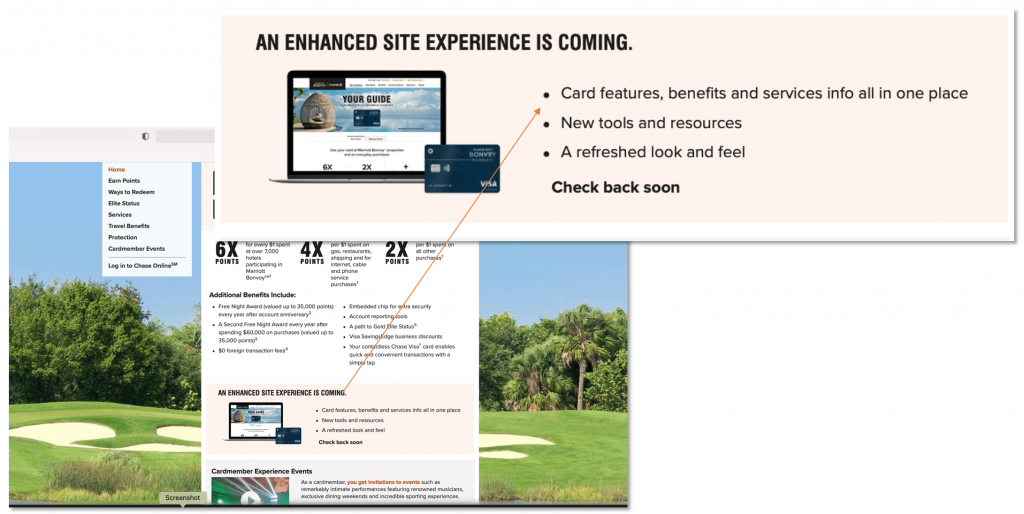 Think differently about how best to promote multiple benefits. Many issuers use the "bucket" approach … an organizing principle that bundles related benefits into categories like security, purchase protection, travel and lifestyle. The result is usually a litany of benefits that can result in content overload and disengagement. Instead, break out of the "bucket" approach and focus on communications that limit promotions to 1-3 related benefits at most. Even better, use a focused series of communications.
A helpful rule of thumb is to educate as much as you promote. Explaining benefits requires clear language about what's in it for the cardholder and the mechanics of how the benefit works. We've worked on complex benefit messaging and strive to incorporate copy research with cardholders to validate or redirect benefit messaging.
4. Deploy trigger-based communications
Cardholder behaviors can prompt benefit promotion in real time, e.g., an electronic purchase triggers an Extended Warranty promotion or airline ticket purchase triggers promotion of a travel-related protection benefit. It's critical to build trigger-based communications like these into cardholder outreach.
Other "events" can trigger communications, as well. For instance, the pandemic has been a giant lesson in the value of staying flexible in marketing campaigns. As 2020 unfolded, nimble card marketers took the focus off travel benefits and switched gears to promote benefits that better served emerging consumer behaviors and needs.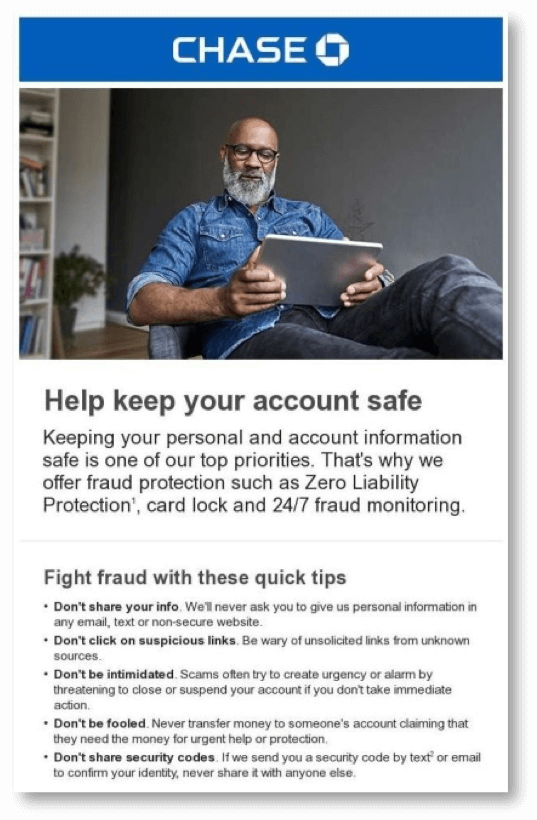 5. Don't undervalue customer service
Keep in mind that customer satisfaction is inextricably linked to customer service. Here's proof of concept: Year-after-year, American Express consistently ranks very high, if not number one, in the J.D. Power's U.S. Credit Card Satisfaction Study. Revive your service story, assuming it is one you can credibly tout. Talk about service in new ways and go beyond the expected iteration of "24/7/365/domestic service."
Takeaways
It's okay to keep fun benefits and perks — like those Barista curated drinks and the Half-Birthday gifts — "secret." Just be sure to get the most out of them by promoting them on the back end. For example, encourage influencers and cardholders to share their experiences on your behalf in social media streams.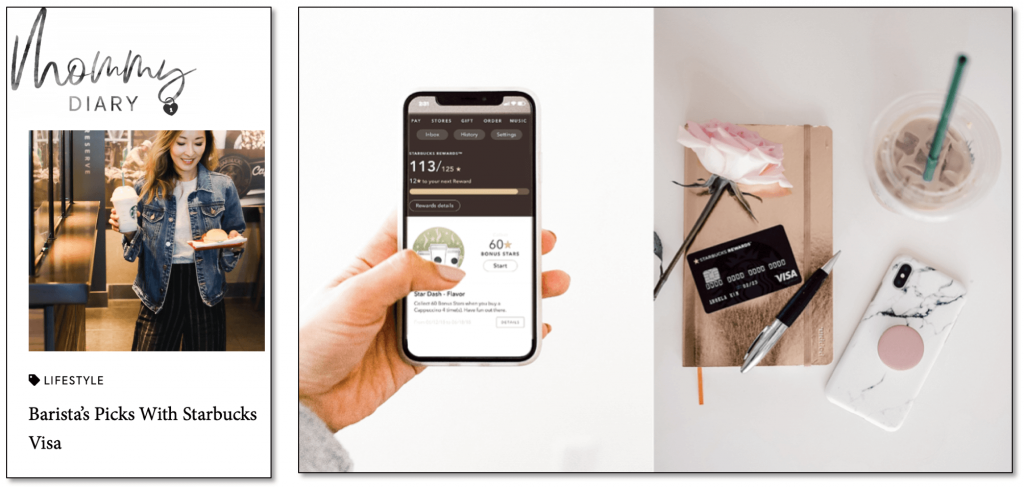 In addition, move beyond current communication trends and enhance card value made possible by "out-of-fashion" benefits. This may require new communication strategies and tactics, but the pay-out will be worth the effort.
SOURCES
1. Mintel Comperemedia. Credit Card Ancillary Benefits 2020. January 2020.