In JD Power Survey, Customers Indicate Dissatisfaction with Credit Card Communications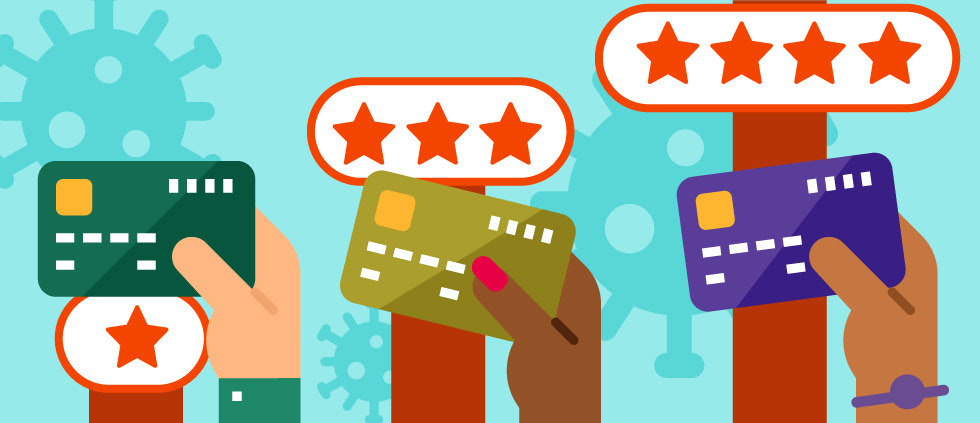 For the last 14 years, JD Power has published a series of customer satisfaction surveys, including one for credit cards. The annual report has become something of a yard stick for payment products, and, like most rankings, it looks at the "who's up, who's down" dynamic across issuers, both national and regional.
Of course, as with everything, the report for this year has been impacted by COVID-19. The ranking itself is not really surprising: American Express leads the pack on customer satisfaction. What we did find fascinating about this year's report is that there is a clear and precipitous drop in customer satisfaction which JD Power directly attributes to the pandemic. And that drop has been more pronounced among credit card customers versus retail bank customers or mortgage customers.
Here are some of JD Power's key takeaways:
Customer satisfaction was significantly up before the pandemic hit. The study tracks satisfaction in four waves, from September to June. The first three waves were tracking higher than in previous years, but as JD Power puts it "cardholder satisfaction metrics plummeted" during the fourth wave, which coincided with the onset of COVID-19. The result was an overall decline in customer satisfaction for the year.
The decline in satisfaction was particular to credit cards, which JD Power calls out as "unique." By comparison, retail banking and mortgages saw improving satisfaction rates during the pandemic.
Communication from issuers is likely a source of dissatisfaction. According to JD Power, only 36% of credit card customers noted that they received proactive communications from their issuer. By comparison, 60% of mortgage customers and 48% of retail bank customers reported receiving proactive communications.
But what's different for American Express? Why was it able to lead the pack in this unique and difficult year? The Points Guy attributes it to the proactive approach Amex took to extending benefits and recognizing changing spending habits. As noted by The Points Guy, Amex was the first issuer to extend welcome bonuses for new cardholders and the first to announce benefit changes that could help keep cardholders engage, especially for travel cards. In many ways, that effort is just Amex being Amex: it is often on the leading edge of customer needs and emerging changes in benefits.
Indeed, American Express touted the ranking in its own press release, attributing this first-place ranking (the brand's 10th) to expanded benefits, digital advancements and enhanced customer service. Amex also took the time to thank customers for the ranking through an Instagram post.
But what about everyone else? The good news is that, according to JD Power, 89% of credit card customers say their needs are fully met their current card. There does not seem to be an overwhelming appetite to switch card products. Of course, that may have to do with concerns over credit in these "uncertain times." It could also be an acknowledgment that card benefits were satisfactory before, and customers expect them to continue to be satisfactory in the future.
That does not mean issuers should rest on their laurels, especially with customer outreach. The gap in the number of communications from credit cards versus retail banks and mortgages is striking, but in some ways it's understandable. Retail banks had to tell customers about branch closings and tout digital banking solutions. Mortgage customers facing furloughs or unemployment were likely worried about their housing situation and looking for reassurance from their banks.
Credit card issuers could learn lessons from these other financial service products. As financial services marketers, Media Logic looks at this through a lens of customer loyalty. But often for credit card marketers, "loyalty" can be too narrowly defined as "offers," which issuers may want to limit in a difficult economy. The other main way credit card issuers communicate with their customers is via servicing notifications, like monthly statements, which are mostly informational but sometimes include an offer.
As the pandemic lingers, issuers may need to evolve that thinking and find new ways to communicate with their customers. Some are already doing this. We found a few examples from the last six months on Mintel Comperemedia.
Chase adopted a friendly tone for a recent email to Ink customers, along with some helpful tips on managing their account and their travel benefits.

Citibank took a more direct approach, asking cardholders how the bank could help and encouraging them to reach out directly.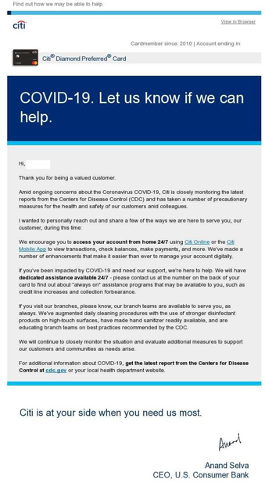 Citizens Bank sent an email to explain that it was experiencing high call volumes and encouraging customers to contact the bank through other channels.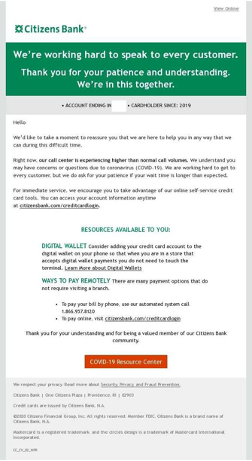 Seemingly small efforts such as these could go a long way to improving customer satisfaction rates during this time. What's clear based on the JD Power study is that communication from issuers is lagging, and customers are taking note. Finding new ways to reach out could help solidify cardholder relationships and stem attrition in the future.
Tags:
communications strategies
,
credit card marketing
,
customer communications
,
customer relationships
,
customer satisfaction
,
financial institution marketing
,
financial services marketing