Financial Services Marketing Must Communicate Solutions for Customer Pain Points During Pandemic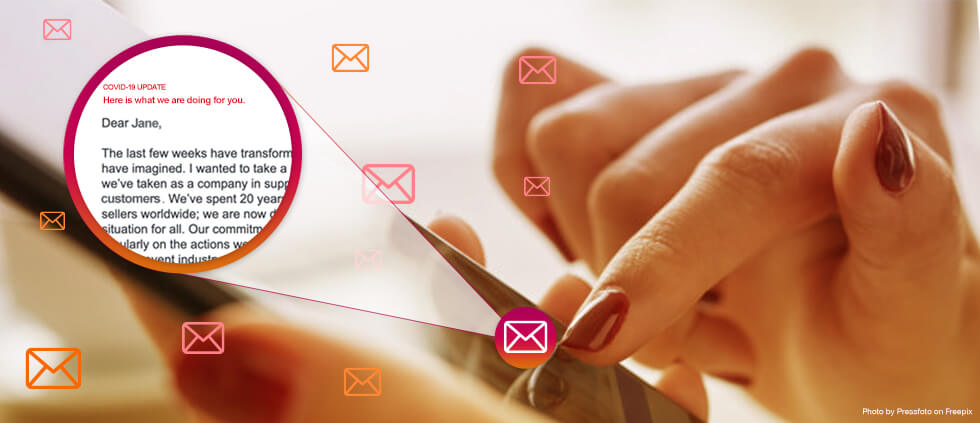 It's fair to say the size, scope and likely duration of the COVID-19 pandemic have forced brands to realize that their crisis plans – and their crisis communication plans – don't cut it. If anything makes it "easier," it's that every brand is faced with that same challenge. As Jim Marous states in this article from The Financial Brand, "It is clear we are in disruptive times, where there is no … playbook" for financial services marketing during COVID-19.
Take a moment for a few deep breaths.
And then roll up your pajama sleeves. (Or are we the only ones still in the pajama phase of working from home?)
Another way to think about all of this is that a playbook does exist… it's just missing the chapter on "global lockdown." Proven best practices and good instincts — are still available to us for financial services marketing during COVID-19. And The Financial Brand article by Marous has some great suggestions for how to put them to use. Here, we've organized the insights into a few basic principles to guide the required shift in your marketing campaigns moving forward.
Differentiate and personalize.
Don't. Add. Noise.
Marous is justifiably blunt about this. Like everyone, he's received a flood of COVID-19 emails from brands that, as he says, "do very little than state the obvious." He goes on, "Providing a general message of 'support' as opposed to a personalized communication does not show that you know me, are willing to look out for me or that you will reward me for the relationship I have had for over a decade."
The kind of meaningful content Marous suggests is a heavier lift, for sure. But if anyone has the data and, quite frankly, the need to do so during a crisis like this with huge economic implications, it's the financial services industry.
Here, instead of thinking of broadcasting, it's helpful to think of engaging. The goal shouldn't be to raise brand awareness (i.e. look at us doing the right thing) but to initiate dialogue and advance solutions (i.e. we see your pain points and here's what we can do). Marous describes it this way:
"If your communications help consumers deal with the personal economic issues they are experiencing, the message will be welcome. If the communication is specific in nature and provides a way to relieve stress … today … it will stand out from the rest of the communication the consumer is receiving. The key is to achieve brand-oriented goals with personalized 'what's in it for me' (WIIFM) messaging."
He suggests "highly targeted communication with direct links to DIY solution content" vs. a CTA that directs to the usual website for the usual reasons.
Make it about the customer.
Your brand isn't the focus right now.
Period.
The ability to meet basic needs is in question for many of your customers. Marous says, "There is an opportunity to provide proactive advice centered on the consumer's needs rather than the organization's portfolio needs."
And he quotes Rohit Mahan from Salesforce:
"This is the one time when you have to really take a step back and say, 'This is not about the product, this is about the individual … this is about the household. This is about understanding what the consumer's exposure is. How can we help them with that?'"
Proceed thoughtfully.
Financial services marketers are among the most cautious in any industry, and the call to lean on the skills that come from that place has rarely been as clear as it is now.
As such, Marous urges caution:
"It is more important than ever to test, measure, listen, adapt and adjust marketing strategies over time. Done well, your brand will be rewarded with greater loyalty. Done poorly, the result may be irreversible damage to your brand."
The good news for financial services marketers is that this isn't your first introduction to any of these strategies. They're already in your tool box. Take a thoughtful look at your brand (including existing products and services, as well as new initiatives you could undertake). And as you undertake financial services marketing during COVID-19, remember what you know about relationship building: it's about meeting needs, building trust and, quite often, going beyond what's expected.