Financial Education Content Can Enhance Customer Loyalty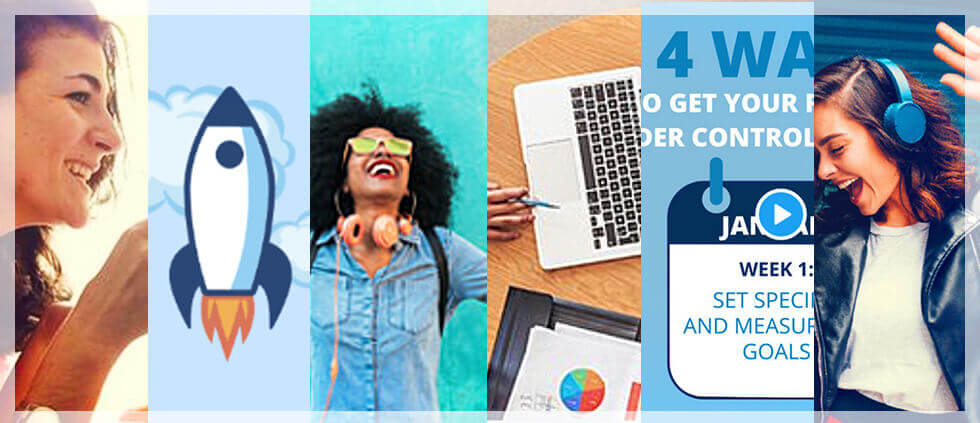 A 2018 Everfi report indicates that financial education plays a significant role in customer loyalty. As described by CUInsight, the report shows that two-thirds of what it calls "relationship consumers" say financial education is "an important factor when considering what institution to bank with." Although these "relationship consumers" represent only a subset of a financial institution's customer base, they are extremely valuable to banks and credit unions, as they "tend to be more confident, more satisfied, and more engaged with the products and services from their financial institution."
In describing the consumer profile of those that are likely to remain loyal to an FI, Everfi concludes that "high-quality financial education increases customer loyalty." And here's how the education technology company says it works:
"Financial education correlates to consumer loyalty and satisfaction. Helpful educational tools can be linked to positive feelings among consumers, including financial empowerment and confidence. Further, the more products a consumer uses at their primary financial institution, the less likely they are to switch institutions. In becoming more interconnected with their bank, they become more loyal."
Although there's great value in providing financial education one-on-one and face-to-face, not all consumers are willing to sit down for an appointment. As a result, many FIs share their financial education resources digitally via financial education content hubs and social media. When done well, these self-serve formats improve customers' financial wellness, build consumer affinity for the brand and set the brand apart from its competitors.
Here are some recent examples of financial education efforts promoted by banks, credit unions and card issuers:
A connection between financial wellness and The Good Life
Citi's aptly title content hub, "Life and Money," strikes a great balance between financial education and lifestyle. In space shared with wine tasting tips and information on Chicago's music scene, Citi presents a number of financial resources, like 7 Goals to Set for Smarter Saving and help for how credit works. Owing to its design and content mix, this initiative feels more like a lifestyle magazine than a financial resource… and therein lies its strength. Without being obtrusive, financial education underpins and supports a specific and very desirable vibe: happiness, energy and success.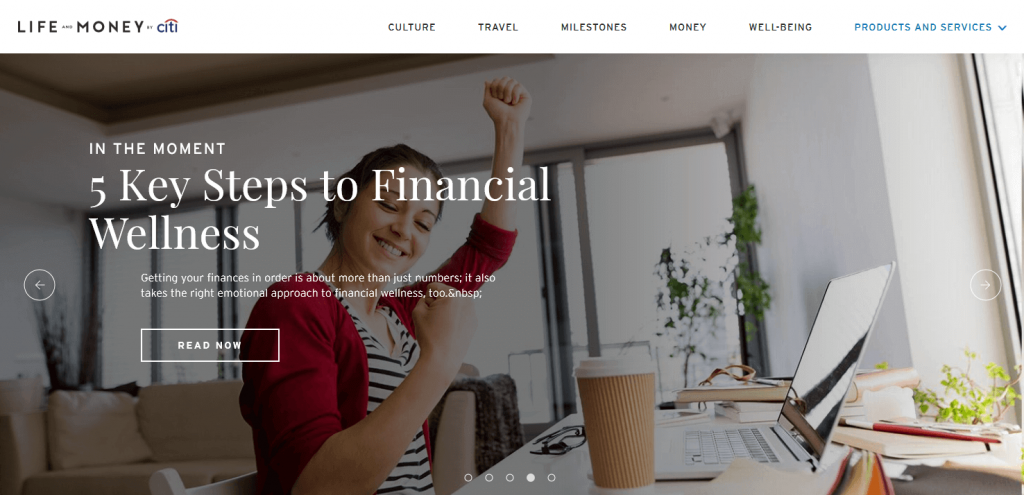 A positive attitude
A tweet from Frost Bank in January 2019 introduces its "Opt for Optimism" mission with the following ideas:
"By adjusting your habits, you can inspire optimism for better physical, emotional, and financial health in the years to come."
"Optimism can take you places."
"Good habits fuel a positive attitude."
The tweet links to a microsite about the new mission, which emphasizes not only the psychology of optimism but also its impact on financial health. According to Frost Bank, optimists are "7X as likely to experience better financial health" and "145 fewer days of financial stress per year."

Visitors to the site can explore the financial habits of optimists, watch inspiring films the bank produced for the campaign and find out why Frost Bank cares about something like optimism in the first place.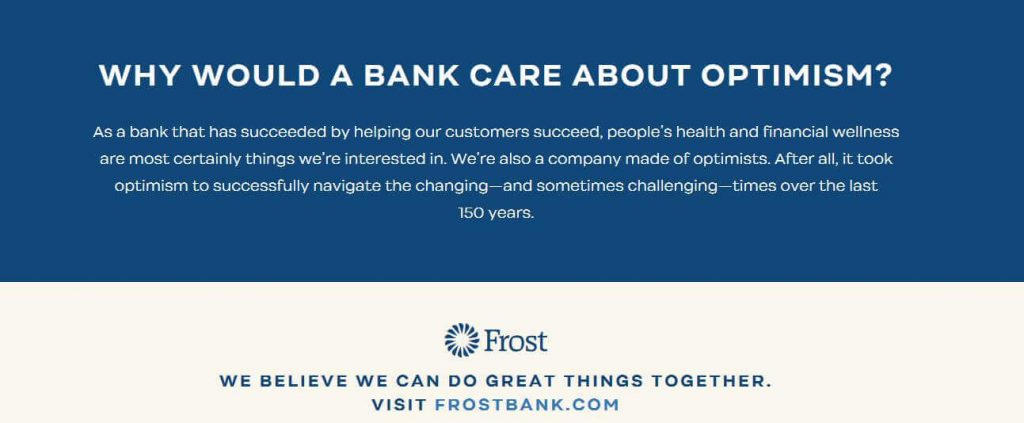 The pursuit of dreams
Financial education resources from Citizens Bank are part of the bank's home page main navigation ("Learning"). Here, the content speaks to what financial wellness makes possible: 6 Steps to Put Your Dreams Into Action, for example, or 7 Financial Habits to Set Your New Year Up for Success.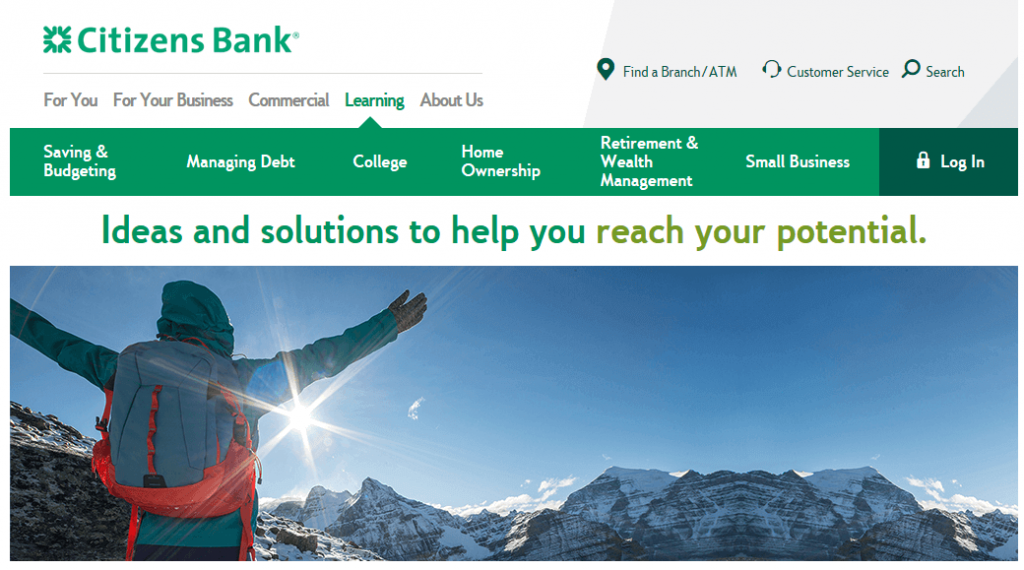 A soundtrack for your financial goals
"She works hard for the money, so hard for it, honey." The classic from Donna Summer – along with other anthems with attitude like "Eye of the Tiger" (Survivor's contribution to the Rocky IV soundtrack) and Queen's "Don't Stop Me Now" – is part of a 20-song Spotify playlist from Chase called "Start Somewhere: Motivational Songs for Reaching Your Goals."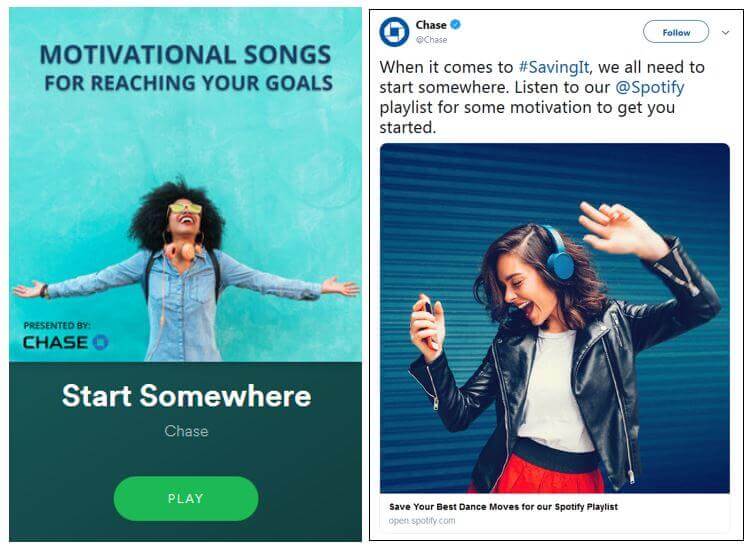 The music itself doesn't contain financial education, of course, but the playlist is a great way to get consumers pumped up about the idea of financial goals… and thus more interested in what the brand may offer for resources, like Chase's "Kneading Dough" series (which features money lessons from pro athletes) and its "4 Ways to Get Control of Your Finances" challenge.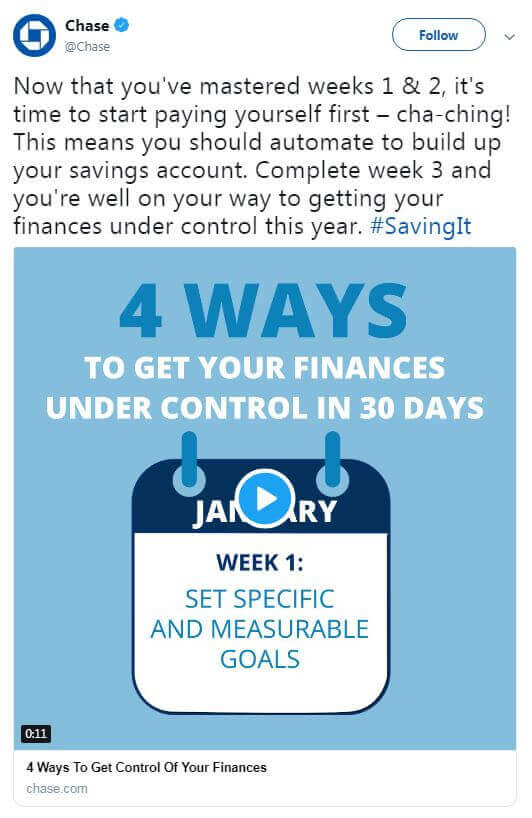 Product pages with a little extra something
Thanks to prolific and successful ad campaigns, it's common knowledge that Discover offers free credit scorecards. However, it isn't as well-known that the brand makes the offer available to everyone… even if you're *not* a customer: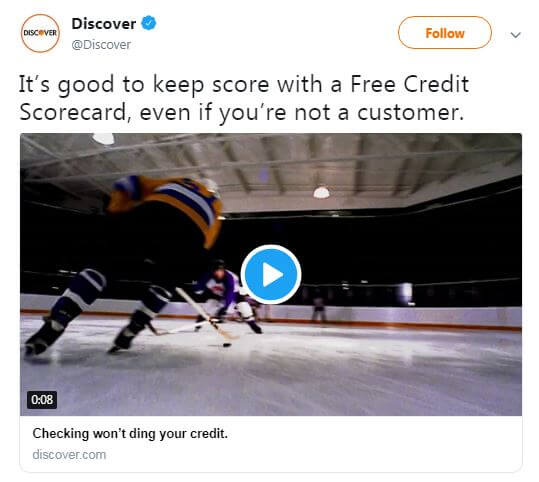 When you arrive at Discover's FREE Credit Scorecard web page, the brand lists "6 Reasons to See" your FICO Score (including that it "puts your goals in perspective" and "strengthens your credit smarts"). In addition, it drops a little financial education on those who've stopped by for the free intel.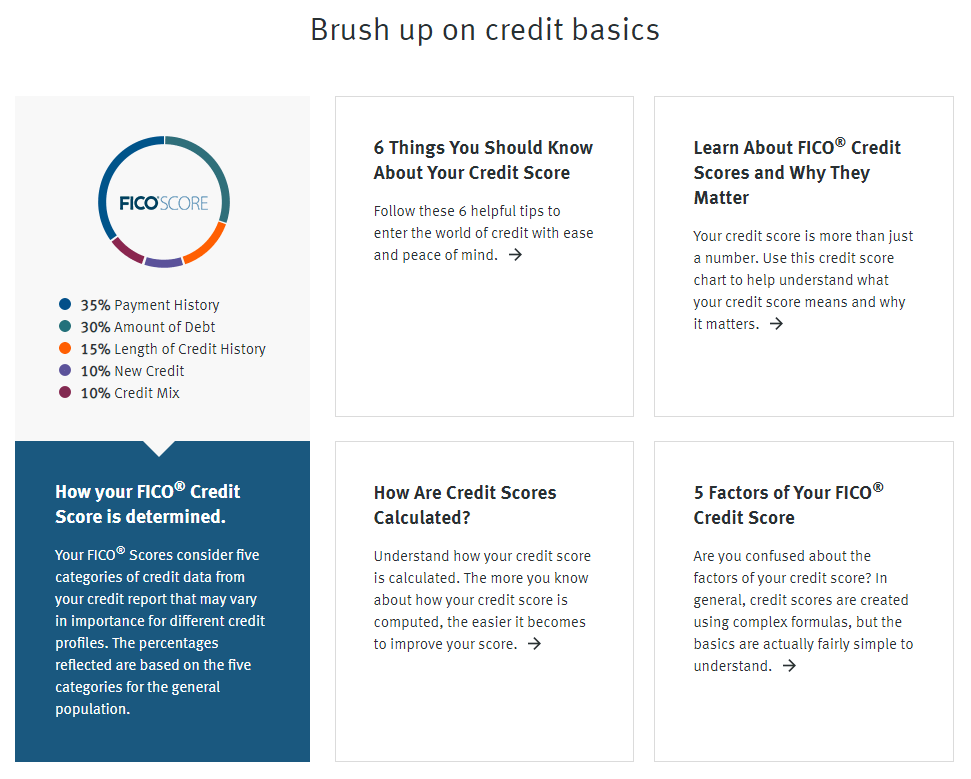 An elevated (financial) IQ
When we last checked in with U.S. Bank's financial education resources, we noted how it was curating expert advice from outside sources, like financial services blogs and mainstream media. Now, the financial education U.S. Bank promotes via social media is primarily from its own content hub – "Financial IQ" – and branded with the hashtag #FinancialIQ.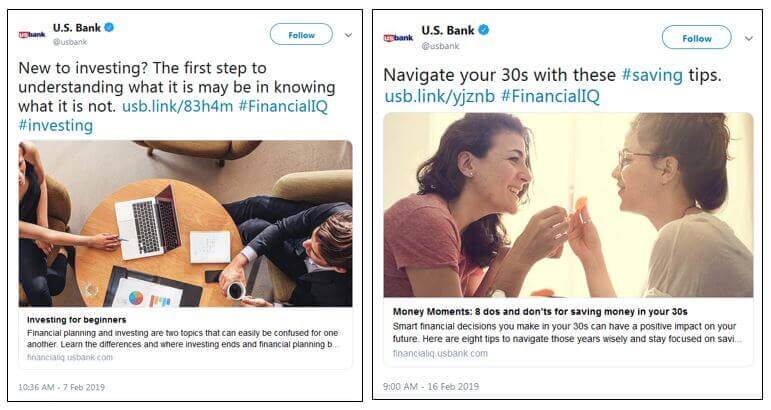 The financial education hub itself leads with a search feature, giving a nod, perhaps, to the idea that the FI is interested in helping with what the customer wants to know vs. what the brand wants to promote. Below the prominent search bar, the hub showcases additional content designed for discovery and engagement within specific buckets like "manage your household," "invest your money" and "plan your growth."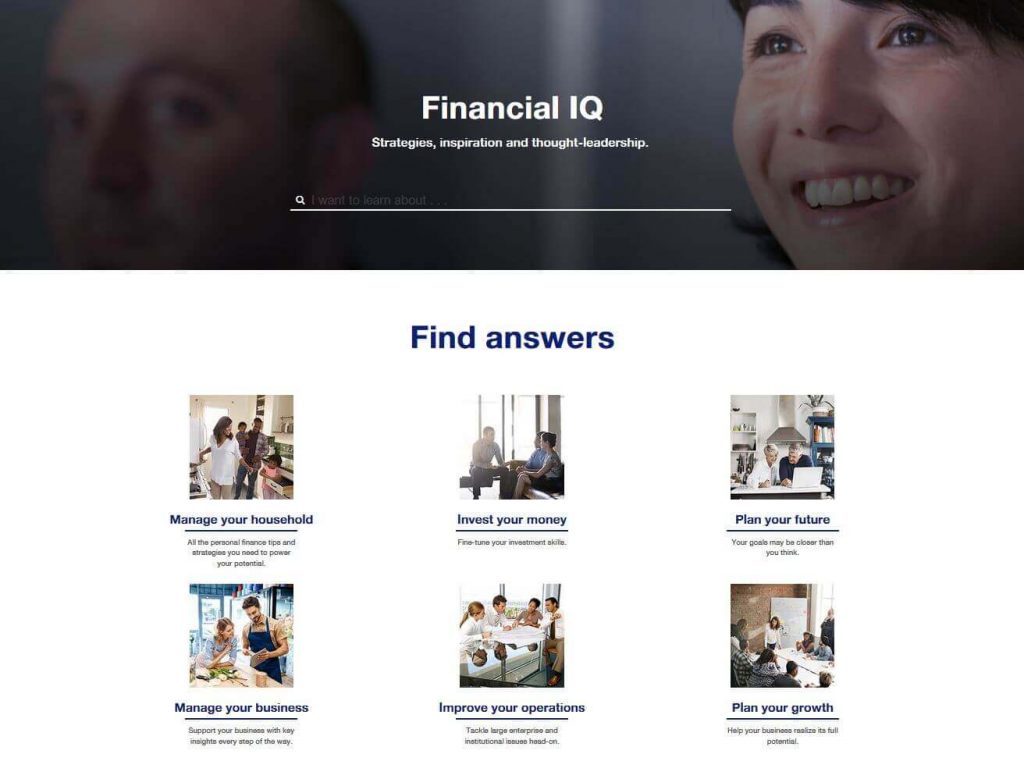 Takeaways
Here's some tough love from ABA Bank Marketing: "Face it; your customers don't want your products! They want to alleviate a pain, reach a goal or enjoy financial peace." In other words, when pitching what financial wellness can do for your customers, cast your financial institution in a supporting role instead of the lead. The financial education efforts we've featured are good examples: the content is more about customer needs than it is about banking product.
Here are some additional considerations:
Be yourself. These financial education efforts are as different as the brands promoting them. As noted by FIS Payments Leader, these campaigns are opportunities for "financial institutions to differentiate themselves."
Don't skimp on quality. These words from Everfi are important: "There is much interest in useful financial guidance but a sentiment that the options currently available aren't up to par. If you have existing financial education resources in place, ensure the quality meets the high standards of today's consumers." Make the content so good they'll want to keep coming back for more.
Focus on engagement. The Financial Brand describes a key challenge with financial education resources: "Many financial institutions have financial literacy blogs, infographics or videos on their website. The challenge is how to get people to engage with this content. They seldom do it on their own." A couple of the examples in this collection of financial wellness efforts, like the Chase Spotify playlist and the Discover Fico Score pitch, are inherently engaging. The others rely more heavily on customers exploring on their own, driven by curiosity about the concept (as in Frost Bank's optimism approach) or by a desire to achieve specific goals.
Promote your efforts. In the same article where The Financial Brand warns about how the difficulties of engaging consumers with this content, it recommends promoting the content within your owned media (SEO-optimized web pages and social media). It also suggests paying to boost the content: "Allocate some budget towards promoting these informational assets in social media, email and marketing campaigns." We agree.
Consider timing. Customers are more receptive to content and tips when it's relevant. Use your knowledge about your customers' life stage to offer up the right content at the right time. As Payments Leader says, "Financial messages are best received when they intersect with consumer recognition of new needs, such as changing life events – going to college, getting married, having children, losing a job, etc."