How Credit Card Issuers Are Capitalizing on Streaming Media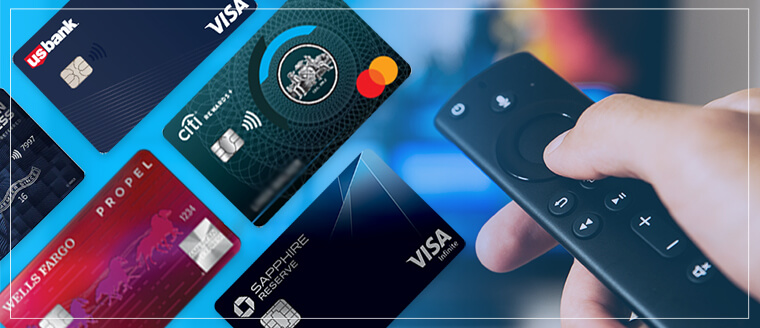 Subscriptions services, in particular streaming media, seem to be "having a moment" as we experience the convergence of expanding digital payments, an increasing online presence and, of course, a global pandemic. Subscriptions are not new, but "back in the day" we mainly paid for things like newspapers and magazines (remember those?) with checks (remember those?). The rise of digital payments, mostly via credit cards, opened the possibility to sign up for subscriptions online. Now, the global pandemic appears to have supercharged growth in this area, and credit card issuers are meeting the moment.
Even before COVID-19, there was mounting evidence that subscription services were growing as a category for spend on credit cards. In January 2020, The New York Times published an analysis based on user data provided by Mint (owned by Intuit) showing that the average user spent $640 in 2019 on digital subscriptions. That represented an increase of 7% from 2017 when the average amount spent was $598.
Much of that growth can be attributed to the increasing breadth and depth of digital subscriptions. First there was only Netflix; now we have Hulu, Disney+, CBS All Access, HBO Max and more. What Dollar Shave Club did for razor blades, Harry's repeated and Quip brought it to toothbrushes. Blue Apron introduced meal delivery services that were then replicated by HelloFresh and Sun Basket. And that barely brushes the surface of both the categories and the number of competitors.
The set-it-and-forget-it-model of these services is designed to benefit consumers, merchants and issuers alike:
Consumers get the convenience of automatic delivery and payment.
Merchants can build customer bases that are loyal and invested (or complacent, depending on how cynical you are).
Credit card issuers are provided with a base of revenue they can rely on every month, and importantly, this revenue is steadily increasing year-over-year.
Credit card rewards for streaming service subscriptions
Credit card issuers also have an easy incentive they can offer to consumers to motivate their purchasing of digital subscriptions: rewards. And there appears to be an increasing number of issuers offering bonus rewards on streaming media subscriptions.
We took a look at how issuers are promoting these rewards (either cash back or points) for streaming media. Some have introduced products where subscriptions are built directly into the value proposition and highlighted prominently in acquisition materials.
American Express Blue Cash Preferred Card offers 6% cashback on streaming subscriptions.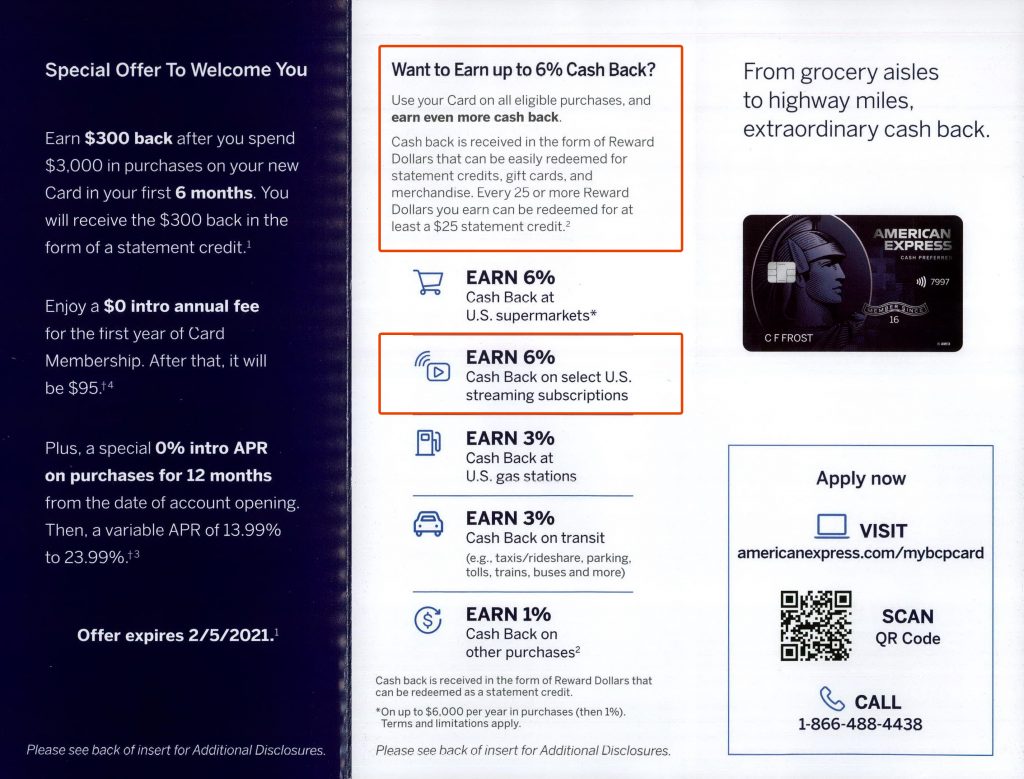 Wells Fargo Propel American Express Card offers 3X points on streaming services.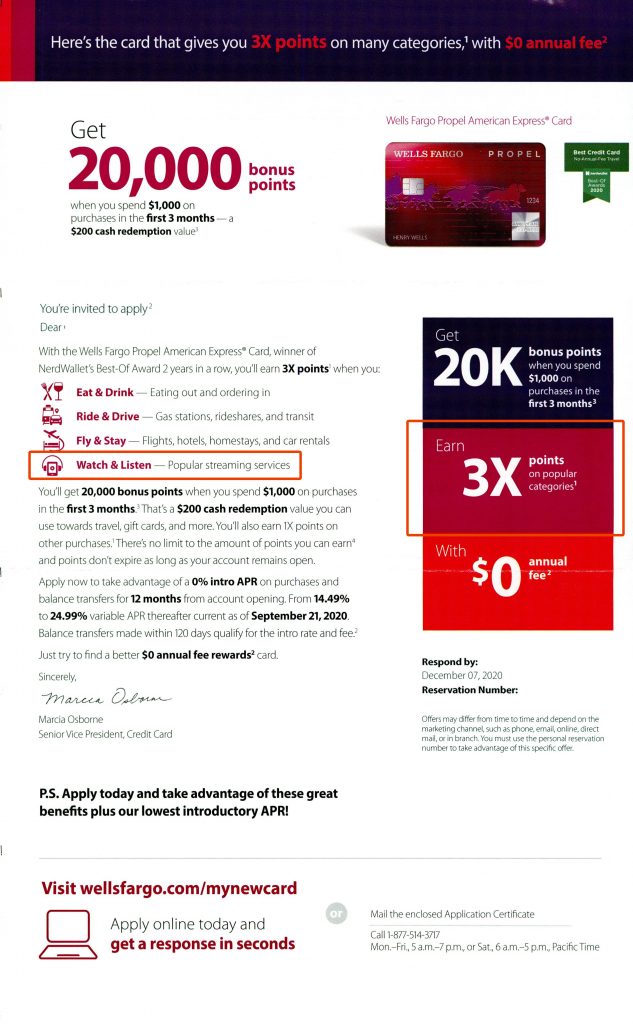 Others have integrated subscriptions as part of quarterly offers, like U.S. Bank Cash+ Visa Signature which includes an option to choose streaming services for the cardholder's 5% cash back bonus categories. U.S. Bank promotes this bonus using email reminders for category selection.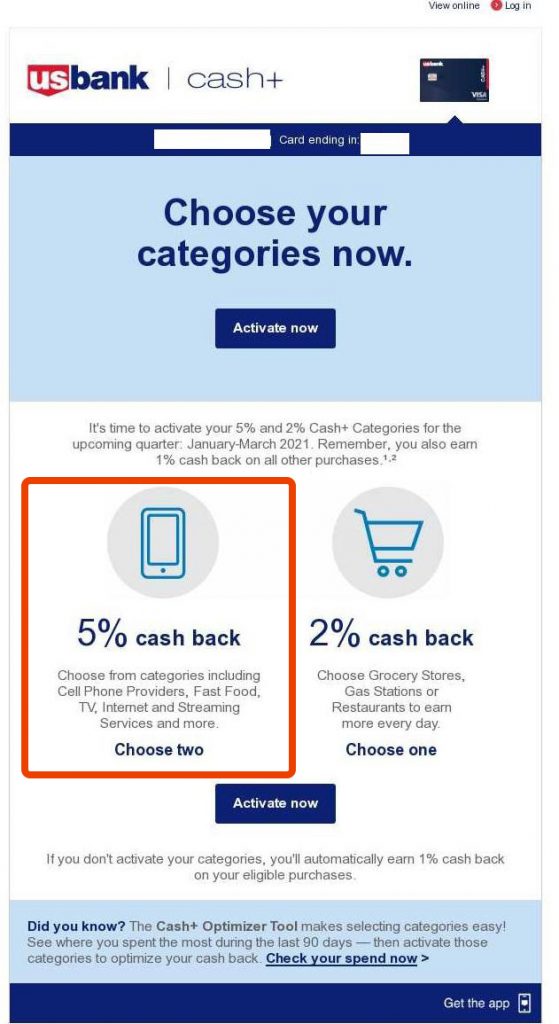 The Citi ThankYou Preferred Card recently added a new benefit for current cardholders: two ThankYou points spent on streaming services. This product, which may be retired for new acquisitions, announces the new benefit in a series of emails, including this one with the headline: "Earn double points for watching your favorite shows or listening to music."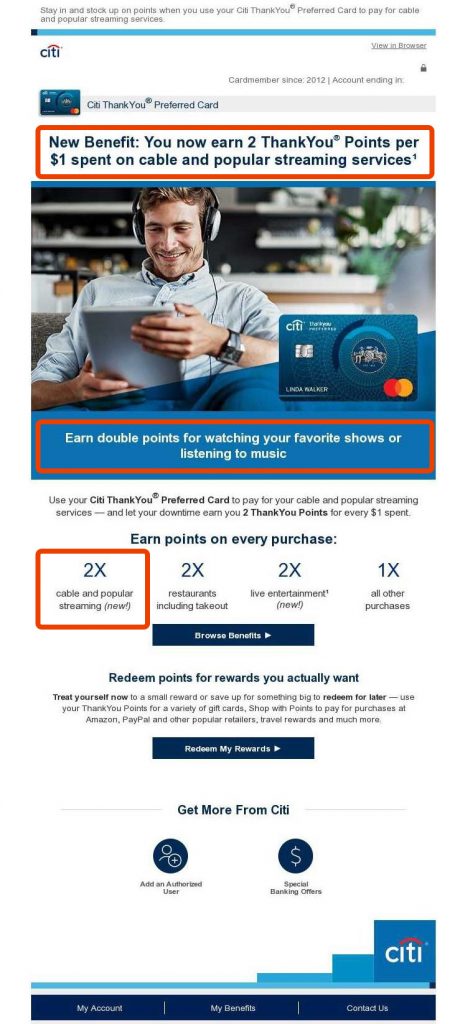 Chase used a limited time offer to specifically promote Spotify Premium, but unlike its competitors, the brand didn't offer points bonuses. Instead, Chase offered six free months of premium services and a 5% statement credit after that. Also, unlike its competitors, Chase required cardholders to opt in via a landing page (now expired) linked in social media posts and emails.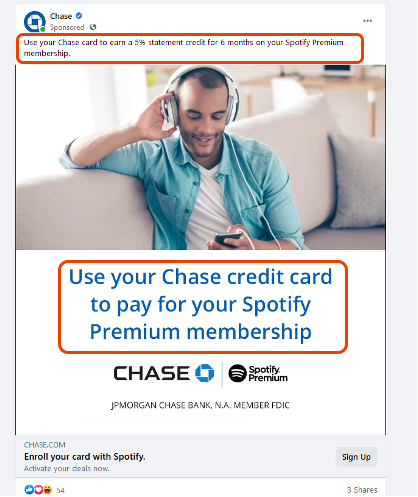 Why credit card issuers focus subscription promos on media streaming
Streaming media services appear to be at the top of the list for issuers who want to promote subscription services. Why is that? Ubiquity is probably a major factor. A recent study by Deloitte's digital media trends survey found that over half the households in the U.S. subscribed to a video streaming service. That number shoots up to 70% for Gen Z and 68% for Millennials.
In its reporting on that study, Nerd Wallet credited the potential for long-term relationships with younger demographics as reasons issuers are prioritizing streaming media. If you are looking for evidence to support that claim, all you have to do is look at the images in the samples we gathered. Another factor is likely the explosion in streaming services, especially video. In just over 12 months, four new streaming video platforms launched. All of them, of course, take a credit card on sign up.
As issuers take stock of 2020, it is no doubt that subscriptions will be on the list of what to promote in 2021 and beyond. If bigger issuers like American Express, U.S. Bank, Chase, Wells Fargo and Citi are already promoting streaming services, it is a good bet that others are not far behind.
And as credit card companies close the books on this year that we were all stuck at home, they will be armed with new data on what we bought and how many of our purchases were on subscription services. Is it too hard to imagine that in the near future a small business credit card offering bonus points for Dropbox and Zoom subscriptions? We shall have to wait and see.
*Source: Mintel Comperemedia