ThankYou Points: A New, But Ephemeral, Redemption Option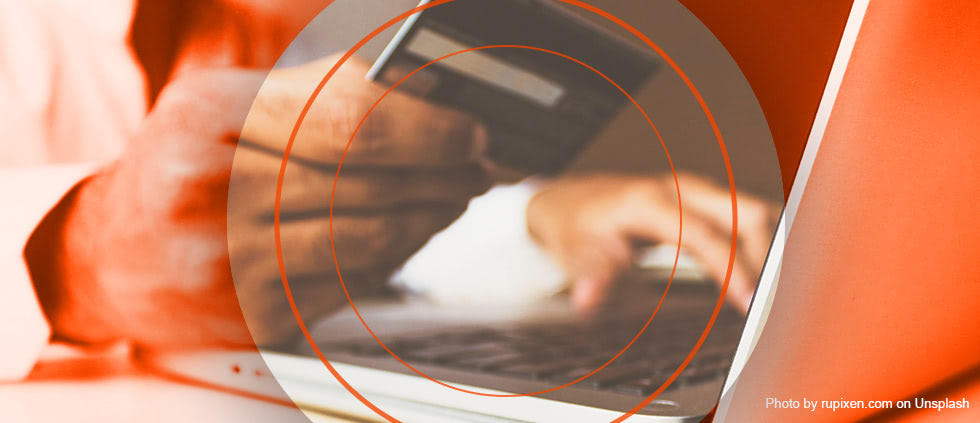 All of the major credit card issuers continue to be responsive to cardholders, with pandemic-relief offers ranging from counseling to helpful payment plans like three months of skipped payments. We've also seen new redemption options inspired by the times, like use of Capital One Venture Miles for food, delivery and streaming services or Chase's "Pay Yourself Back" with Ultimate Rewards to offset eligible transactions.
Prior to launching a unique redemption option earlier this month, Citi continually promoted its "always on" assistance for individualized help. And, as Bankrate points out, Citi promoted help for eligible cardholders who could request a "waiver of the minimum payment due requirement and late fees for two statement cycles." Citi noted the account would be "reported as current to the credit bureaus during this waiver period, unless the account is already delinquent before the waiver began."
Now, adding to Citi's pandemic support options, Citi allows ThankYou Points to be used to pay a credit card minimum payment. While Citi, Chase, Capital One and other card issuers routinely allow cardholders to redeem points towards a statement credit, a separate minimum payment is also required. And so this offer from Citi appears to be a first amongst the competitive set.
Is it smart for cardholders to pay with points?
When it comes to redemption, cardholders have lots of choice. A short list of popular redemption options – with a comparison of the relative value of a ThankYou point – suggests that choosing to use points to pay the minimum due payment is a good redemption decision even if you are not experiencing financial stress. And of course, this makes even more sense when travel plans (travel redemption has the highest point value) are likely on the back burner.
Take a look at this comparison of ThankYou points for redemption on travel, gift cards, pay with points and statement credit versus redeeming for a minimum due payment: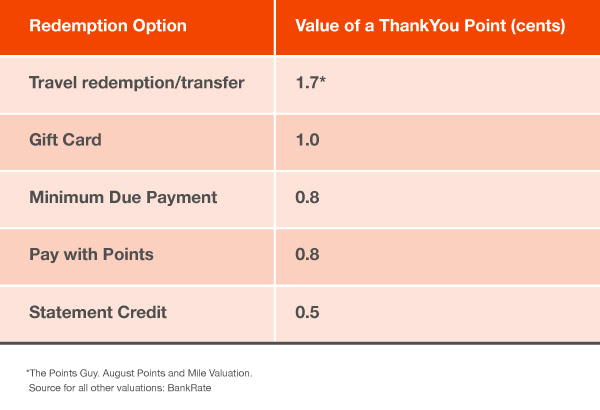 Is using points for minimum payments here to stay?
All signs point to this redemption option being offered only for pandemic relief. It is difficult to find any "above the line" promotion of the option. In a review of recent Citi communications (including the thankyou.com site, social content and Citi news releases), we did not find any mention of the new redemption option. It is likely promoted deeper into the thankyou.com site and mobile app where eligible cardmembers can be targeted.
Via The Points Guy, here's a screen shot of the Citi mobile app presenting the minimum payment due option clearly positioned as a COVID-19 solution.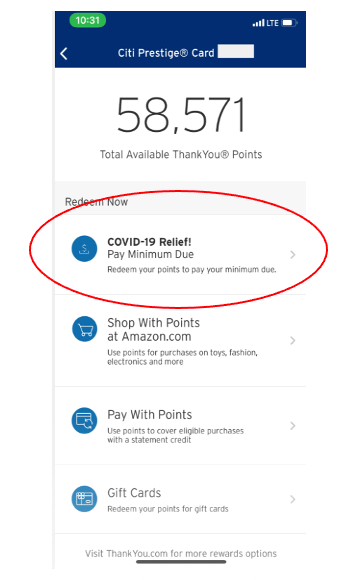 We think the minimum payment due option might prove to be popular – good for the stressed as well as the financially-well cardholder base, with a better point valuation than a statement credit and an easier way to pay a monthly bill.
From Citi's perspective, cardholders will redeem points at a middle-of-the-road valuation – .08 versus travel redemption valuation of 1.7 – while continuing to earn interest on the unpaid card balance, creating a positive customer experience of credit card points redemption during COVID and giving the cardholder relief and a sense of control in uncertain times.
Tags:
Citi
,
COVID-19
,
modern customer loyalty programs
,
rewards
,
rewards programs