Ramp and Brex Are Leading a Fintech Craze Among Corporate Payment Cards
A new crop of fintech products is emerging and on our radar – corporate payment cards. It makes sense for the corporate card category to be ripe for "disruption." After all, they are a significant category: It's easily segmented and targeted, and recent stats point to anywhere between 4-7% projected growth from 2020 to 2021.
We looked at two of the leading providers of corporate cards and came up with this evaluation from a financial services product and marketing perspective.
Ramp: A corporate payment card with "Superpowers"
The Ramp card is the "newest" player in the corporate card space. The Ramp website proclaims, "Time is money. Save both." It calls itself the "only corporate card and spend management platform designed to help you spend less."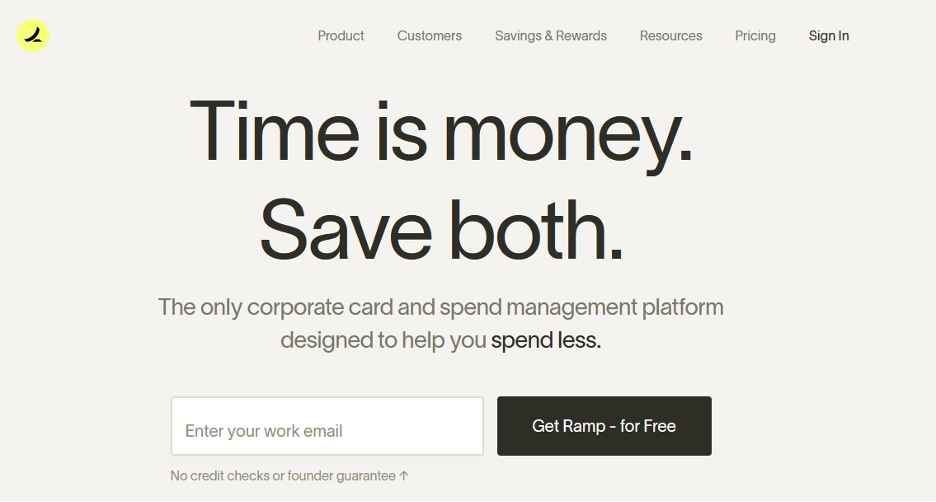 Indeed, the brand claims to have a proprietary expense management platform that offers automatic accounting, controls spending proactively, eliminates expense reports and tracks every dollar spent. It boasts no credit checks and higher credit limits. Plus, Ramp offers 1.5% unlimited cashback.
In a series of Facebook posts, Ramp backs up its value prop with impressive benefits that ladder up to support the "corporate card with superpowers" marketing headline. In fact, part of Ramp's appeal – beyond impressive product benefits – is its mastery of breaking out of typical corporate card speak as it attempts to reach a younger corporate demographic.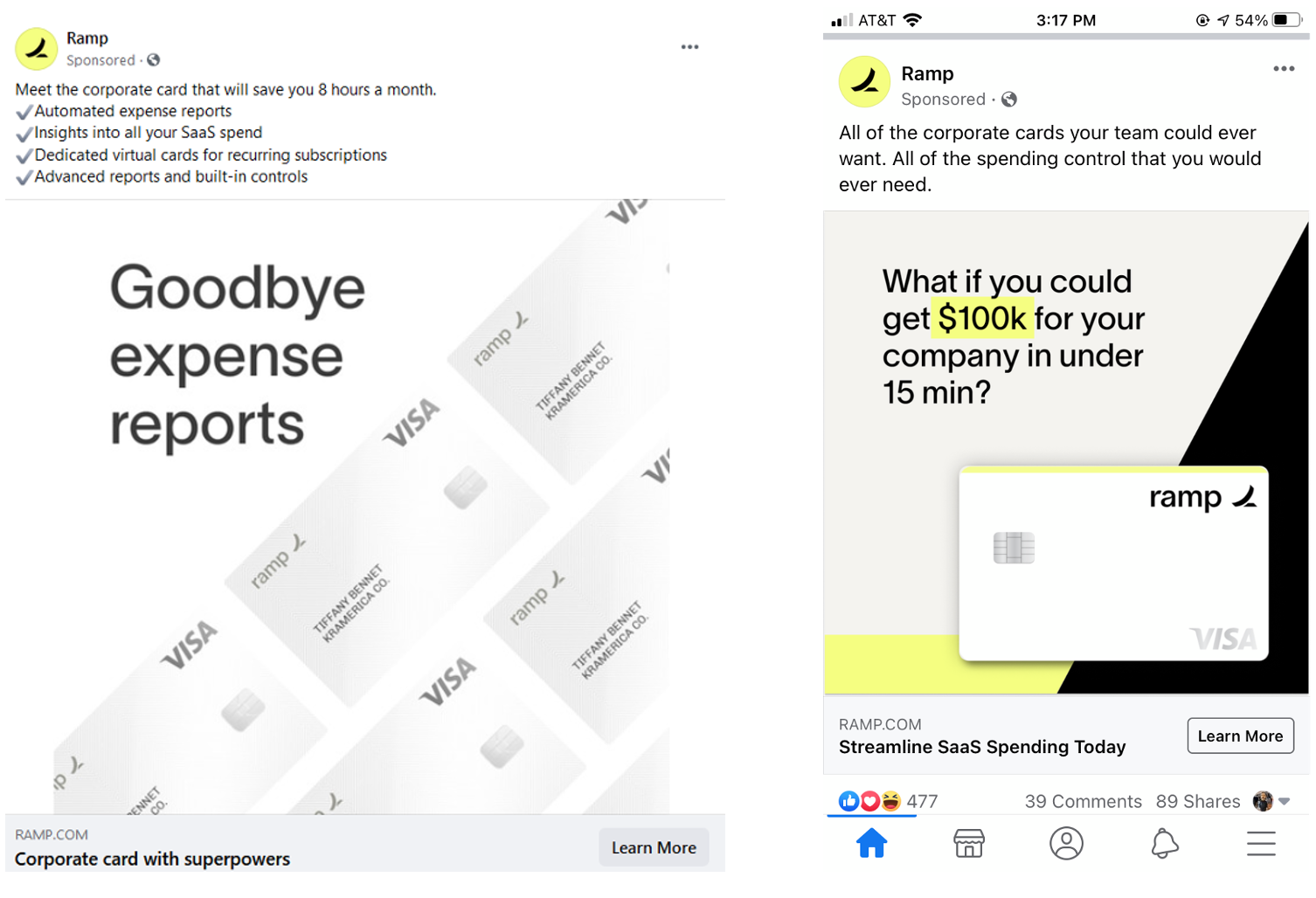 The Facebook posts resolve to a web page with a lead capture form: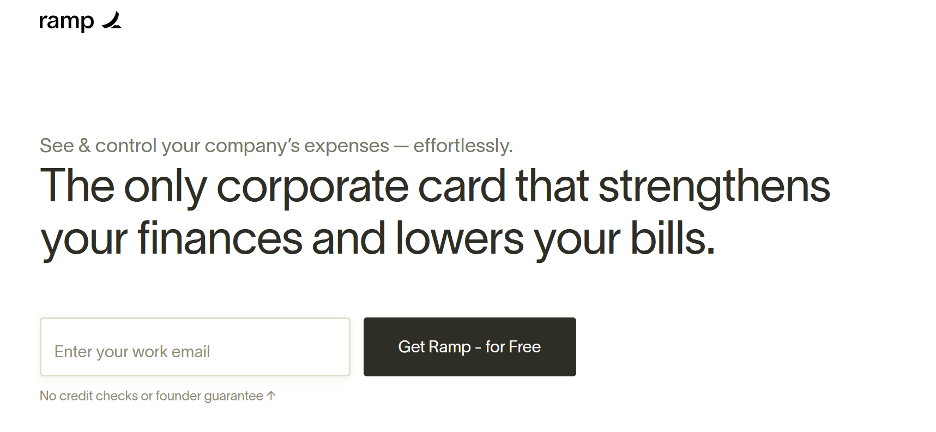 The customer reviews of Ramp are glowing, especially for the 1.5% cash back. Interestingly enough, however, that feature is not mentioned at all in marketing (at least not prominently). Cost savings gets a higher mention/prominence and indeed is central to the value proposition.
Ramp was founded in 2020 by Eric Glyman and Karim Atiyeh and quickly raised $115 million by April 2021. Unfortunately, it has signed up "only" about 1,000 customers. Granted, some of them are unicorns like Clubhouse (a social media app), Better (a mortgage Fintech), Ro (a healthcare technology company) and even Planned Parenthood.
Of note: Ramp is transparently gunning for American Express, pointing out that "about one-third of Ramp's customers have switched over from AmEx." That is quite an ambitious goal given that AmEx is almost synonymous with "corporate card," a reputation that has proven difficult for others to challenge.
How Brex stands apart from Ramp
Brex is often compared to Ramp, but other than the similar look, tone and feel of their websites, the two are not alike.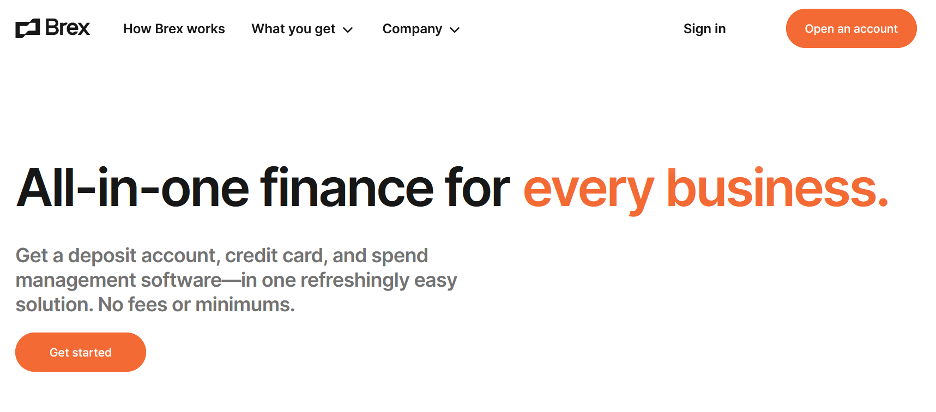 Instead of emphasizing cost savings, Brex makes a couple of small marketing missteps: listing what you get (a deposit account, a credit card and spend management software) and failing to effectively ladder the features up to a benefit set.
Of course, that approach may be fine for corporate card decision-makers. After all, they are the money guys. However, given that fintech corporate cards are likely a consideration by newer or relatively smaller corporations (e.g., less experience with corporate cards and less likely to be "switching"), we maintain that selling benefits remains a payment card marketing best practice.
Like Ramp, the Brex marketing plan also uses a series of Facebook posts with a simple CTA.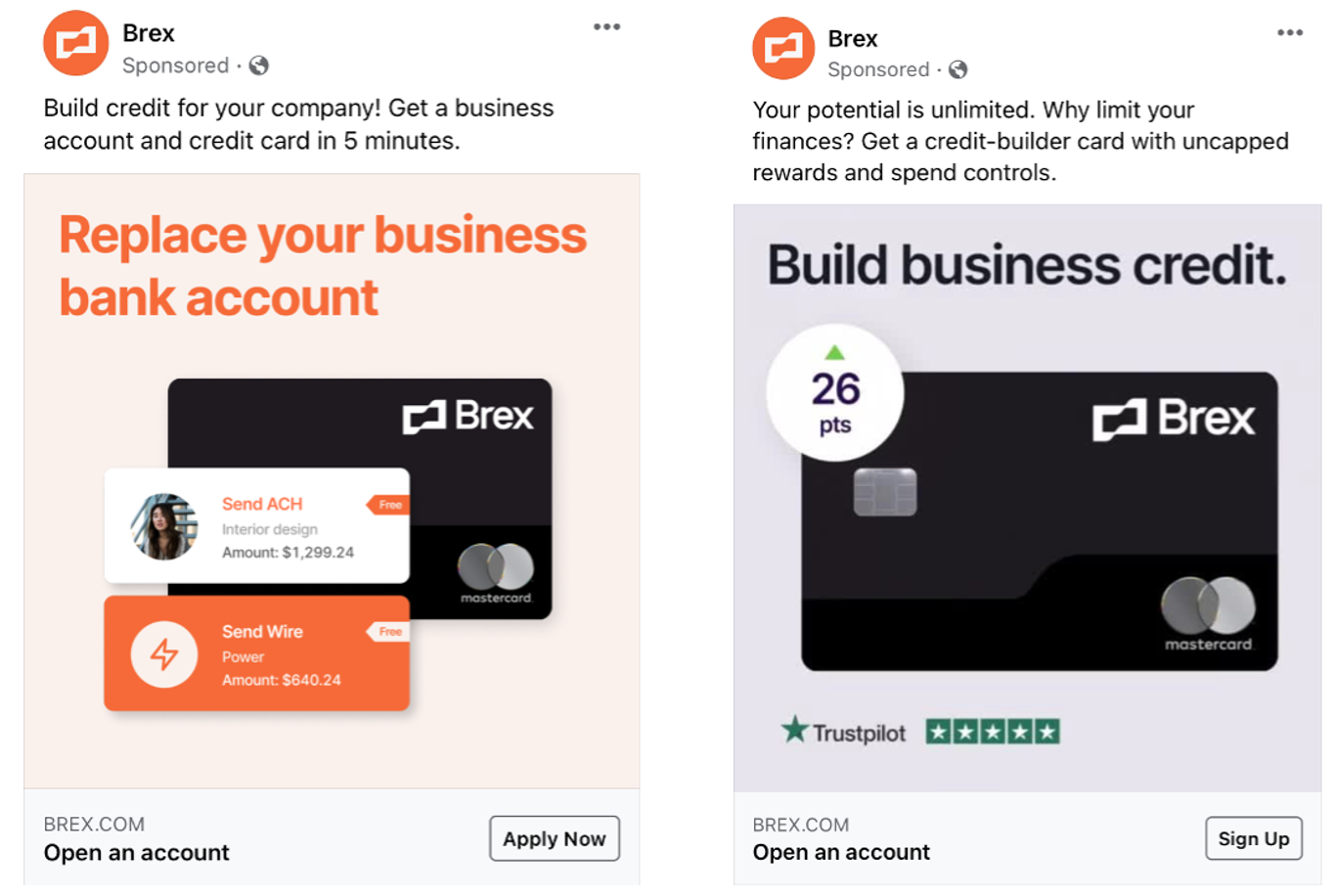 In addition, a one-minute Facebook video summarizes key benefits. With frames like this, the approach is simple, engaging and clear.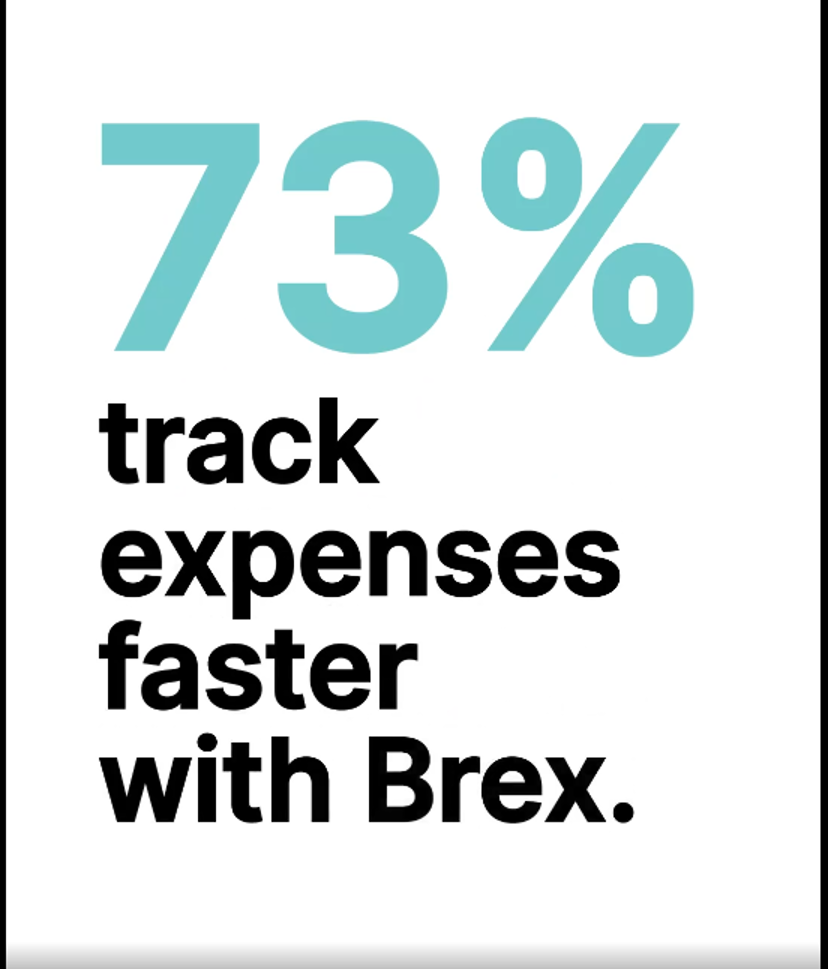 All the Facebook posts drive to a landing page claiming a "no hidden fees, no hassle solution."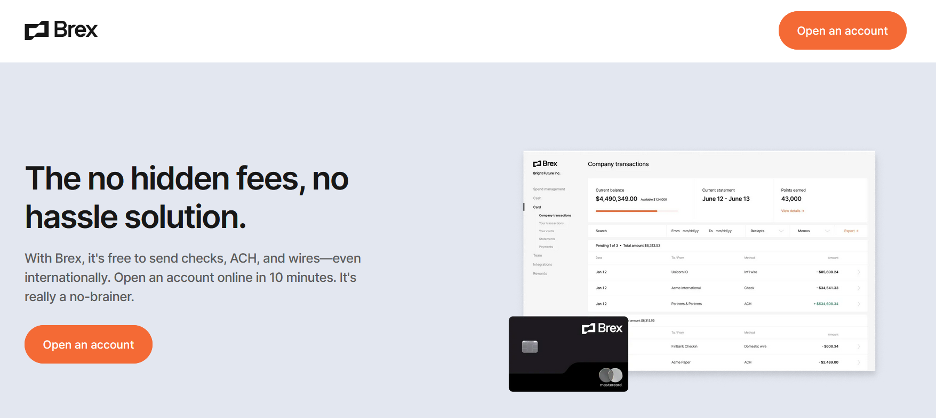 And what about the rewards program? Brex spins it as a cash account with "8x points back on rideshare, 5x on Brex Travel, 4x on restaurants, 3x on recurring software, 1.5x on ads and 1x on everything else."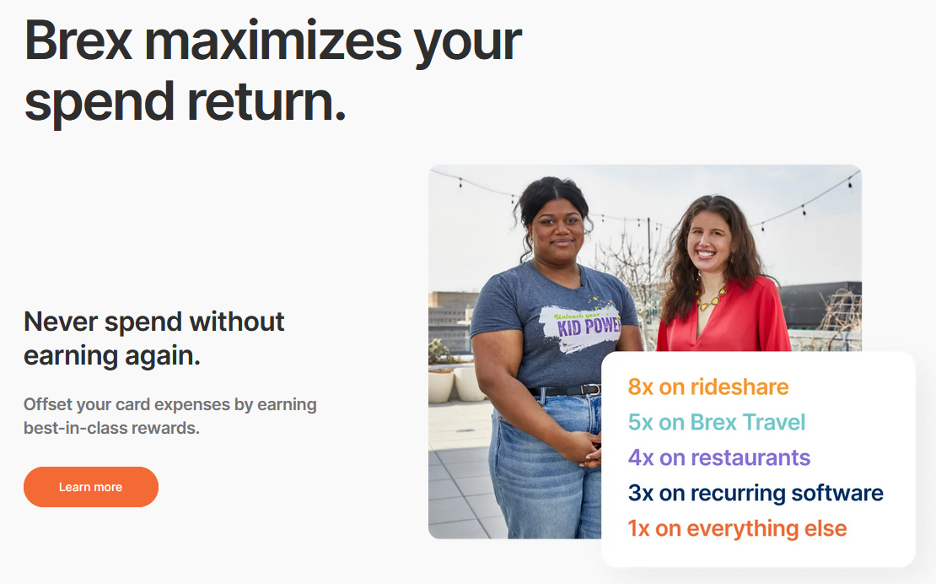 The brand continually tout its rewards program as "best in class," and it certainly includes a lot of categories and reward accelerators. However, it's a battle royale between Brex's point-based rewards and Ramp's cash back. (Note that Brex leads with the highest acceleration based on the corporation having a Brex Cash account and making daily payments on the card. If a monthly payment is made, a slightly lower earn structure is in play.)
What is really cool and different about Brex is its promotion of customized rewards at a company level. It already promotes its pre-designed points acceleration specifically customized to the tech and life science categories. For example, Life Science conference expenses earn accelerated points.
Brex has been around a long time, relatively speaking, and as such it has 10 times the customers Ramp has, including its own list of impressive clients, including brands like Airbnb and Untuckit. In addition, Brex has a great founders story: Henrique Dubugras and Pedro Franceschi are two Brazilian entrepreneurs, and they're only 25 and 24. Since 2018, they have grown the company into a $940 million.
Unlike Ramp, Brex may not be vocal about de-throning Amex in the corporate card wars, but it has similar ambitions as Ramp: "Our mission is to reimagine financial systems so every growing company can realize its full potential," says Dubugras.
Is Amex Really the Common "Enemy" of Corporate Payment Card Issuers?
When it comes to this new breed of disruptive corporate payment cards, there may be a consensus that based on tenure, size and business type, corporations considering a fintech payment solution will naturally be drawn to Brex.
Despite Ramp's stated desire to challenge Amex corporate cards, Ramp – in real life – recognizes Brex as the one to beat. In fact, Ramp has dedicated a web page to making its case of superiority under the "Ramp is the #1 Alternative to Brex" banner headline.
We are standing-by as the fintech corporate card craze – and battles – are just beginning to heat up. The ultimate winner may be the payment solution that can deliver both fintech bells and whistles and the corporate cachet and credentials that Amex built… and delivers like none other.