Fintech BlockFi Takes a Nontraditional Approach to Credit Card Product Launch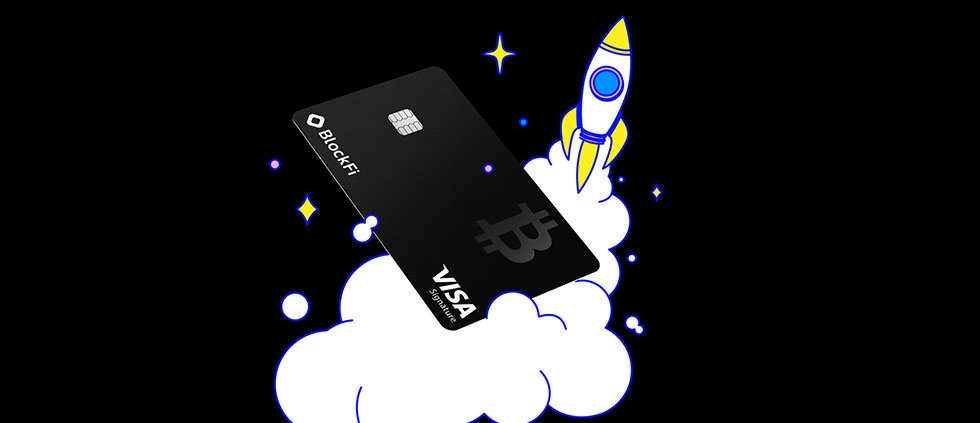 In the secretive world of developing and launching competitive credit cards, one new entrant –the Bitcoin trading platform BlockFi – is comfortable taking a different approach.
BlockFi first announced its plans to launch a credit card on January 10, 2020 (no, that is not a typo). Subsequently, the company brought on executives with payment experience (notably, execs from Amex), while establishing partnerships with Evolve Bank & Trust, Visa and Deserve, BlockFi's tech and program management partner.
Since that announcement 17 months ago – an eternity in going public with and promoting a credit card well before it sees the light of day – BlockFi has issued press releases and featured updates on its blog and social media.
From our perspective, this may have contributed to product whiplash and suggests a "fly by the seat of your pants" approach. That's not intended to be negative. However, it is unconventional. It's unimaginable, for example, that seasoned players (Chase, Citi, Capital One, etc.) would publicly tout a future credit card value proposition and then publicly revise and shift major product details, including value prop, annual fee, sign-on bonus and core benefits. Only the physical card design has remained intact across BlockFi's "it's coming" announcements (published between January 2020 and June 2021).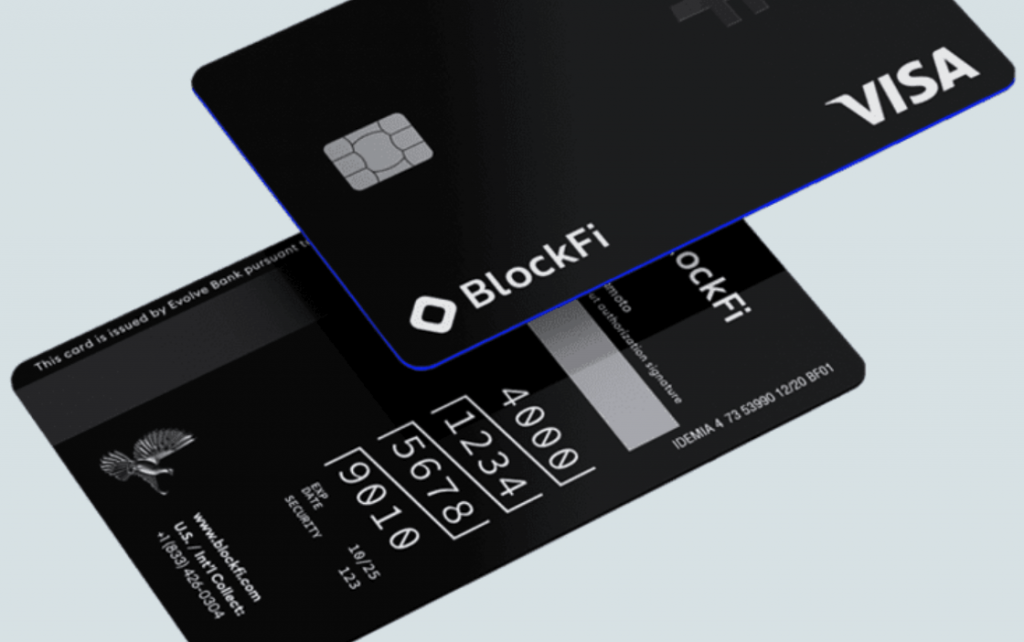 That was then: BlockFi introduces its new card
The original card announcement described the product as unique: the "first credit card in the crypto ecosystem." And, it is unique, as currently only debit cards are built around Bitcoin rewards. Specifically,
The card offered a core value proposition of 1.5% cash back on purchases, which automatically converts to Bitcoin and is deposited to the cardholder's BlockFi account monthly. BlockFi touts this as the highest Bitcoin rewards rate available for any card in the market.
There was a $200 annual fee.
The BlockFi vision was a metal card described as a "sleek" design where for "the first time the Bitcoin logo is featured prominently on a physical card."
While still in preview mode, BlockFi also revealed an acquisition bonus of $250 in Bitcoin, based on spending $3K+ within first three months of card issuance. (Credit card review sites and affiliate influencers were underwhelmed by the fee relative to value proposition.)
This is now: BlockFi modifies its credit card product
Fast forward to May 24, 2021, when a BlockFi blog post, as well as a tweet, candidly announced that the company had "listened to our clients" and, as a result, was rolling out some major changes and shifts in the BlockFi Rewards Visa. These upended (and improved) the non-existent credit card. Here are highlights from the updates as outlined in the blog post:
BlockFi officially killed the annual fee, which had not received stellar endorsements from heavy-hitter affiliate sites like The Points Guy.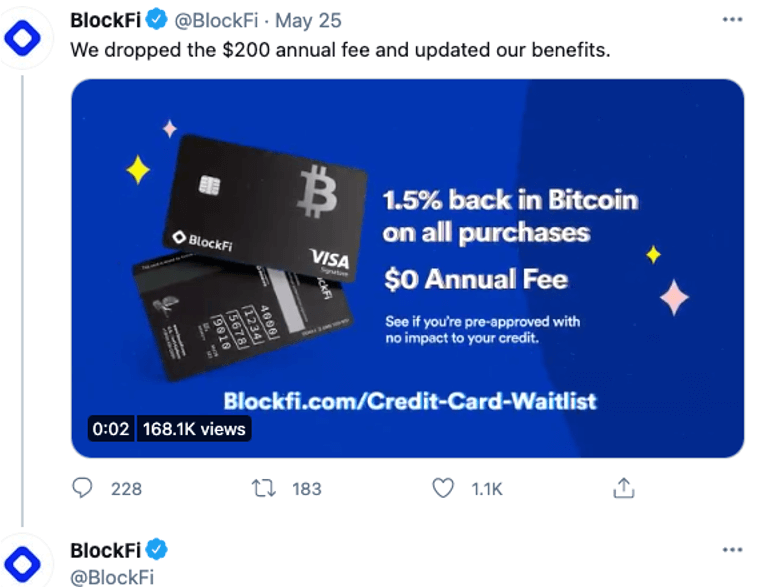 BlockFi designated the new card as not just Visa but "Visa Signature," automatically bringing elevated benefits, especially travel benefits (including no foreign transaction fees) to the prospective product.
BlockFi changed core value proposition, creating "a new rewards tier" for which cardholders can "earn 2% back in Bitcoin on every dollar spent over $50,000 annually" because "who doesn't like getting even more Bitcoin?"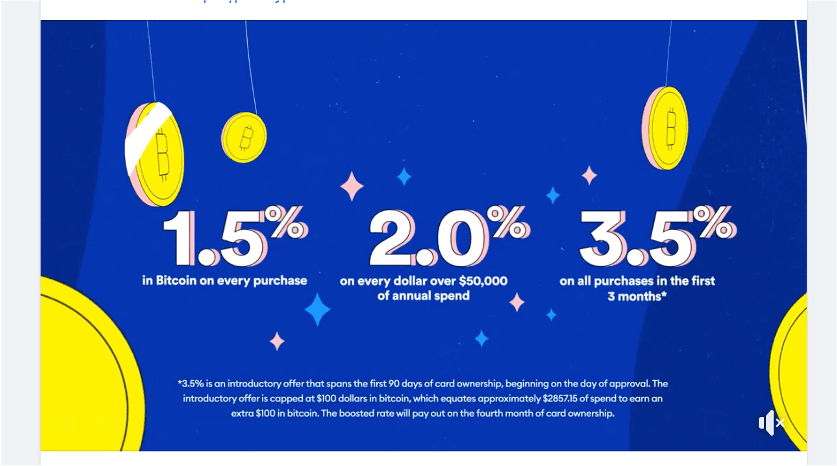 BlockFi adjusted the acquisition bonus offer, "increasing the introductory earnings rate for cardholders. Clients who sign up for the card will now receive a 3.5% Bitcoin rewards rate for the first 90 days."
BlockFi also added three new benefits:

The Stablecoin Bonus rewards cardholders with Stablecoin assets an extra 2% APY on top of the prevailing APY. (This bonus appears to be limited to the first year of card membership.)
The Trading Bonus rewards cardholders who trade crypto currencies on BlockFi's platform up to a maximum monthly earn of $500 based on 0.25% in BTC every month.
The Refer-a-Friend Bonus offers an extra $30 in Bitcoin for each friend referred on top of the base Refer-a-Friend program. Cardholders can earn $40 in Bitcoin for each of four referrals, plus $50 for each referral thereafter. (There's no limit to the referrals and Bitcoin bonuses earned.)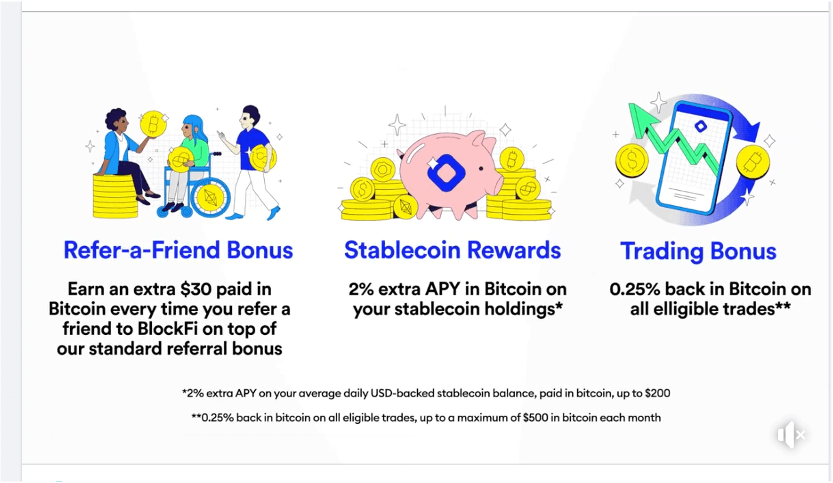 Consumers who want to carry the card can be waitlisted in two ways:
early registration (since December 2020) for BlockFi account customers both existing and new; or
a general online waitlist (as of January 2021).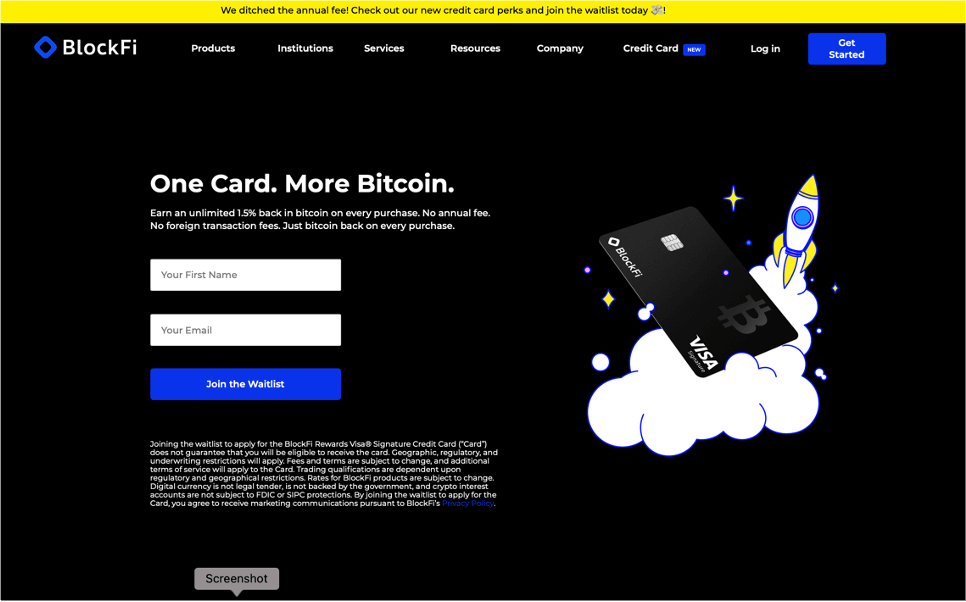 In addition to the Referral program supporting acquisition efforts amongst BlockFi friends and family – which makes good sense for a niche co-brand – BlockFi is using Facebook and Twitter for promotion and making good use of video to tell its complex story.
7 best practices for credit card product launches
BlockFi's product launch eventually reached more solid ground after what appears to have been a premature announcement – likely a result of becoming infused with funding and focused on expansion through visionary and out-of-the-box ideas. Anyone looking to launch a new co-brand credit card could benefit from some reminders of best practices inspired by the brand's course corrections.
DO hold back on touting your value prop until the product is on solid ground. Traditional issuers – we're thinking about Chase Sapphire launch and early acquisition efforts – sometimes make missteps, too. In Chase's case, it went-to-market with an overly rich acquisition offer but then quickly adapted a more sustainable one.
DO "Do the Math." As noted in The Points Guy's reaction to the card, the $200 annual fee did not cost out for the consumer who would get a better deal simply by purchasing Bitcoin on the open exchange (versus earning the 1.5% rewards values prop).
DO listen to card experts. While we have no experience working with Evolve Bank & Trust, we have a great deal of experience working with Visa's analytical and co-brand marketing teams. Seek the expertise of those who have worked with issuers and successfully launched countless payment products, which demand a particular rigor and discipline.
DO ideate and blue sky as part of pre-launch activities to design a truly competitive product, but do so well in advance of going public… and only after all stakeholders are onboard.
DO consumer research and validation. Late in the game relative to the early announcements of product details, it looks as if BlockFi's value prop had not yet been tested amongst BlockFi consumers. Ultimately, those consumers clearly voiced distaste for the annual fee and may have influenced the development of a richer value proposition.
DO create a waitlist but not too early. There's likely to be a high level of internal enthusiasm for the card launch, but consumers, on the other hand, can quickly lose interest. This means that the co-brand – in this case, BlockFi – may receive negative feedback as the waitlist grows and a consumer's ranking on the list descends.
Commentary on Facebook by BlockFi followers indicates impatience and some negative feelings. For example, one applicant made mention of going from position 45,000 on the waitlist to 52,000 as other, preferred applicants joined the ranks – a less than stellar consumer experience.
DO follow marketing tactics aligned with the target cohort's sensibilities. This is what BlockFi has done well. The short, engaging video supporting product awareness and explanation of value prop and benefit set is well done. Extending the BlockFi referral programs to the credit card and then further bonusing those card referrals is a strong acquisition tactic.
The BlockFi Rewards Visa Signature card is scheduled to be released sometime in Q2 2021. At the time of writing this post (mid June 2021), BlockFi Rewards Visa Signature has not yet launched.