Chase Sapphire Preferred Deploys Video Ads to Stand Out in Digital Marketing Channels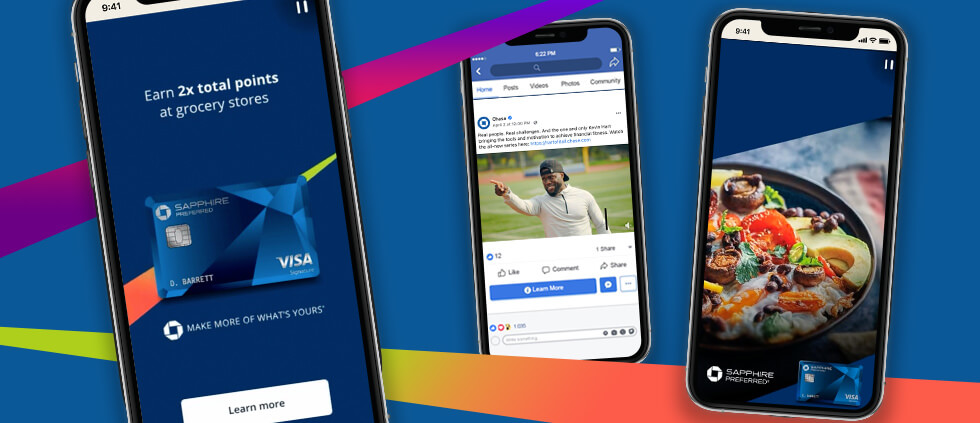 With overall use of direct mail to market credit cards declining across 2020, it is not surprising that digital ad spend by the U.S. financial services sector in that same year was expected to come in at $19.62B, an increase of 9.7% over previous year. This reflects the growing reliance on all forms of digital ads, including mobile, display and search – all with incremental spend year-over-year. (As reported by eMarketer, mobile ad spending accounts for 70.9% of all digital spend in the financial services category.)
The big card issuers – American Express, Discover, Bank of America, Capital One, Citi, Wells Fargo and Chase – all invest in mobile, display and search advertising as they seek to find and acquire new cardholders during challenging times. The display ads typically seen in these digital marketing campaigns are both static and animated, but very few use video to help convey complex value propositions and help messaging break through digital advertising overload experienced by consumers.
How Chase uses video to stand out in digital advertising
Chase continually relies on digital ads to support card brands, including World of Hyatt, Freedom, Bonvoy, United and, notably, for Chase Sapphire Preferred (CSP). Recent efforts for CSP card acquisition marketing are text-book examples of how relevant messages, delivered in a "creative" package, can accomplish marketing objectives… even in solving for the tricky business of making a travel card highly attractive right now.
We've observed Chase Sapphire Preferred video ads that achieve this by
addressing the challenge of consumer overload and banner blindness by developing and using engaging video ads to stand out;
reinforcing card positioning in the context of current lifestyles*;
pulling back on – but never abandoning – the lure of aspirational travel;
relying on a combination of sound and text to quickly communicate a set of complex messages: two offers, a lifestyle hook, and "future" travel made possible with the 80K bonus points, positioned in the video ad as "…go on an adventure to Tulum later…"
Since Chase Sapphire Preferred targets younger prospects, the use of video ad formats plays to the cohorts' sensibilities. In addition, these same ads are also designed for mobile viewing. As far back as 2016, mobile surpassed personal computers as the tool most used for online purchases, and more recent stats indicate about 88% of short videos are watched via mobile devices.
As part of its acquisition marketing strategy, Chase also tests offers using the video format. For example, one ad version features a $50 grocery store credit plus 2x points earnings at grocery stores in lieu of the usual bonus points. Clearly, the offer tests immediate gratification – rewards/savings for grocery shopping done now – that may prove to be more responsive than the travel focused ad, while playing to the 2020/2021 surge in grocery category transactions.
Chase makes good use of video ads on Facebook and Instagram including those featuring their new brand ambassador and comedian Kevin Hart. What better way of leveraging his unique appeal than through engaging video (part of the "Hart Of It All" series), allowing Chase to make the dry topic of financial wellness almost riveting.
Real people. Real challenges. And the one and only Kevin Hart bringing the tools and motivation to achieve financial fitness. Watch the all-new series here: https://hartofitall.chase.com

Posted by Chase on Friday, April 2, 2021
Kevin Hart is also featured in Freedom Unlimited video ads on Facebook for the recently launched cashback card that is part of the Freedom product suite. This pairing of talent and product is a powerful endorsement for a card that The Points Guy reviews as the perfect entry card with a solid value proposition.
Big news! You heard Kevin Hart right, we're adding new benefits to our Chase Freedom Unlimited card. Now get even more while still earning 1.5% cash back on all your purchases: https://bit.ly/3c5nFtG

Posted by Chase on Tuesday, September 15, 2020
How financial brands can use video ads
Financial services brands of all sizes – local, regional, national – can make good use of video ads. Accessibility is no longer an issue, as marketing agencies like Media Logic have solutions and technologies to meet a range of price points.
For brands that are not yet convinced they can effectively use video ad formats, consider this from Forbes: "There is data suggesting that video production quality isn't as important as content that fits interests and passions." Video ads may, in fact, cost more than static or animated display ads, but brand amplification and performance will likely offset the additional investment.
* The 2020/2021 consumer still enjoys "fine dining" experience (albeit an elevated at-home one where the grocery store takes the place of the restaurant). At the same time, consumers have set aside more aspirational travel plans, which are centric to the Sapphire brand.
Video ads sourced from Mintel Comperemedia, 2021.