You Don't Have to Be a Big Bank to "Chase" This Video Strategy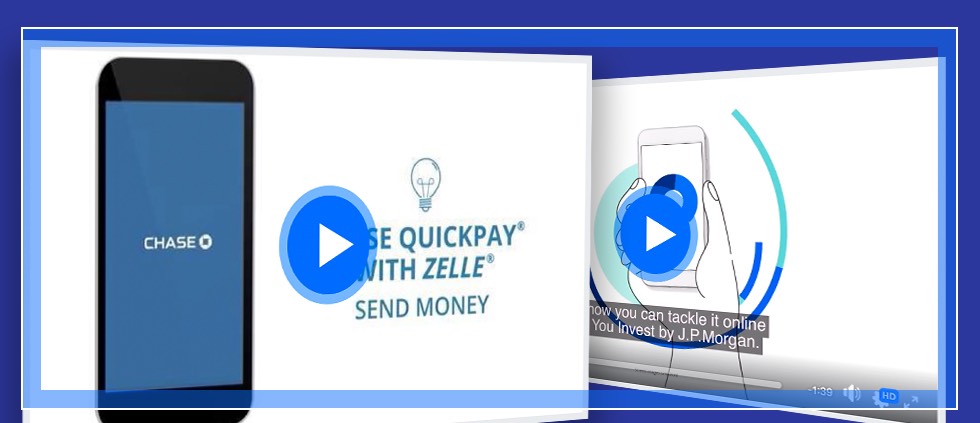 Scrolling through your feed on any social media platform tells you one of the most important things you need to know about social content: video grabs your attention. This is exactly why, after pointing to how important video has become on every platform and channel, Hubspot says, "Brands need a video marketing strategy."
Many brands – including financial services brands – understand this and regularly incorporate a social media video strategy into their larger content marketing plan. A quick peek at Chase, for example, reveals that – of the brand's last 30 posts* on Facebook, Instagram and Twitter – 18, 10 and 7 (respectively) were videos or animated GIFs.
Here are a few examples:
In this animated GIF published ahead of Hurricane Barry, Chase cycles through images and text to list the ways the bank was getting prepared to help, including making sure branches have cash on-hand and keeping branches open as long as possible.
Getting ready for difficult weather? We're here to help and taking these steps. Click here to find a Chase ATM or branch near you: https://t.co/v4Ri44R5FO pic.twitter.com/qhsoDph9Iq— Chase (@Chase) July 12, 2019
Using animation, these videos explain how to access and use the "You Invest Portfolios" feature within the Chase app and how to send P2P payments using Chase QuickPay with Zelle.
A short video with insights on investing helps Chase repurpose long-form content for social media.
Using animated content to breathe life into charts and stats (content that may otherwise fall flat on social media), Chase promotes its growth in key areas and educates fans on how much they can contribute to IRAs and 401(k).
$JPM reports record net income of $9.7B and record EPS of $2.82 for 2Q19 on revenue of $29.6B with ROTCE of 20%. See more at https://t.co/IlAXzGQBaq pic.twitter.com/BRdq89FOaF— Chase (@Chase) July 16, 2019
Here, Chase uses a short clip featuring a repetitive motion (a la Boomerang) — an approach popular with influencers on social platforms – to draw attention to its card perks, like the Chase Sapphire lounge.
The #ChaseSapphire Lounge at the Seaport District is back for the summer! From signature cocktails in a private lounge to breathtaking views and awesome deals, you may never want to leave. Just show your Sapphire card to access the lounge daily from 12pm-8pm.?Cheers! pic.twitter.com/tJIeVltqrw— Chase (@Chase) May 19, 2019
Video in this tweet tells an inspiring story about Chase's role in advancing economic recovery in Detroit.
Five years ago, we made a commitment to #InvestInDetroit. By focusing on jobs and skills training, neighborhood revitalization, small business growth, and financial health, we're continuing to push that commitment forward: https://t.co/VHYMm4x9Ch pic.twitter.com/sRVgLUehVz— Chase (@Chase) July 8, 2019
This spontaneous review of Chase social video demonstrates that you don't have to be a big bank to implement a social media video strategy. While effectively branded and professionally produced, the videos published by Chase are not fancy or complicated, and smaller FIs should feel confident that they can adopt – and afford! – a similar strategy.
A benchmark report from Vidyard says that financial services companies published an average of 214 videos each in 2018 and "businesses with 31 to 200 employees create nearly as many videos as companies between 600 and 5,000 team members."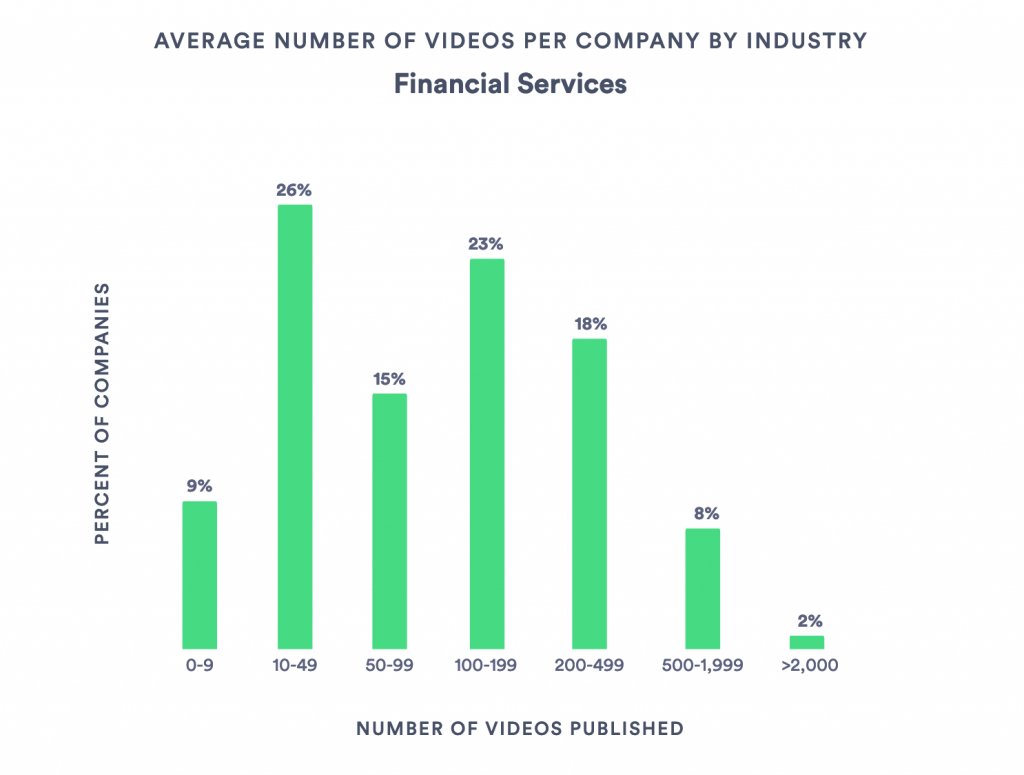 Here's why financial brands are using video content:
Video works. Buffer reports that "Facebook video receives, on average, 135 percent more organic reach than a Facebook photo." And in Why Video Is Exploding on Social Media in 2019, Wyzowl says, "Of the 84 percent of marketers who have published video content on Facebook, 85 percent found it to be an effective strategy."
Consumers want video. Vidyard found that "where both video and text are available on the same page, 72% of people would rather use video to learn about a product or service." And according to HubSpot, "more than 50% of consumers want to see videos from brands … more than any other type of content."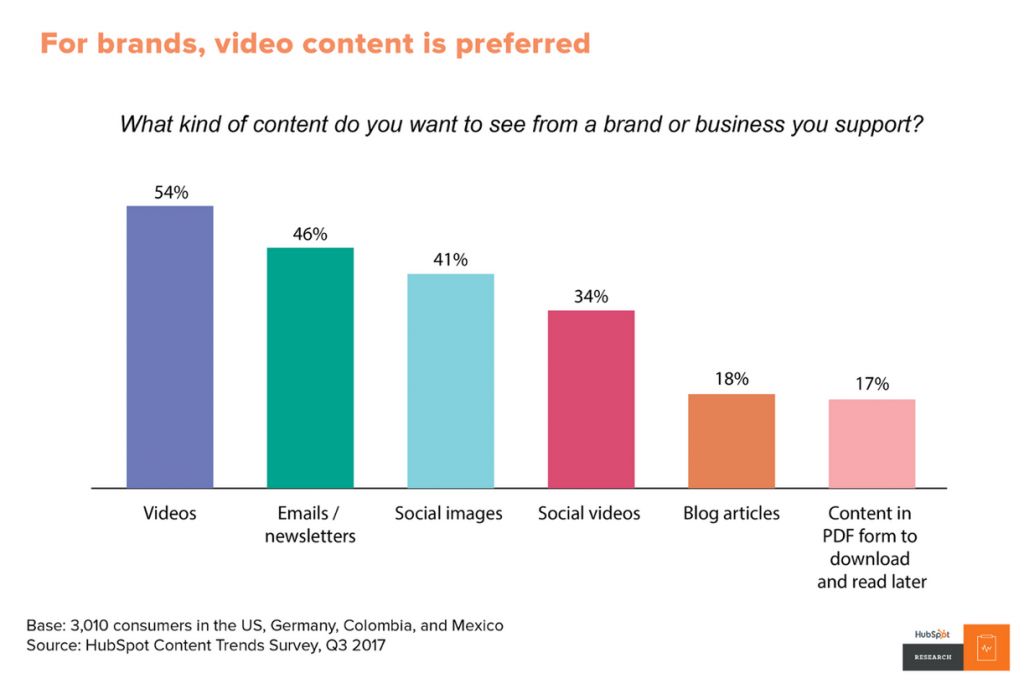 Video is dominating the internet *and* social content. As reported by the Content Marketing Institute, "By 2021, 82% of consumer internet traffic will be video." And the Vidyard benchmark data shows that social media videos are the third most popular kind of content created (behind webinars and demos) and social platforms are the second most popular place to publish video (after websites but ahead of YouTube).
As you consider use of video in your own social content strategy, be sure to investigate and adopt best practices, such as applying your brand's look, tone and feel and keeping them short – as in less than a minute in most cases (here are ideal social media video lengths recommended by Hubspot). It's also important to remember that the overwhelming majority of social media users watch videos with the sound off (85% according to Digiday and 95% in Hubspot's own experience). This means the video must tell the story with images alone or with copy (in the form of animated text and/or captions).
* Tally conducted July 16, 2019