The Great Chore Wars: Greenlight Versus Step
Two new mobile banking apps – Greenlight and Step – offer financial tools for preteens, teens and their parents, and although there are differences between the products, both seem to be vying for the same audience: families. Here, we take a quick look and offer insights on how they're marketing financial apps for kids (and their parents) and reaching the next generation of cardholders.
The success of Greenlight's financial app and debit card
Fintech Greenlight is having a run of success. The financial app – aimed at preteens/teens and their parents – is experiencing tremendous growth and enjoying an influx of capital. The app/card combo has grown to 3 million customers, collectively saving more than $120 million dollars. That's up from 2 million customers and $50 million dollars just since September 2020.
According to TechCrunch, the company "pitches itself as more than just a debit card, with apps that give parents the ability to deposit money in accounts and pay for allowance, manage chores and set flexible controls on how much kids can spend." To date, it appears that social media and word-of-mouth make up a large part of the marketing effort.
Greenlight has a fee of $4.99 per month and a one-time fee of $9.99 to get your kid's picture on the card. It's also "more than just a debit card" with products like Greenlight + Invest ($7.98 per month; which gives users access to an investing platform) and Greenlight Max ($9.98 per month; which has add-ons like identity theft and purchase protection).
Greenlight has spent the last four to five years building the product and is likely ready for a big marketing push. For example, in a Forbes article on the venture capital coming the company's way, Greenlight CEO and Founder Tim Sheehan says, "The money will go to accelerating marketing to parents." It's an acknowledgment that marketing has not been at the forefront to date, but it's likely to take a front seat soon.
Greenlight on YouTube
For now, the company has only produced a couple of spots for its YouTube page. These appear to be intended for TV or pre-rolls, but Greenlight hasn't followed up with anything else.
Other YouTube users have shared videos about the app, however. A quick Google search for "Greenlight card" turns up this "honest review" that is mostly positive:
Greenlight on Facebook, Instagram and Twitter
Greenlight is using Facebook, as well, to engage cardholders with a monthly sweepstakes: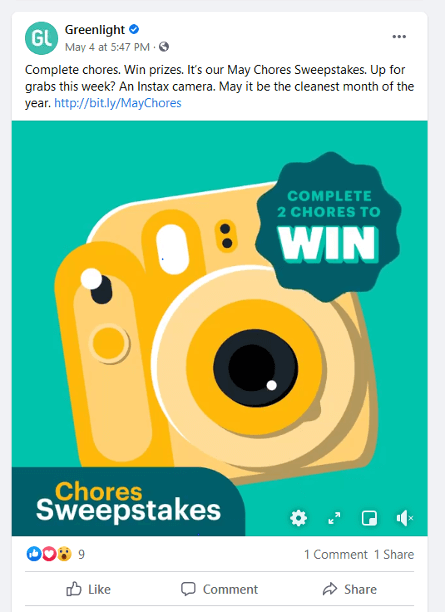 The brand also uses other social media, like Instagram and Twitter, but not TikTok as of yet.
The Step Visa Card
When TechCrunch first reported on the Step card, Step CEO CJ MacDonald told the publication, "We want it to be a teen's first bank account. We want to be a teen's first spending card. And we want to teach financial literacy and responsibility firsthand." MacDonald called this audience the "pre-banked," a version of the term "unbanked" and a nod to Step's intention to capture and nurture this demographic before they're eligible for more mainstream products.
Like Greenlight, the Step Visa Card – which now boasts 1.5 million users – includes tools for families, but there's one primary difference between it and Greenlight. Step is not a debit card: it's a secured card, as this TikTok video spells out:
This means no fees, and it also means the ability to build credit.
Influencer Marketing for the Step Visa Card
Step is using a different marketing strategy than Greenlight, relying heavily on its TikTok channel, plus influencers like TikTokker Charli D'Amelio, who helped to announce Step's sweepstakes to give away $100,000:
The company is using other TikTok influencers, as well:
The goal of the sweepstakes seems to be to grow awareness and build Instagram followers.
Additional differences between Greenlight and Step
The websites of each brand say a lot: Step proclaims it's "banking for teens," and Greenlight promotes itself as a "debit card for kids, managed by parents." This messaging difference may have something to do with each product's construct – debit versus secure card.
Greenlight is the safe choice among adults, who are the ultimately decision-makers. Step appears targeted for teenagers or preteens. And that may be the key to Greenlight's current edge over Step, in terms of customers. There are 3 million cardholders in Greenlight in portfolio and just 1.5 million in Step's.
Who knows where this will net out. After all, we have had prepaid debit cards before, and there are lots of competitors out there from GoHenry to FamZoo to BusyKid. Ultimately, these cards target a small segment of the consumers but an important one for the future: in marketing financial apps for kids, these brands reach the next generation of cardholders.