Discover Targets High School Grads. Here's What One Teen Thinks.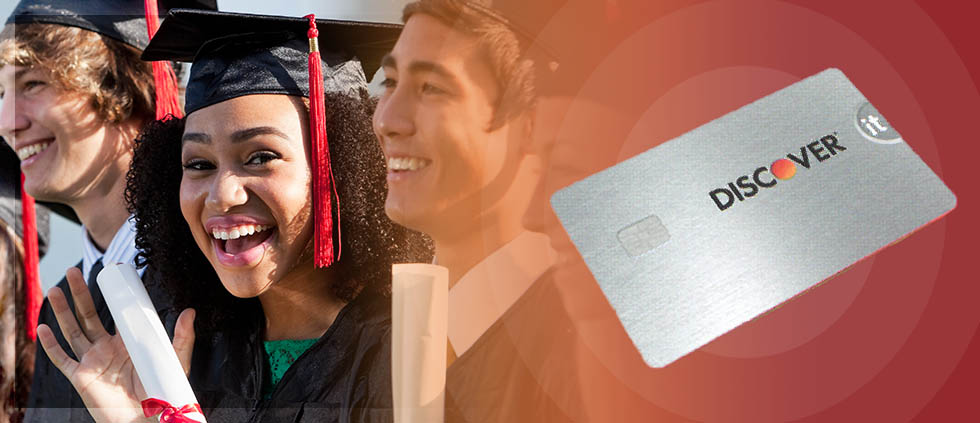 My daughter is graduating from high school this year, and in addition to college information packets, she's also been receiving credit card acquisition packages from Discover it (direct mail targeting high school grads). Seeing the opportunity to conduct a focus group of one, I sat down with my daughter to get her opinion on these direct mail packages.
I had saved two of the DM packages for the Discover it® chrome card, so we looked at both of them. They used non-traditional, 6.5 x 4 envelopes in an eye-catching, glitzy style similar to ones Discover has used in the past. My daughter liked this glimmery style, and it definitely caught her attention. But what really intrigued her were the credit card images right next to her name on the outer envelope. Just the thought that she could be eligible for a credit card was enough to pique her interest.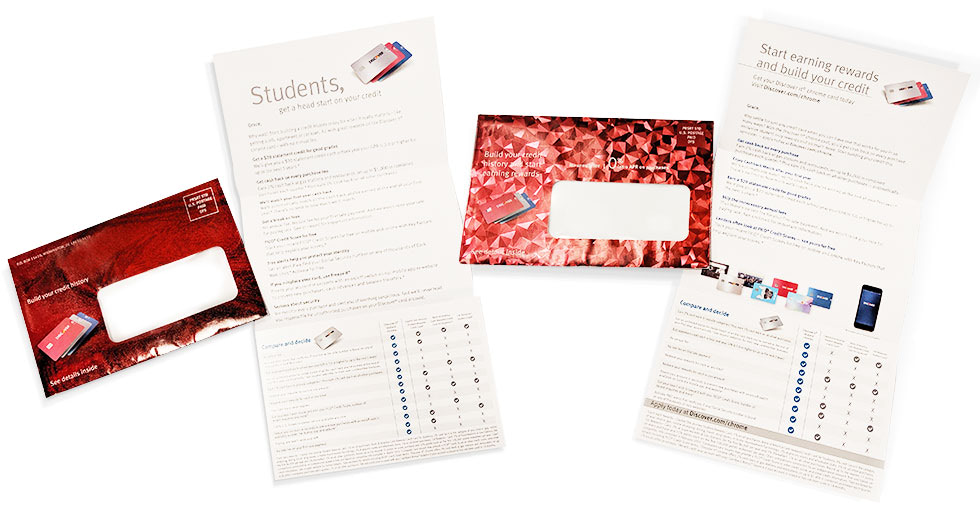 One of OE messages spoke to building credit history. The other spoke to building credit while earning rewards. This second one also promoted a 0% intro offer and no annual fee. Interestingly, these card benefits meant little to her as she had received no other card offers to compare against, and she wasn't completely sure what they meant (other than they sounded like good things).
We then opened both envelopes, and I watched as she examined the contents. The BRE and Terms and Conditions were quickly tossed aside, and her attention went to the piece on a light card stock. Neither package contained a traditional letter. Instead, both contained a roll-fold "self-mailer." One side was the addressing panel with a similar message to the OE. The other side was a clean panel that showcased the cards and repeated the same "build credit and earn rewards" message.
The first fold revealed a personalized panel, with my daughter's name big and bold. She liked that bit of personalization, and that panel got her attention.
However, the personalized panel also contained the biggest disconnect of the packages. One read, "It's time to get more out of your credit card." She told me that it made her immediately wonder if there had been a mistake, and Discover thought she already had a credit card.
The other personalized message didn't fare much better. It said, "Discover® is out to change the way you think about credit cards." With graduation and college being the sole focus of her life in the past several months, she had never given credit cards any thought at all, much less developed pre-conceived notions that were going to be challenged by this particular credit card. It wasn't as much of a disconnect as the other package, but the real estate could have been used for a more relevant message for a first-time applicant. She suggested something else about building credit or something about her current life situation (heading off to college).
She then opened the piece fully, where the copy was presented in a very traditional "subhead followed by body copy" format. I noticed her eyes immediately glossed over. I asked her about it, and she said that even though it was broken up into easy chunks, there was still a lot to digest. It also had terms she wasn't familiar with, such as statement credit, annual fees and FICO® Credit Score. She felt intimidated pretty quickly, and since getting a credit card wasn't a priority to her, she said she probably would have tossed it aside at that point.
When pushed to pick a favorite among the two letters, she eventually said she preferred the shorter messaging of one package. The subheads were in color so they stood out better, and there was less information to digest. She also appreciated the comparison chart. She was unaware of the other cards on the chart, but she told me that it did make her feel more comfortable that this Discover card had value.
The last thing I had her look at was the Reply Card. She had been reading the entire package, looking for the catch – assuming there was no way she could qualify for a credit card. She didn't even have a job! The Reply Form included fields for annual gross income and even offered instructions to put $0 if you weren't working. Still, my daughter felt that this is where she would get denied and admitted she would probably not fill out the form based on that assumption. Some sort of explanation of why she was receiving this offer and how she would qualify would have gone a long way in reassuring this suspicious teen.
As a marketer, I appreciated the personalized messaging and clear, distinct, easy-to-scan layout. As a parent, I wish the package would have had a bit more focus on how to use a card responsibly. The thought of using a credit card to build credit was intriguing to her, but she was skeptical. Some messaging around financial responsibility could have helped ease her mind. However, as she cynically pointed out, "I don't know if I'm going to trust a credit card company to teach me financial responsibility."
With college (and college loans) looming before her, she is very concerned about getting into debt, something that is common among her peers. In fact, according to a report by Merrill Lynch Wealth Management, 60% of Gen Z respondents defined financial success as being debt-free.
So, while my daughter was flattered by the offer, she's not interested in acquiring a credit card right now, and Discover's direct mail campaign did nothing to persuade her otherwise. My takeaway was that the creative did a good job but missed the mark by assuming this young audience had a base knowledge of credit cards and already understood the importance of building credit.
Granted, that opinion could be based on my stubborn unwillingness to face the fact that my daughter is growing up.
Tags:
credit card marketing
,
direct mail marketing
,
Discover