What's in an OE? Capital One Looks to Find Out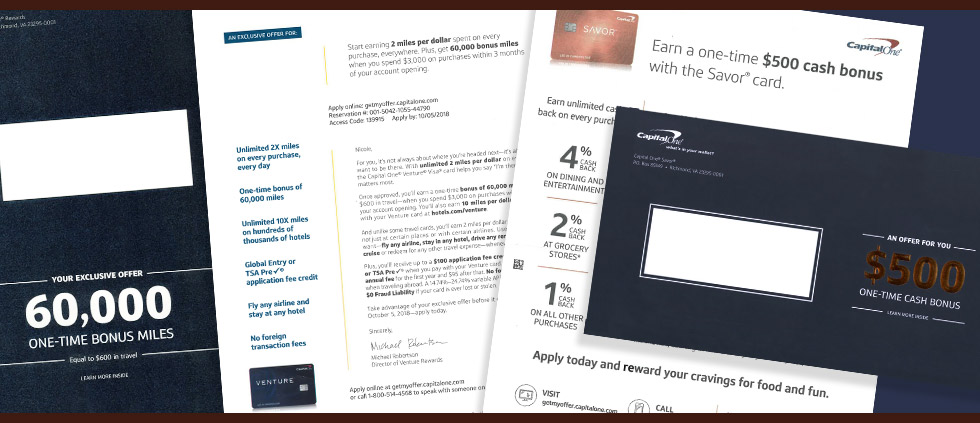 Is beauty only skin deep? That seems to be a question Capital One is asking with its current direct mail acquisition packages.
But before we get into what Capital One seems to be testing, let's take a look at why.
Based on Comperemedia data, Capital One continues to be the top mailer among financial institutions. In July 2018 alone, the brand was responsible for 28% of the market share, and its mailings were primarily for the Quicksilver® card. However, the August 2018 Credit Card Response Rate report shows that, while Capital One is mailing the most, its response rate is declining. In fact, in August, it mailed the most offers but only had the third highest share of applications.
This would tend to indicate Capital One is suffering from mail fatigue, and we believe it is testing different variables to see how to address this issue.
From our experience with large issuers, we know effective diagnostic testing typically tweaks only one variable at a time. This makes it easier to pinpoint a single factor that can improve effectiveness. And since first impressions are very important, it makes sense Capital One would start with an outer envelope (OE) test.
In fact, one of our employees recently received two separate direct mail packages from Capital One: one for the Venture® Rewards card and the other for the Savor® card. Looking at creative on Comperemedia, we see that the brand is mailing similar packages for its Quicksilver® card.
While these packages promote different cards, they do have one thing in common: outer envelopes with a high-end look, tone and feel typically reserved for more affluent prospects. The OEs used high-quality paper stock, special ink treatments and classic, understated design. The Venture® Rewards card package, for example, used a custom 10-1/2 x 12 size OE that featured a distinctive metallic powder coating paper stock. The Savor® card package and Quicksilver package came in a 6×11 OE with a heavier paper stock and key copy points highlighted in copper foil stamp on both the front and back. The envelopes are inline printed, eliminating the need for an addressing window.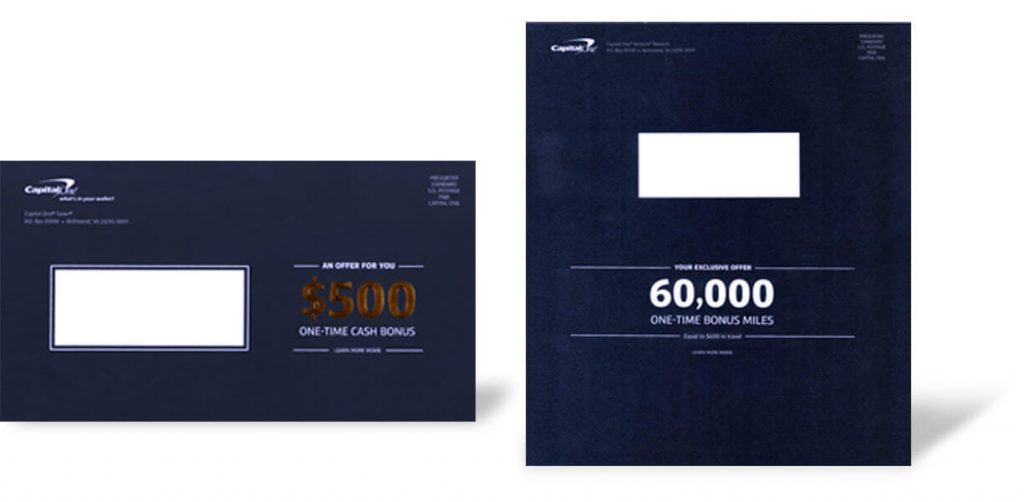 However, the look of the packages shifts dramatically when you open the envelopes. The letters don't have the same high-end look, tone and feel as their envelopes. In fact, it almost seems as if the wrong letter was put in the OE.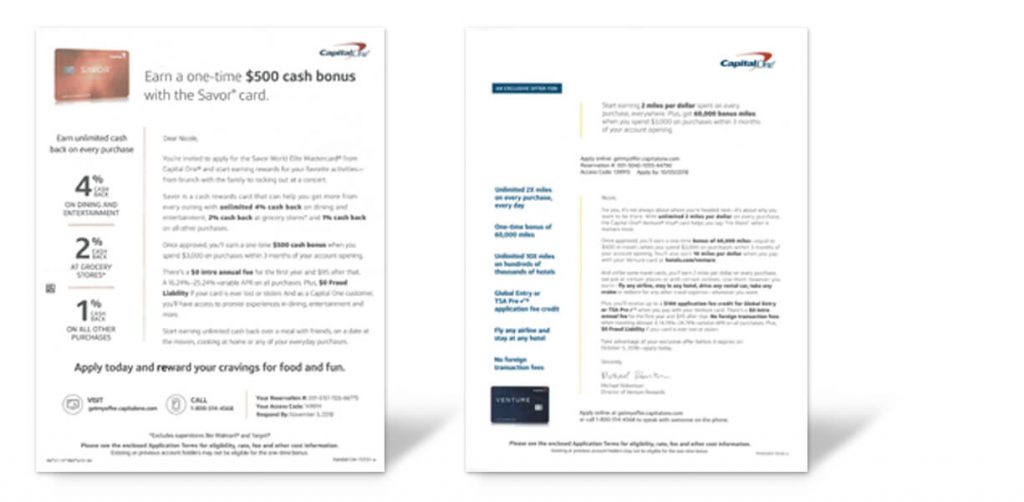 This clearly indicates that Capital One is testing different OEs with its current mailings to see if it will impact response. And it brings up some interesting questions:
Will the disconnect between the OE and letter LTF affect response? Our experience has taught us that creating a consistent look, tone and feel between all components of a direct mail package helps to reinforce the brand story. While a more high-end OE may increase package opening, will it have any impact on response? Or will the disconnect hurt the response rate?
Will affluent market OE tactics work across demographics? Using a high-end OE has been proven to be successful for affluent prospects, but if this OE test is scaled to include middle market prospects, will it be as successful? Not knowing Capital One's target strategy, we don't know if this is even one of the metrics it is testing. But it would be interesting to see if an OE tactic typically reserved for affluent products would stand out and, more importantly, be compelling enough, to get middle market prospects to open.
We'll continue to monitor Capital One's mailing results over the coming months to see if there is a shift in its response rates. And, of course, we assume the brand will continue to test other components of its DM packages to see what impact they have.
Tags:
acquisition mail strategy
,
Capital One
,
direct mail
,
direct mail marketing