How Subscription Service With Card-on-File Can Remain an Opportunity for Issuers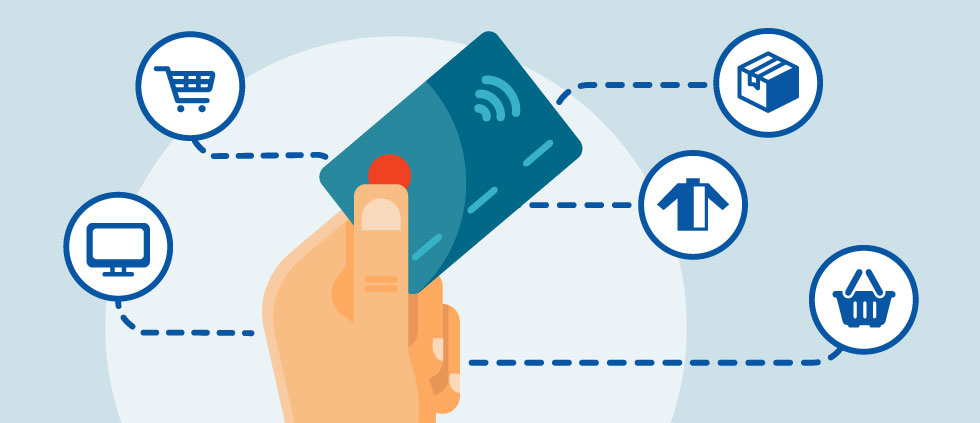 Ipsos released a white paper last month that wrestled with the recent uptick in subscription services. Written by Supriya Chabria, "A Casual Flirtation or a Committed Relationship?" makes several observations relevant to the current situation.
In 2019, Ipsos pointed out that one in five customers had tried a subscription service, but later that same year, a Forbes article observed that "the subscription box industry had lost is initial sizzle." Fast forward to January 2021 and Ipsos found that subscriptions were up significantly – with 50%-60% growth. The obvious culprit was the pandemic. Led by consumer fear of essentials not being available, as well as a desire to keep their distance from physical stores, shoppers had turned once again to subscription services.
Subscription services trends
In the March 2021 whitepaper, Ipsos points out a distinction between "replenishment" and "box subscriptions." Essentially, replenishment is stocking up on certain items that are deemed essential, like household supplies and personal care items. They cite Amazon Subscribe & Save as the prime example. Box subscriptions, on the other hand, allow customers to buy new products and try them out. The ones that fit your lifestyle are presumably the ones you stick with (i.e., order again).
Marketing for replenishment and box subscriptions rely on "enhancing your life." Ipsos points out that a key benefit of these subscriptions is "making it easier to get products you need or want so you can focus on other things." The company's research indicates that consumers find convenience in both the replenishment model (70%) and box subscriptions (59%).
However, Ipsos speculates that the box subscription model may fade as things open back up and people have more choices about where to shop. "Home design" products, to pick a category within the box subscription model, are more likely to be susceptible to competition from a return to in-store shopping. Replenishment-style subscriptions are more likely to be sustainable and become a reliable business model in the future. In fact, Ipsos research shows that the "likelihood of continued use beyond the end pandemic is 41% higher for replenishment services than subscription boxes."
Payments marketing for subscription services
Either way you look at it, interest in these subscriptions is a boon for payments (since the card-on-file status of payment products is likely the same no matter which model prevails). However, as with other transactions, it is important to foster the relationship with the cardholder, and we've observed a number of ways issuers are achieving this.
For example, Navy Federal has a page on the mobile and online banking section of its website that contains a video that goes into detail of card-on-file including benefits like managing your card, switching cards and updating card information upon reissue.
Fifth Third Bank recently ran a holiday promotion for card-on-file that targets new users to encourage them to use their cards for online shopping. The grand prize, of course, was a $5,300 Amazon gift card.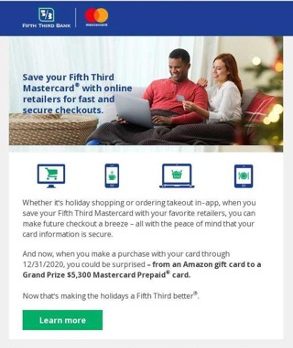 Recently, Chase sent me this email as a follow-up to my recent card reissue:

A link was included where I could easily update and my card information.
Discover offers a tool for this, as well, and chose for its creative, a more perfunctory, minimalist look and strong CTA.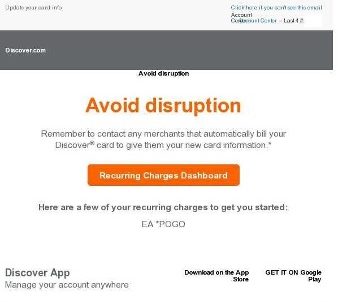 Citibank distributed a similar communication (without a strong CTA) and dispensing entirely with the notion of "creative."

These just a few examples, but clearly major issuers see the value of maintaining a connection between subscriptions and existing card-on-file. It is in their best interest to remind people which of their cards maintains top-of-wallet status.
No matter what, credit cards and other payment methods stand to benefit from subscriptions, whether consumer interest is, as teased by Ipsos, just a "flirtation or a committed relationship."
Except where noted, email marketing samples are sourced from Mintel Comperemedia.
Header image: Created with artwork from freepik.