Back to blog
Media Logic's Top 10 Financial Services Marketing Blog Posts of 2018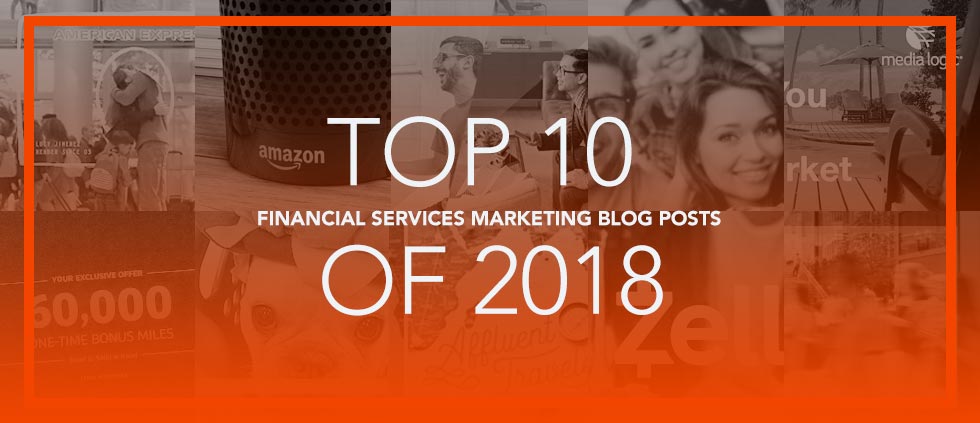 We're pleased to see the diversity of topics on this year's list of top financial services marketing blog posts! In addition to insights about key audience segments like affluents and Millennials, these posts cover everything from broad efforts (like a fresh brand campaign) to highly detailed exercises (like A/B tests of direct mail pieces). They also include specific marketing tactics related to co-brands, bank branches, social media, payments and new technology.
Take another look at these perspectives from Media Logic's financial services marketing experts. We think our most popular posts from 2018 will inspire you to ask more of your upcoming marketing campaigns and explore new opportunities in the coming year.
1.
Don't Launch a Global Brand Without It (Amex)
A recent campaign from American Express embraces the history of the brand while breaking from a long tradition of celebrity endorsements. In this execution, instead of seeing Tina Fey at the center of the spots, we see Amex customers using the card to travel, raise kids, buy coffee, start businesses and pick up dinner.
2.
How Financial Services Brands Are Marketing Virtual Assistants
When it comes to early messaging, most FIs promote Alexa skills and proprietary chatbots as convenient ways to access basic account information and conduct simple transactions, but in the future we're likely to see greater emphasis on customer relationships and consumer engagement.
3.
Keep Calm and Change On! How Hotel Co-Brands Can Appeal to Millennials
Earning Millennial hotel loyalty can be a challenge. Here's why it's worth it… and how your hotel co-brand can engage this critical audience.
4.
A Millennial's Take on the Right Vibe for Financial Services Marketing
In addition to noting some ground rules about Millennial marketing – like "avoid gimmicks and lengthy sales pitches" – this Millennial Marketing Showcase identifies some positive steps financial services brands are taking to reach this important audience.
5.
5 Tips to Help You Connect With the Affluent Market
Based on informed best practices and research, we assembled a list of affluent marketing "must-haves." From looking the part to hitting the right tone, these tips will help you shape – or re-assess – your affluent marketing campaign.
6.
What's in an OE? Capital One Looks to Find Out
Is beauty only skin deep? That seems to be the question Capital One was asking with different versions of a recent direct mail acquisition package. Take a look at what the brand may have been testing… and why.
7.
How Financial Services Influencer Marketing Strives for Authenticity on Instagram
Brands on Instagram face a pretty big challenge: how to create content that achieves the level of authenticity platform users expect. One approach is to leverage the audiences of popular content creators, as in recent posts sponsored by Amex, Bank of America, Capital One, Chase, U.S. Bank and Visa.
8.
Look at Subsegments When Targeting the Affluent Traveler
If you are marketing an airline and lodging co-brand credit card or a bank branded card with travel rewards to affluent travelers, consider focusing on the subsegment called "A Taste of First Class." Here's what we know about them (and how we arrived at this recommendation).
9.
As Banks Promote Zelle, They Start Winning the P2P Race
While Millennials were flocking to Venmo and the Cash App to split restaurant bills, many FIs were limiting P2P transfers within their own networks, but that began to change last year with the launch of Zelle. Here's how banks are promoting the new payment option and starting to win the P2P race.
10.
How Bank Branch Grand Openings Can Create Buzz in Urban Markets
Branch openings are more than events: they're opportunities to grab market share from competitors, especially in heavily trafficked and densely populated areas. With the right approach, detailed here, you can leverage this change to your urban footprint to attract customers and create a lot of buzz.
Tags:
affluent marketing
,
co-brand marketing
,
direct mail marketing
,
financial services content marketing
,
financial services marketing
,
marketing virtual assistants
,
P2P payments