Look at Subsegments When Targeting the Affluent Traveler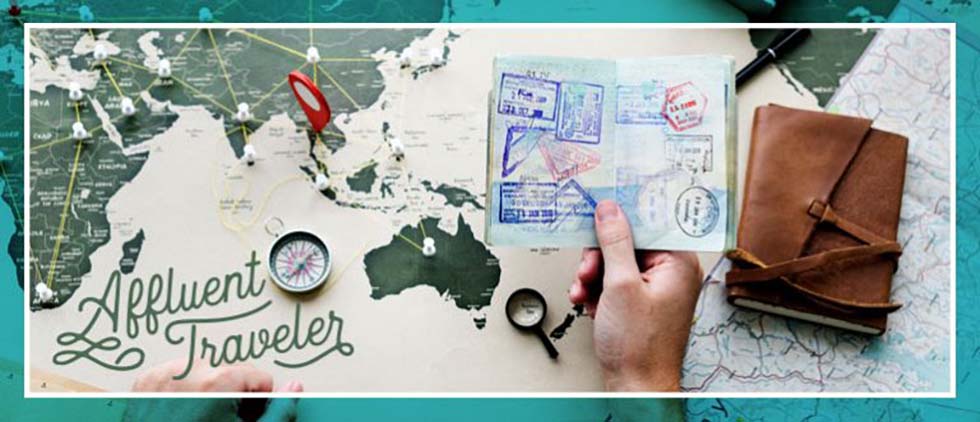 Some of the most respected research and travel trade associations validate looking at sub-segments of the traveling audience in order to identify best prospects. This holds true for financial services and co-brand credit card marketers looking to attract the highly desirable affluent and Millennial audiences. In the pursuit of these high value targets, we recommend considering some recent insights from both Ipsos Affluent Intelligence and MMGY.
We know the acquisition of "things" used to be important to the affluent demographic across all age and income stratifications, but mindsets have changed. Now, "experiential" is the buzz word, and people are willing to invest in order to have memorable experiences. Over the last three years, for example, according to the Bureau of Labor Statistics Consumer Expenditure Survey, the general population increased travel spend by 27%, while the affluent segment grew nearly 40%.  More importantly, affluent households representing 27% of the population are spending 56% of all dollars within the travel category.
Last year, Ipsos Affluent Intelligence identified traveler subsegments amongst affluent consumers, defined as HHs with minimum of $100K income. The subsegments identified are Domestic Deal-Seekers, Homebodies, Experienced Explorers, Jetsetters and A Taste of First Class.
If you are marketing travel services and products – including airline and lodging co-brands and bank branded cards with travel rewards – you might choose to identify and focus on only 19% of the affluent demographic: the subsegment Ipsos Affluent Intelligence calls A Taste of First Class. Here's why the data leads us to that recommendation:
Ipsos Affluent Intelligence describes 22% of the population surveyed as Domestic Deal-Seekers. Of these, 38% are Gen Xers. The median age is 46, and the median HHI is $147K. These are value travelers and typically take no-frills trips.
Homebodies account for 24% of the population surveyed by Ipsos Affluent Intelligence. Although the numbers are similar – 46 median age, $136K median HHI, 34% Gen Xers – Homebodies are light travelers with a preference for domestic travel. They are also risk averse and unlikely to include adventure travel.
Experienced Explorers, 19% of the population surveyed, have both free time and the financial resources to engage in many vacations. Each year, they average 4.2 vacation trips and 2.6 business trips with an average travel spend of $9.4K. They are predominantly Boomers (51%), and many favor cruise ship travel and embrace membership in frequent flyer programs.
Accounting for 16% of the total affluent population, the wealthiest subsegment (with median HHI of $175K) has attractive spending power and travel behavior. These are Jetsetters, and they typically stay in five-star accommodations and luxury boutique hotels, taking 5.8 business trips and 4.3 vacation trips on average per year. Consider them to be already entrenched in loyalty programs and co-brand cards. Unless you have a truly premium brand with a rich value prop and true innovation, in terms of prospecting, you probably missed the window of opportunity with Jetsetters. Ipsos Affluent Intelligence reports that 93% of the sub-segment belong to a frequent traveler program, and 74% report they love collecting frequent flyer points from business travel to use on personal trips.
On the flip side, consider courting this subsegment: A Taste of First Class, which makes up 19% of the affluent segment with median HHI of $142K. These travelers like to splurge on upgrades and look for quality over quantity. In fact, 87% of them say comfort and service are worth paying extra for. Their travel budgets are not yet that high: $3,000 per year on average spent across 2.9 vacation trips and 2.8 business trips. For brands that are willing to get in early based on potential – 32% are Millennials and the median age overall is just 41.3 – they could be worth nurturing over the long-term as they emerge into greater affluence and increased travel experiences. Their media consumption favors the internet, a plus as an efficient way to engage with them now and into the future.
MMGY, experts in the travel category, provides insights that validate that this younger, growing-in-affluence subsegment is not to be dismissed. MMGY believes affluent household income is neither a reliable indicator of those likely to favor luxury travel nor a driver of willingness to pay top dollar for quality travel and adventures. Its subject matter experts know, when it comes to affluent consumers and travel behavior, many affluent consumers are budget-conscious, while others are luxury spenders. MMGY's critical observation is this: travel behaviors around spending for luxury travel is not highly correlated to degree of affluence.
As you market in 2018, these aggregated insights may point you to a renewed opportunity.
* Insights used with permission from Ipsos Affluent Intelligence. For interest in Ipsos Affluent Intelligence, contact Michael Baer, SVP Team Lead IAI, at Michael.Baer@ipsos.com