How Financial Services Brands Are Marketing Virtual Assistants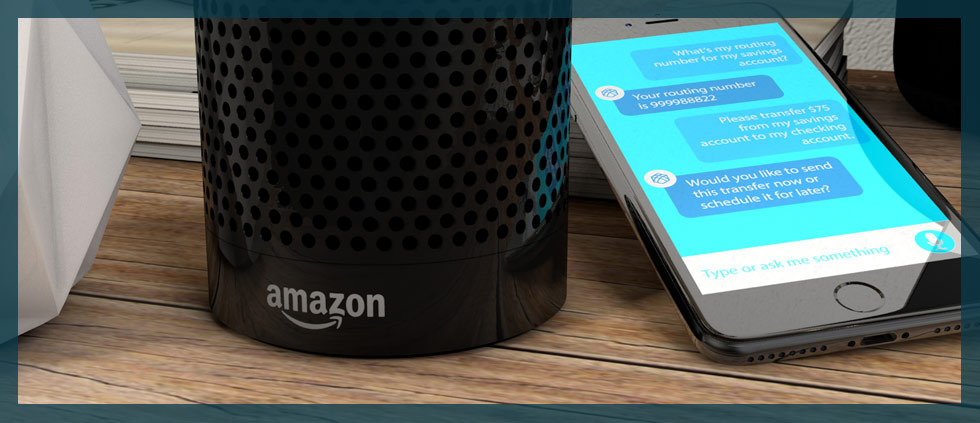 Virtual assistants and artificial intelligence (AI) are not new, but so far only a few "bots" have gone mainstream. While Watson, Siri and Alexa have reached near-celebrity status, the adoption of AI is moving slowly, especially outside of these heavily tech-focused segments. In financial services, for example, even though technology and data are necessary for even the most basic transactions, consumers seem most comfortable when tech sits behind the scenes and asks for as little personal information as possible… for now.
However, this doesn't mean AI hasn't arrived in the consumer banking experience: a number of large and small financial institutions have already deployed voice assistants and other kinds of AI. According to data from Celent, 32% of FIs say they're making direct investments in AI, and last year Personetics reported that "over three quarters of financial institution respondents view chatbots as a viable commercial solution now or within the next 1-2 years, and almost half of the companies already have active chatbot projects in place."
When it comes to the return on this investment, an industry expert cited by American Banker in "The top tech priorities for banks in 2018" puts it this way: "Commercial banks will use AI and intelligent virtual assistants to provide actionable insights that drive better conversations, better outcomes and more opportunities to cross sell and build stronger relationships." And Bankrate says, "Users are increasingly comfortable interacting with digital assistants, and the technology is only improving. In a sense, chatbots restore some of the personal connection that has been lost to banking as the internet has made the experience more self-directed. While you may be speaking to a robot, the service is designed to feel like you're talking to a banker."
Currently, of course, much of this – the ability to cross sell, build stronger relationships and make personal connections – is aspirational. As conversational as many voice assistants appear, "most bots today have limited capabilities," says Jim Marous in The Financial Brand. "Some simply replicate [the] FAQ experience, while others simply replace low level human-based customer service capabilities."
As consumer-facing AI exists today in financial services, then, it's safe to say its primary function is to help banks provide another path to good customer service and positive customer experiences. To their credit, banks and other financial institutions are being realistic about this in marketing financial services AI. Instead of making claims that their virtual assistants are already able to deepen relationships with their customers, they're touting the technology as another point of access. Most FS brands are positioning virtual assistants (like the skills they've built for Amazon's Alexa) as one more item in their customers' tool box, an addition to the brands' digital offerings.
Marketing Alexa's financial skills
Amazon permits outside developers to create "skills" that expand the capabilities of its voice-activated assistant Alexa, and many FIs have rolled out skills that give Alexa the ability to answer customer questions on their behalf. With these skills, Alexa is able to provide information like branch hours, locations, loan rates and routing numbers and even conduct some basic bank business, such as transfers and bill payments.
The list of FIs with Alexa skills includes a broad range of players from large global brands to small local credit unions. In nearly every case, FI website pages describing the Alexa skill dedicate most of their real estate to educating customers about what it is and how it works:
When it comes to messaging, most FIs are promoting their Alexa skills as an easy and convenient way to access basic information and conduct simple transactions:
Many FIs also make it clear that their Alexa skills simply expand their digital footprint. Instead of replacing an existing point of contact, they say their Alexa skills create new opportunities:
Marketing proprietary virtual assistants
Although Alexa is popular among consumers and a growing number of banks, AI in financial services isn't limited to the Amazon universe. Financial institutions are also developing their own virtual assistants, and as we've observed with messaging around Alexa skills, the marketing of these bank-based projects emphasizes access and customer service:
Looking ahead
WIRED reports that "customer-service-by-bot" is just the start: "Chatbots were initially incorporated to provide limited FAQ support, but we now see sophisticated virtual agents taking on full advisory and service support roles." Jim Marous calls it "a shift in how we think about mobile services – a transition from transactions to interactions." Citing Accenture, Marous believes that these interactions, under the broad umbrella "conversation," could become "the third pillar of a financial institution's distribution network, joining mobile banking and a smaller branch network."
Some FIs are already looking ahead to these developments and trying to balance opportunities and risks within the context of the customer relationship:
In an industry with huge privacy and security barriers to overcome, it's wise for financial institutions to start small with AI and be clear when marketing financial services AI about what the virtual assistants can and cannot do at this moment. It's also important for the AI strategy – and the AI marketing strategy – to evolve as the technology continues to advance, becoming, as predicted, a point of deeper engagement and a bigger piece of the customer relationship.
Tags:
artificial intelligence in financial services
,
customer experiences
,
customer relationships
,
marketing financial services AI
,
marketing virtual assistants