Keep Calm and Change On! How Hotel Co-Brands Can Appeal to Millennials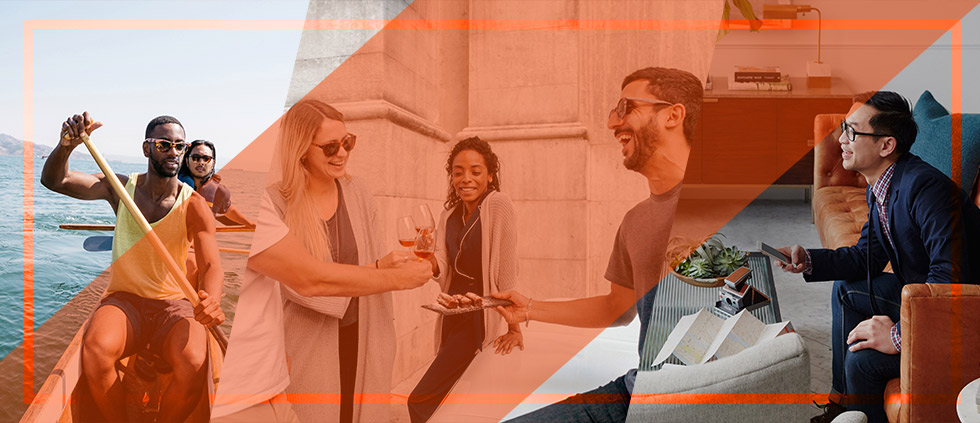 If you are in the hotel loyalty business with a mission of gaining more traction with Millennials, you know the segment can be challenging when it comes to loyalty.  You also know these consumers are critical to your business and can't be ignored. Here's why:
Millennials, the single largest generational segment, are passionate travelers.
The next generation of "loyalists" is getting younger. Although the average age of leisure hotel guests is 42, younger hotel guests account for the biggest share of business.1

43% are 18-36 Millennials. (33% are 24- 36, i.e. "older" Millennials; and 10% are 18-23, i.e. "younger" Millennials.)
34% are 49+ Boomers and Seniors.
23% are 37-48 Gen X.

Millennials took an average of 2.38 vacations in 2016 (32% more than Gen Xers and 44% more than Boomers).2
Millennial families represent 16% of travelers with almost half of traveling with children.2
35% of Millennials prefer upscale or luxury hotel stays while 23% report enjoying short-term rentals.2
Since Millennials will only grow in importance (with projections that they will account for over 50% of the world's hotel guests by 20203), these best practices – culled from several sources – are reminders of how to better engage and earn Millennial hotel loyalty:
Tweak traditional loyalty programs.
Millennials indicate that only 30% are satisfied with hotel loyalty programs, unlike Boomers with satisfaction levels of 56%.4 Millennials want programs that transcend transactions.5 Therefore, lodging co-brand cards must look beyond traditional constructs and reinvent value propositions. Remember that this segment views personalized rewards and engagements as highly desirable, putting more pressure on loyalty programs that are often one-size-fits-all. Incentives can drive their participation – 51% indicate that free/discounted stays will lure them to loyalty programs, according to a Software Advice survey – but discounting is not the total solution.6
Make marketing relevant to the segment.
If your brand can offer unique accommodations, elevated experiences and on-property amenities as part of your loyalty program, be sure to promote these to Millennials with marketing that uses plenty of visuals (also a Millennial preference). Keep in mind the segment does indulge in and aspire to luxury travel: Millennials are a critical part of the recent cultural shift as status-seekers of the past give way to more informal and personal definitions of luxury.
Take a fresh look at packaging your loyalty program offerings. Identify, bundle and promote existing, relevant benefits, on-property experiences and the amenities and services that will, in totality, play well with Millennials.
Your marketing must also speak in culturally-relevant ways to Millennials – curated, authentic, transformative, able to make human connections. Use Instagram and social media as promotion platforms (for loyalty program and for cobrand cards, not just hotel brands) and partner with micro-influencers (less cost, lots of influence) to become part of the estimated 60 million tweets that have mentioned hotels.3 Finally, research indicates that adding more customer data points in truly targeted marketing can result in better performance of your ads designed to reach and engage Millennials.1
Proactively ID and tout Millennial-approved benefits and features.
Thanks to Millennials, the sharing economy and shared stay options have forced hotels to become more tied to local experiences. For example, Marriott's rewards membership now gives access to local experiences in 800+ destinations through the PlacePass search engine. In order to compete, brands and loyalty programs must understand and leverage the allure of Airbnb and other shared stay options, taking a lesson from their success. As reported in The Atlantic,7
"Airbnb's great contribution was to allow travelers to live as locals do—in the busy downtown residential areas, near the best restaurants, bars and other local hangouts. Business travelers might prefer the amenities of a hotel. But what Airbnb offered was a superior simulation of the local experience for leisure travelers—for an affordable price."
Boast an environment that is Instagram-ready and hospitality offerings that are share-worthy and promote existing amenities with high appeal, like free WiFi (70.9% of Millennials consider it as an important factor while choosing their hotel3). Other Millennial-approved amenities? Smart rooms, well-designed public spaces where guests can mingle, smartphone apps, fitness facilities, guest events and personalized recognition. Specific hotel perks favored by Millennials include skipping the traditional check in process, choice of floor and late checkout.2
Move fast as new competitors emerge.
Competition for hotel brands and their loyalty programs is only increasing as new options and new programs emerge. In 2019, retailer West Elm will open chain six hotels each tied to its Millennial-appealing design aesthetic and "West Elm Local Experiences" – tours and workshops that open doors for guests to engage with artists and "makers." The retailer also offers products from local sources available in stores.8 Equinox Fitness is preparing to enter the hotel business, as well, with a fitness-themed property opening in 2019 with plans to not only expand their core business but also their new lodging extension. The CMO for Equinox says,9
"We received a 95% response rate that our members would be interested in staying at an Equinox hotel. Anyone will be welcome to stay at the properties, though members of Equinox gyms will get special privileges. A majority feel it's important to maintain a healthy routine and don't want to compromise their commitment to wellness and fitness because they are away from home."
Airbnb launched Airbnb Trips and followed up with Airbnb Experiences, further delivering on the trend of immersive, local experiences.8 Even iconic hotel brands are expanding their traditional offerings: The Ritz-Carlton is set to launch its Yacht experience in 2020 with reservations first open to rewards members looking to "discover the world" and enjoy smaller ports, local chefs and guest lecturers. 10
Accept that "loyalty" has morphed. 
As the Millennial segment gets younger, hotel brands can't assume their brand will be booked as a matter of first choice. Your Millennial loyalty program members are not behaving like other generations. In fact, Millennial loyalty program members (non- elite) are conducting 11 searches on average before booking, while Millennial elite members average nine searches on average before booking. Many brands are challenging OTAs with "best offer" direct bookings and exclusive offers.  This strategy plays well to the Millennial value seeker.1
Keep calm and change on!
Don't worry that all this change means a total disruption of your business model. If your brand has the opportunity to take a step back and create program enhancements/offers customized to Millennials or evolve your marketing to be more appealing to Millennials, rest assured those changes won't alienate other segments.  The CEO of SMASHotels makes a good point2 when he says, "If we attract young people, old people will show up. But if you build a hotel for old people, young people never show up."
Here's a good example: all customer segments – including but not limited to Millennials – have an expectation for better and innovative use of technology in hotels.  The use of technology is becoming so ubiquitous it will now be part of how the industry rates hotels. In fact, the AAA organization reports that connective technology will become an industry standard that will factor into all future property ratings it conducts.
In summary, brands seeking Millennial relationships and loyalty commitment should attempt to be transparent, use technology to deliver great experiences and take a good look at existing loyalty programs and associated co-brand cards.  Remember, the audience wants to be rewarded early and often with the occasional small free perk while spoken to in ways that feel personal and inclusive. Hotel brands will then have a better chance of capturing the 86% of Millennials who are not loyal to a specific hotel loyalty program.11 That's a significant opportunity amongst the single, largest U.S. cohort.
Sources
com. Matin, Mariam. Have Millennials Killed Hotel Loyalty Programs?
Biz Journal. Wylie, Melissa.  Hotels Lure Millennial Travelers. February 21, 2018.
Rate Gain Research Desk. Top Trends: Millennial travelers & the hospitality sector. May 30, 2017.
Hotel Management. Gen Z, Millennials More Influenced by Technology, Loyalty.  March 20, 2018
Chief Marketer. What it really takes to earn Millennial loyalty.  March 25, 2018
Millennial Marketing. Butler, Cherly.  Hotel Loyalty Programs Entice Millennials Through Discounts and Small Gestures (Software Advice survey)
Thompson, Derek, The Atlantic. https://www.theatlantic.com/business/archive/2018/02/airbnb-hotels-disruption/553556/ February 17, 2018.
JWT Intelligence. The World's A Stage.  May 30, 2018.
The Related Life/Conde Nast Traveler. Equinox Expands Into Hotels.
Business Insider. New Ritz-Carlton luxury cruise ships are designed for the 1% of global travelers. April 17, 2018.
Tags:
brand loyalty
,
co-brand marketing
,
millennial marketing
,
Millennials
,
modern customer loyalty programs
,
travel rewards