How FIs Celebrate Customer Milestones and Build Loyalty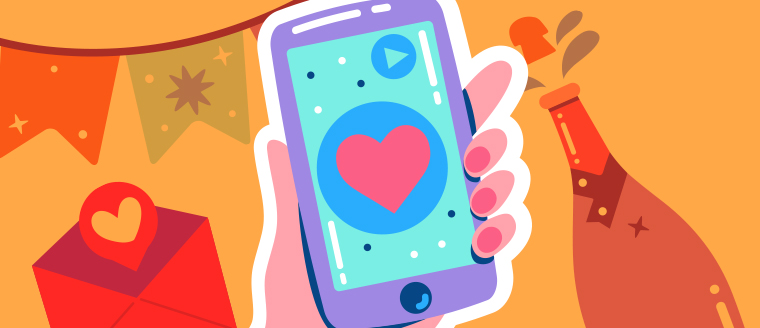 Customer relationship-building is a key component of most businesses, but it's especially important for financial institutions. FS brands know that people want to put their money with someone they trust, so FIs have, for a long time, focused on marketing tactics that develop relationships, build brand loyalty and highlight rewards. As part of these efforts, some FIs celebrate customer milestones and the personal history they share with the brand.
Recognizing milestone events—like member birthdays or anniversaries—not only promotes loyalty but also shows appreciation. As Competiscan's Senior Director of Insights Jessica Duncan explains, customer appreciation has always been a best practice, but it picked up even more momentum this year: "Customer appreciation is a critical component of retention marketing, but the efforts shown in 2022 were unmistakable."
We agree and have seen some financial services brands embrace the opportunity to go big, with over-the-top gifts like Tiffany's silver (Ooh, shiny!). But don't worry: There's also value in small gestures, such as a splashy email, paper greeting card or discount.
Let's take a closer look at best practices and examples of FS brands bringing this to life in the real world.
Best practices to celebrate financial services customer milestones
In our review of approaches from FS brands, we've found these strategies to have the biggest impact:
Strive for authenticity. Consumers have low tolerance for superficial marketing. Focus on keeping it real!
Develop a customized experience. Use hyper-personalization with relevant and accurate data points to develop a unique experience for each of your customers.
Create well-branded communications. Be sure that the look, tone and feel are cohesive and serve your brand.
Match the approach to your target demographic. Are you aiming to reach a Boomer, a Millennial or someone in between? There will, of course, be overlap across age cohorts, but give careful thought to the content and channels you're using to reach these audiences.
Align offers with customer value. In other words, give your best customers or high-value propensity customers your best offers.
Avoid being overly promotional. It's OK to be promotional, as long as you do so carefully and don't turn off the recipient. In this approach, be sure to keep the focus on the customer, highlighting how they benefit from your services.
Best-in-class customer appreciation examples
Now let's take a look at a few of the real-world ways financial services brands are celebrating customer milestones through anniversary emails, direct mail and luxe surprises!
Customer anniversary emails
Honoring customer milestones through anniversary emails has several advantages. These messages show appreciation but can also highlight key product or membership benefits that enhance the relationship. Here are some FS brand examples:
Bank of America uses a service called Sunday Sky to recognize Platinum Tier Preferred Rewards cardmember anniversaries. These videos pull personalized data into the message and can be used in both B2B and B2C settings. The videos feature a hyper-personalized view of the customer's relationship with Bank of America and the multiple products and services they use.
American Express celebrates membership anniversaries with a personalized email that includes the member's name, number of years with the company and total rewards earnings. It uses an authentic, human-like voice that feels friendly and relatable, while celebrating American Express *membership* — a key, well-established brand asset.
Like American Express, Experian celebrates customer anniversaries with an email tailored to the individual: "Wow, [Name]! You did great this year!" The message that follows is hyper-personalized with the user's total relationship years and engagement data. In addition, it reinforces the value of Experian's service by highlighting the number of alerts received.

Ally Bank's anniversary emails also feature personalized details. With a request like "Tell us everything," the look, tone and feel of the email is well-aligned with Ally Bank's brand personality. We like their excellent, confident request for a customer review and think they're wise to position it next to a five-star example.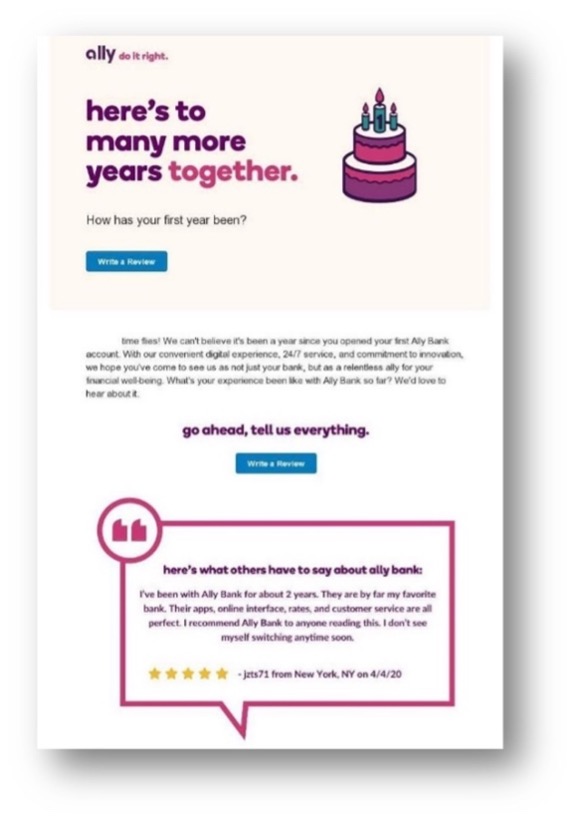 Target RedCard's anniversary email is short and sweet and gets right to the good stuff. It features simple, clear messaging and an attractive retail discount.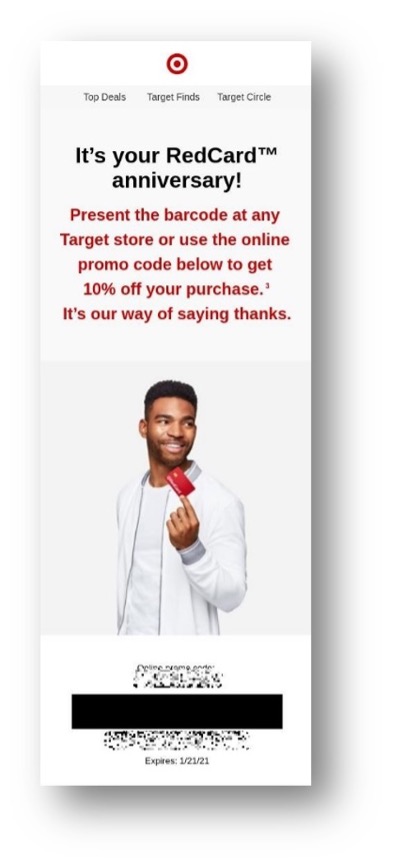 Capital One positions customer anniversaries as "birthdays," a term it uses across its suite of products. We like how they tout the benefits of keeping a customer's oldest credit account in good standing, which is in opposition to the consumer propensity to apply for new credit cards.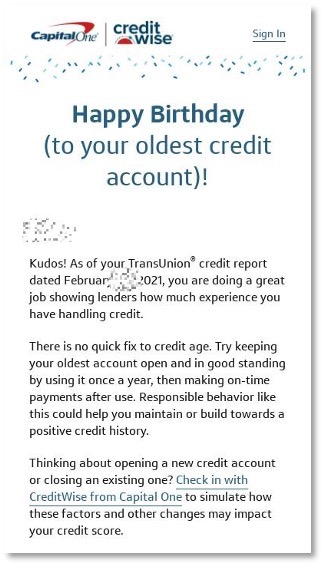 UK-based Fintech Monzo recently took a clever approach to celebrating the New Year by copycatting the Spotify Wrapped trend with a "year in review" for card member spend. The tactic includes a humorous spin as influencers poke fun at their horrifying pandemic spending habits. We consider this a win in two ways! First, it offers the customer valuable insights into their spending. Second, it inspires engagement, giving younger social media users an easy opportunity to share a fun product feature.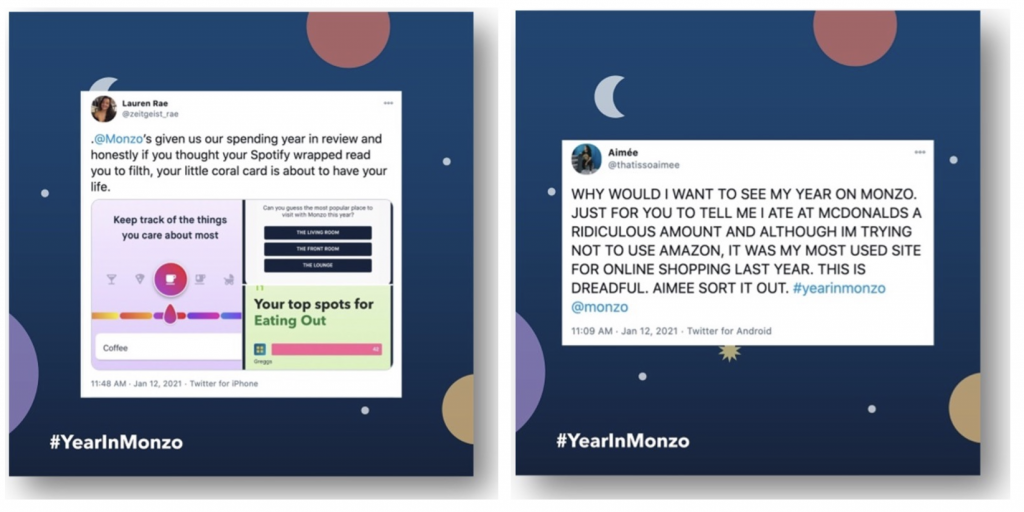 CareCredit's birthday email boasts a variety of digital bells and whistles, including video and a camera/photo filter feature, which makes it shareable and social-media friendly.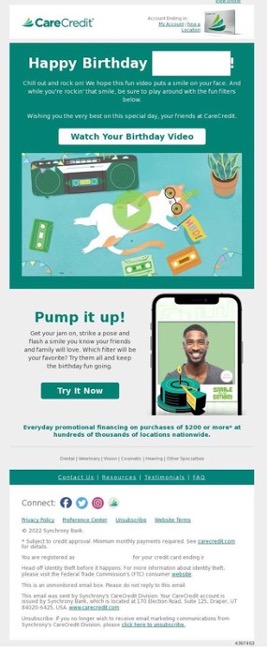 Direct mail tactics for celebrating customers
Emails aren't the only way to celebrate customers. Direct mail strategies can accomplish this same goal. In an era when handwritten letters have largely been abandoned for texts and emails, receiving happy, colorful snail mail can feel more meaningful than ever.
For instance, our team noted that Hallmark has a B2B division dedicated to personalizing greeting cards and fulfilling them, and we've spotted FS providers, such as CareCredit, using the service! Not only does the Hallmark card serve as a physical reminder of the brand, it also doesn't hurt that this fluorescent envelope, "handwritten" font and live stamp (as opposed to meter postage or a postage imprint) grab attention in a monotonous stack of bills.

Advia Credit Union's birthday postcard drives customers to physical branches to make a deposit, where they'll receive a 10% match from Advia. In addition, the flip side of the card features an "involvement device" (a coloring page, in this case).

Customer gifts that surprise and delight
Some brands take birthday and anniversary celebrations a step beyond electronic and paper messages in a way that is particularly memorable.
American Express, for example, brings its focus on membership to a new level with exclusive gifts for ultra-high-value customers. Highlighted by The Points Guy, AmEx sends invite-only Centurion and Business Centurion cardmembers over-the-top gifts like a Tiffany's ice bucket with Dom Perignon champagne, cashmere blankets, a Tom Ford billfold and several charitable contributions.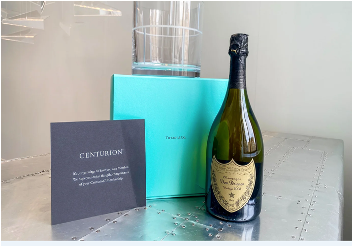 As we fantasize about drinking champagne while wrapped in a cozy cashmere blanket, we'll continue to track how FS brands celebrate their customers through personalization, customized experiences and well-branded communications.