How Banks and Credit Unions Are Using Branches to Build Customer Relationships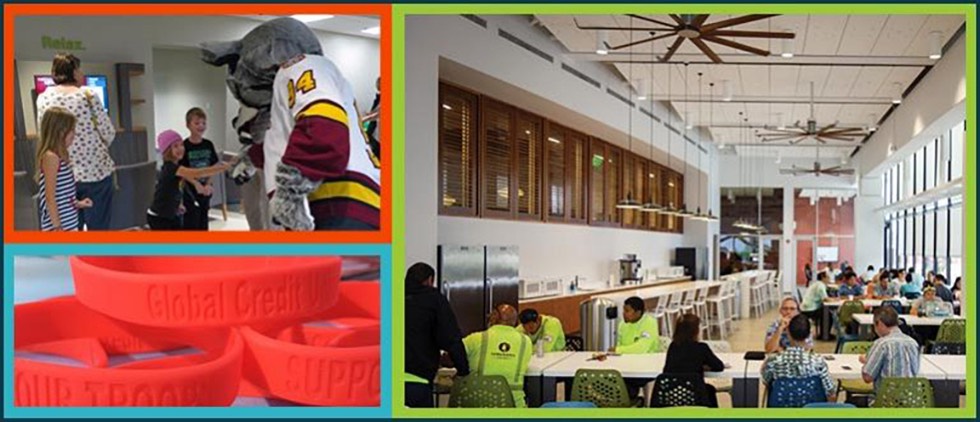 Although digital banking and mobile wallets dominate much of the financial services conversation on customer experience, "[Banking] is still a people business at heart," says Joe Salesky, chief executive of CRMNEXT, a customer-engagement software provider for financial services. He recently told American Banker, "The branch is the place to provide a higher level of service that breeds customer loyalty."
The branch? But "the branch is dead! Long live the branch!"
That tongue-in-cheek sentiment pretty much sums up the long-fought debate over branches. That article, written by Dave Martin, a retail banking expert, was published in 2013, but it's a conversation that's been going on even farther back than that. No matter your stance on the future of bank branches (for example, can they continue to deliver value to customers?), many community banks and credit unions continue to emphasize branches as places to serve and engage their customers.
As Martin said, "Branch bankers continue to evolve into the human interface of an online operation." And that's exactly what we found in a quick review of bank and credit union social streams: branch events that focus on human interaction and relationship-building. We offer these examples with one important caveat: focus only on branch-based activities that are true to your brand and in service to its customers/members and your shared community.
Two words: Free. Food. …. Feed them!
If you feed them, they will come. Food is a well-known means of community-building, and food-focused events hosted by banks and credit unions vary considerably, from entry level coffee and cookies to more advanced efforts like organized visits from food trucks and on-site cafés. Here, we have examples from NBKC Bank (Kansas) as it celebrates National Coffee Day, OK Employees Credit Union (Oklahoma) as it offers gourmet pretzels and Bank of Hawaii, which has an employee cafeteria (Café Blue) that's open to the public. (It even earns reviews on Yelp.)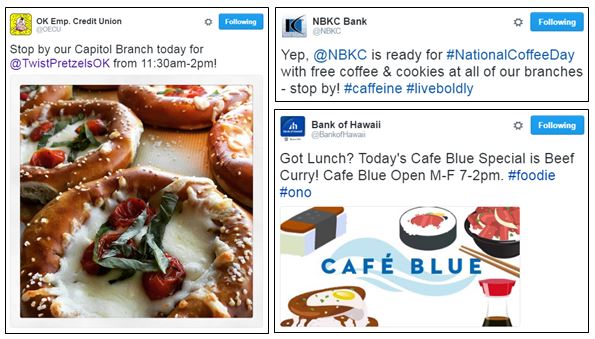 It's all fun and games!
It's important to celebrate members/customers, as well as your institution's milestones. Branches host customer appreciation events like this one from Minnesota Lakes Bank, open houses like this one from Meadows Credit Union (Illinois) as it commemorates its 75th anniversary and live music events like this series from Verity Credit Union (Seattle).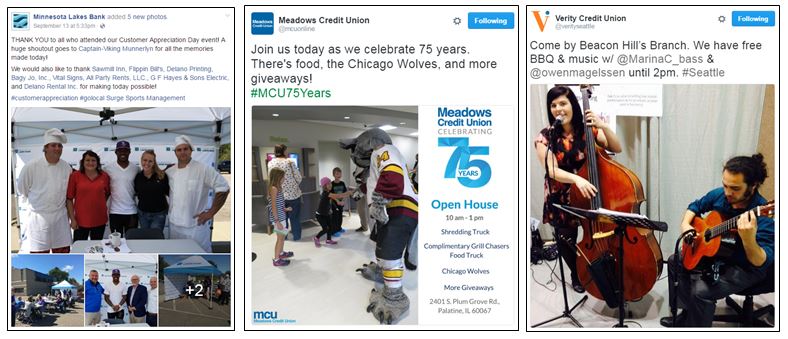 Offer educational resources.
Banks and credit unions host a number of informational and educational seminars on everything from mortgages, retirement, student loans and social security. Here are examples from VA Credit Union (Virginia) and Sharon Credit Union (Massachusetts).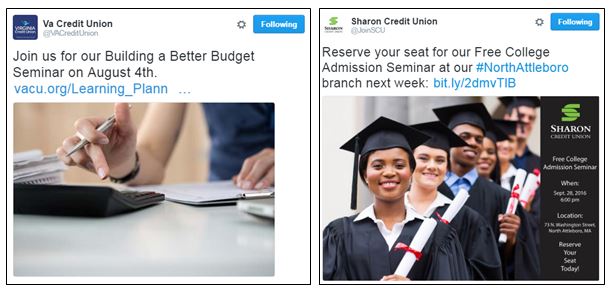 Come together in support of a cause.
What's your bank or credit union's favorite charity? Bring members/customers into branches by offering to accept and/or match their in-branch donations to charitable organizations. NuMark Credit Union (Illinois) supports the Children's Miracle Network by accepting donations in its branches, and Corning Credit Union (NY) collects winter coats to help others stay warm in winter.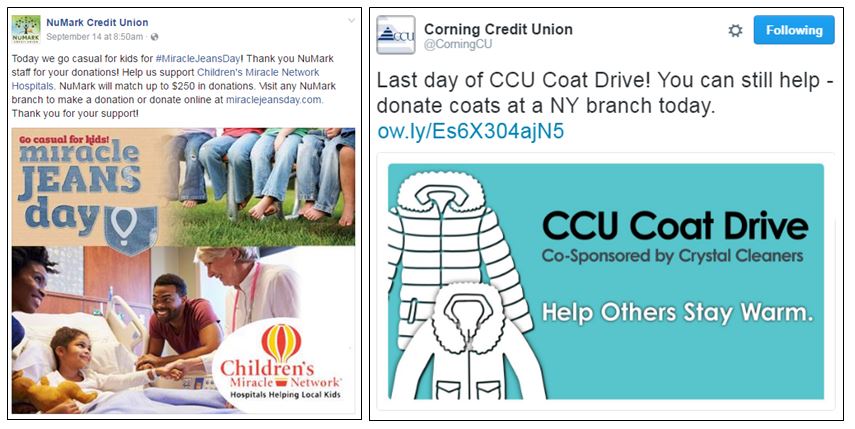 Some banks and credit unions take support of causes to another level. Is there an effort your community or customer-/member-base is particularly passionate about? If it's appropriate, join them in their activism. Here, we have examples from Hope Credit Union (mid-south, U.S.), which offered voter registration assistance, and Global Credit Union, which gave away red wristbands to "support our troops."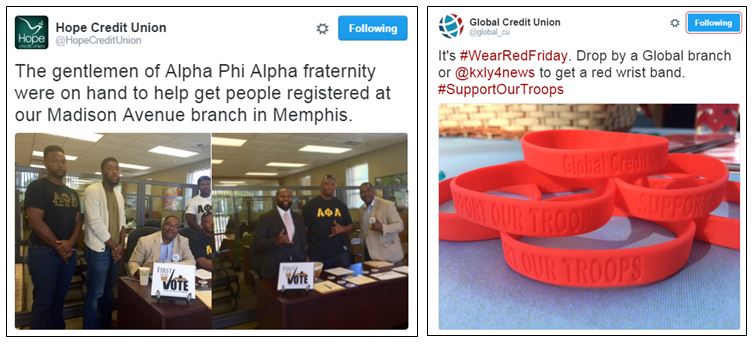 Provide "IRL" service.
Although the Internet can do lots of things, some activities and service require a physical location. Here's an example a fairly popular IRL (in real life) bank/credit union event – shredding day (this one offered by Dallas Credit Union) – and one you may not have considered: a networking event. Nebraskaland National Bank, for example, hosts a "Business After Hours" networking event with its local chamber of commerce.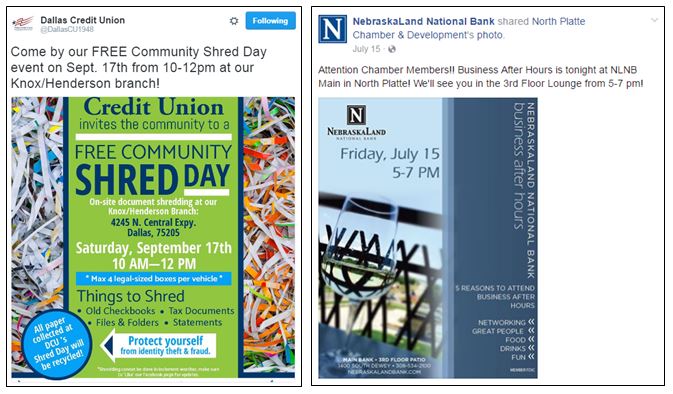 Promote branch staff as resources.
One-on-one assistance can be accomplished via phone or online chat, but face-to-face interactions tend to feel more personal and more thorough. When banks and credit unions promote branch staff as resources, it can encourage customers/members to want to have their more complex (or lengthy) conversations in-branch. Here are two examples: one from Origin Bank (Texas, Louisiana, Mississippi) and another from Bank of Bennington.

Break the mold.
When it comes to providing in-person activities, why not try something that seems, at first, off-the-wall? For example, Commerce Bank (Missouri) now offers electric vehicle charging stations at several branch locations, and CFE Federal Credit Union capitalized on the PokemonGo craze by using it to publicize phone charging stations at one of its branches.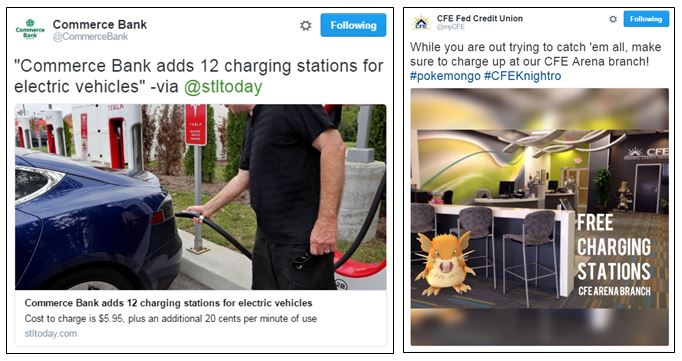 Be spontaneous.
Some in-branch customer experiences cannot be planned in advance. However, the reputations these financial institutions have for exceptional relationships with customers/members are sure to keep them visiting branches. Captured in impromptu acts of kindness are an Athens Federal Community Bank (Tennessee) teller walking a customer out to her car in the rain and a Crossroads Bank (Indiana) employee giving a jump to a customer's car battery.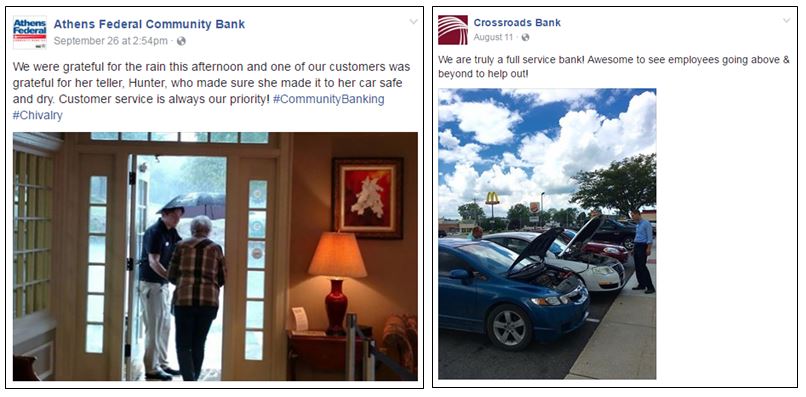 Tags:
bank marketing
,
branch banking
,
credit union marketing
,
relationship building