How to Build Excitement for Your Financial Services Brand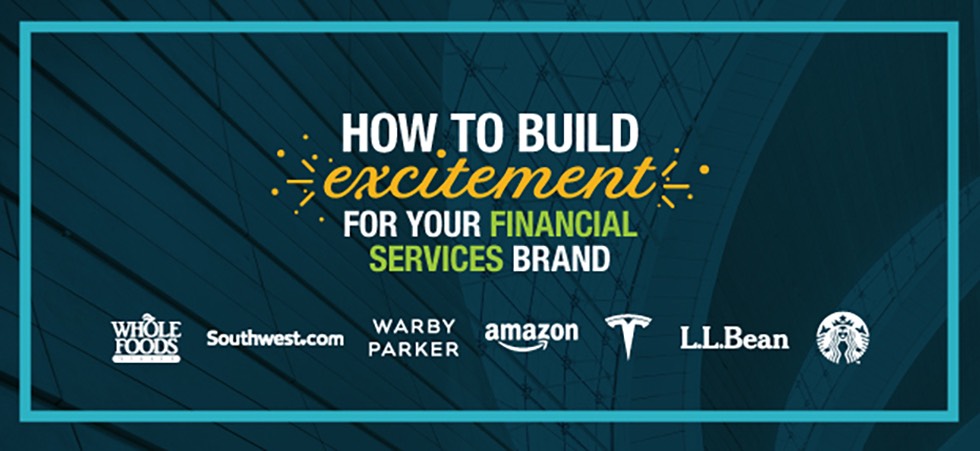 Let's be honest: some brands are easier to love than others. Take smartphones, for example. Consumers generally love the tech companies that build their devices (hello, Apple!), but they tend to malign their carriers (oh, Verizon!). Although some of the logic behind it makes sense (billing and service issues plague one and not the other), a good part of it has to do with something much less tangible: the power of branding.
Some financial brands – American Express, historically and continually, along with some newcomers like Simple – have branding figured out. Many others, however, truly struggle to build their brands and create excitement around them, and there's a good reason for it: it's hard. Here's Kate Young, ABA Bank Marketing's content editor, in a recent article:
"How many people do you know who actually like doing their banking chores? We talk about improving the online and mobile experience—and enriching the in-person relationships at the branches—and we should. Both are critically important goals. But in the end, these efforts are mostly about ameliorating pain points. Can we imagine something better?"
To start a list of ideas, Young talked with bankers about the non-bank brands they love. Their favorites include Tesla, LL Bean, Starbucks, Trader Joe's, REI, Amazon, Warby Parker, Whole Foods and Southwest Airlines. You'll notice right away that many of these brands fall in the "easy to love" category: recreation, adventure, coffee… free 2-day shipping for members!
Still, in what the bankers told Young, certain themes emerged, and she organized them into lessons for bank branding. As consumers, she reports, we gravitate toward pioneering approaches, in-store experts, elegant product design, consistency and convenience. We want brands to exceed our expectations in customer service and be there for us when we have issues.
In describing the attributes of Southwest he admires, Bancography president Steven Reider told Young,
The brand "always puts the customer first. [It] relentlessly fulfills a promise of simplicity and transparency [and] focuses on those few key attributes that are of paramount importance to the customer. [It represents] true alignment of brand promise and execution."
Talking about Warby Parker, ConnectOne Bank Marketing VP Siya Vansia said,
"I think their brand really aligns with what they are trying to accomplish, and it's clear that they are obsessively meticulous about creating a consistent, cohesive experience, both online and off. Their goal is to make buying glasses fun, easy and convenient while also giving back—and this is built into their brand and into every channel. They've gone beyond just being an eyewear company, and really built a lifestyle brand."
What can your favorite brand teach you about bank marketing? We're willing to bet it boils down to a customer experience that can't be beat.
You can check out ABA Bank Marketing's entire list of lessons here: "What's your favorite non-bank brand?"
Tags:
bank marketing
,
brand building
,
customer experiences
,
financial services marketing