Dual Eligible Special Needs Plans (D-SNPs) in 2022: What Healthcare Marketers Should Know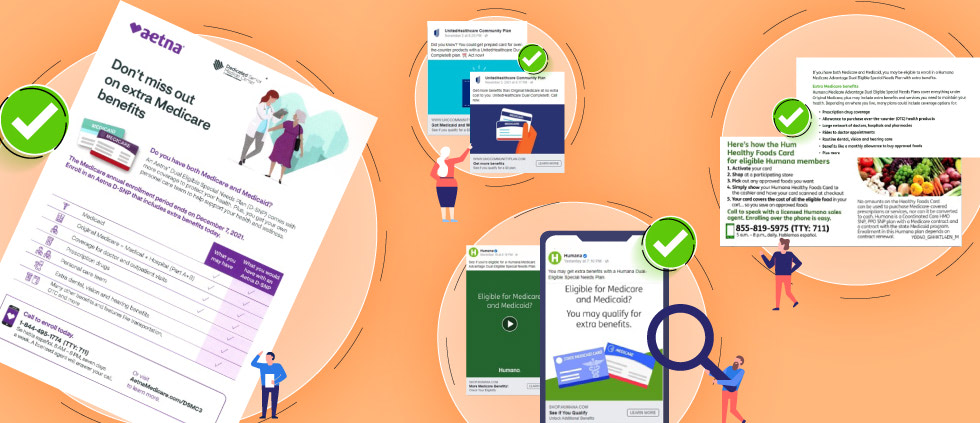 One trend that we pay close attention to is the continued growth in popularity of dual-eligible special needs plans (D-SNPs) for both for payers and dual eligible beneficiaries. There are 700 D-SNPs available in 2022, which is up from 373 in 2017, according to the Kaiser Family Foundation, and seven of the twenty new market entrants this past AEP offered a D-SNP. As payers continue to be interested in managing the care of the growing dual-eligible population, we wanted to look at how these plans marketed their benefits to prospects over the past calendar year.*
Overall, direct mail communications tend to be loaded with lots of plan information
Some plans tend to put a lot of information into their direct mail marketing communications aimed at dual eligible prospects. This may be off putting to this audience as it can be hard to scan. However, some plans including Aetna ditched the standard letter format for icons, illustrations, and an easy-to-understand chart.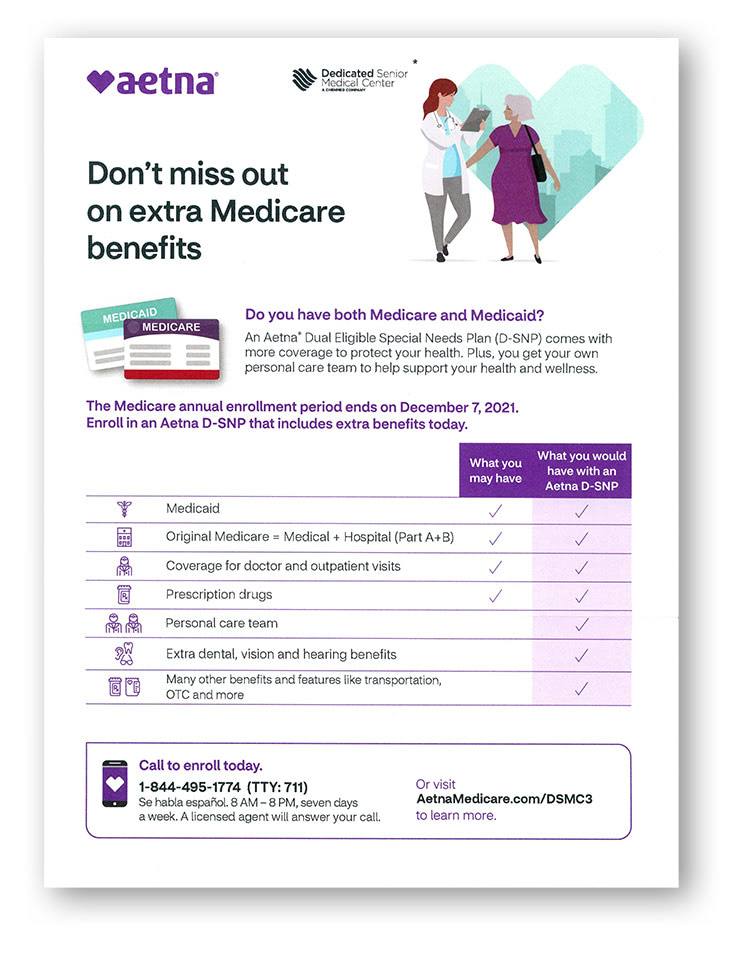 Direct mail can be an effective way present benefit offerings and educate dual eligible prospects on how a plan can take care of them, save them money and improve their health outcomes. Medicare can be complicated, and clear, concise communication can help present this information in a valuable way.
Plans highlight extra benefits to address social determinants of health (SDoH)
In addition to cost savings and supplemental benefits like dental, vision and hearing, D-SNPs offer additional supplemental benefits that budget-conscious beneficiaries need such as OTC allowance and allowances to buy healthy foods. Humana marketed their extra benefits, including their Healthy Foods card.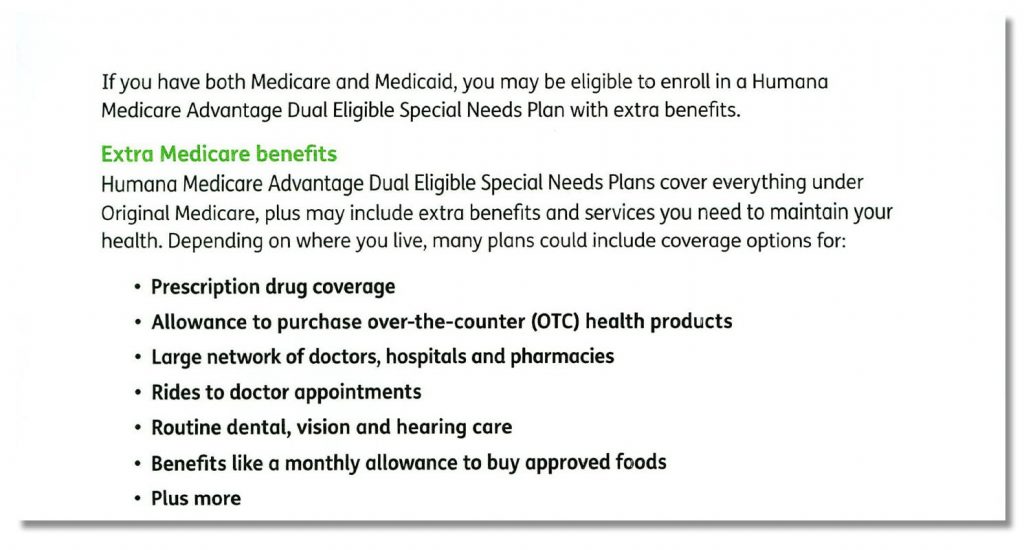 Digital marketing presents an opportunity to connect with dual-eligible prospects
Use of digital channels to reach dual-eligible prospects is growing, paid social in particular. Messaging tends to be more focused on eligibility and the promise of additional savings.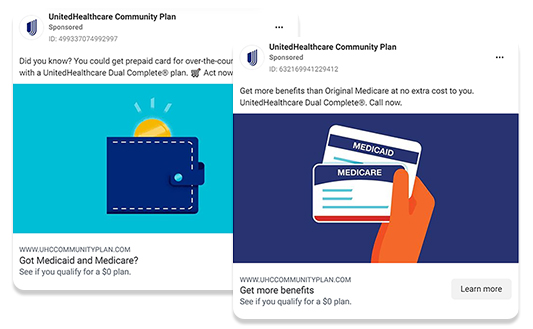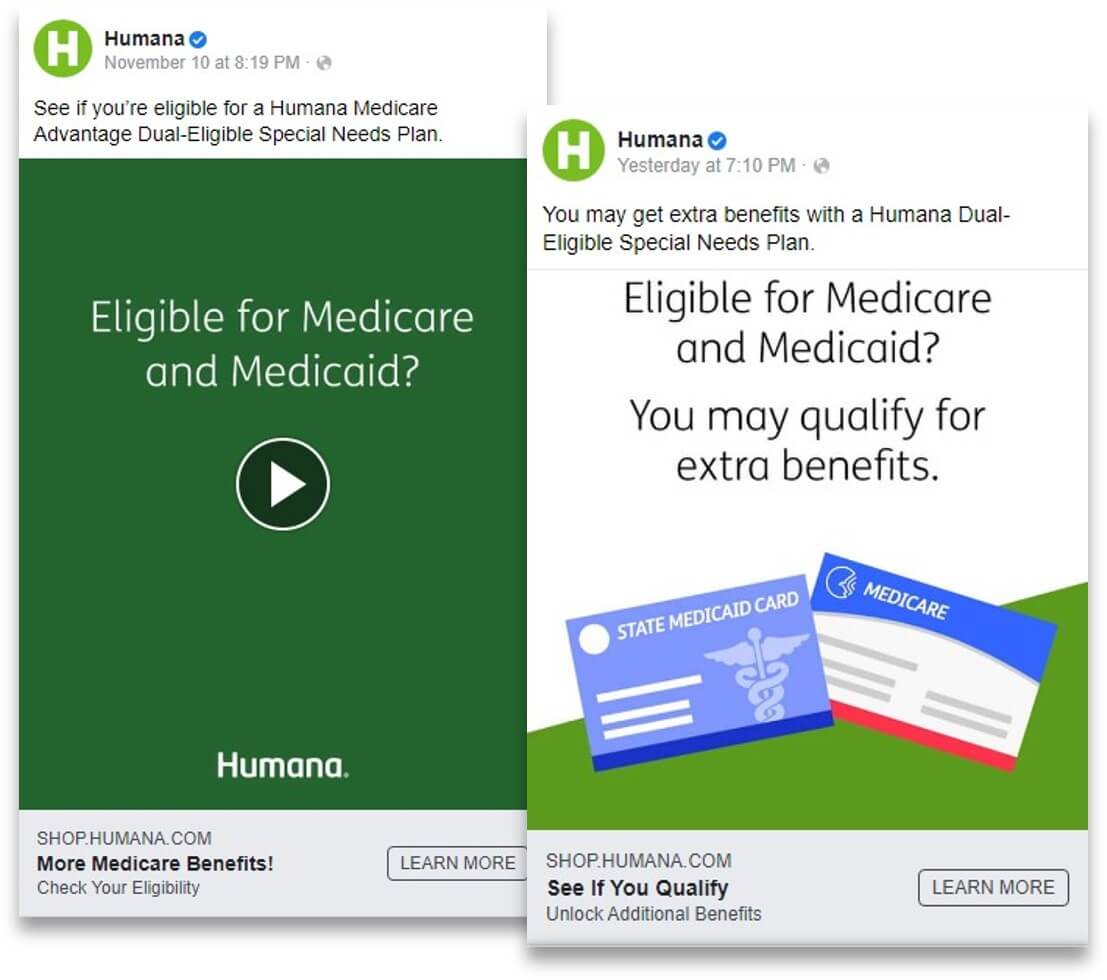 Both paid social media and paid search come with a challenge – it's hard to target this audience. For paid social, first party data (data collected from the people you have the most to learn from — your own audience) is crucial to be able to target on paid platforms. For paid search, we've noticed that most of the searching happens around comparisons of "Medicare and Medicaid" or "Medicare vs Medicaid." With this in mind, broad messaging about eligibility and savings makes sense. These tactics can play an important role in your D-SNP marketing strategy to promote awareness about D-SNP eligibility and to prompt prospects to call for next steps.
According to Mintel's "A Spotlight on Dual Eligible Benefits" report, "several major telecommunication companies have announced initiatives to help provide high-speed internet to low-income households" which means that "dual eligible customers will have more access to online and digital resources." Medicare Advantage plans are already using paid search and paid social media to connect with prospects. Getting in early on using digital channels to connect with dual-eligibles could benefit insurers.
Enrollment in special needs plans (SNPs) continues to grow, and as of February 2022, represents 16.2% of the entire Medicare Advantage segment, according to the Chartis Group. Overall, national plans dominate the SNP landscape, accounting for 77% of all enrollments, but there are opportunities for regional plans to enter this growing market. The table below lists the top 10 D-SNPs in terms of YoY enrollment gains.
| Health Plan | Enrollment (January 2021) | Enrollment (January 2022) | Change (by number) | Change (by percent) |
| --- | --- | --- | --- | --- |
| UnitedHealthcare | 1,097,213 | 1,330,095 | 232,882 | 21.2% |
| Humana | 375,989 | 519,867 | 143,878 | 38.3% |
| Aetna Medicare | 56,299 | 124,841 | 68,542 | 121.7% |
| WellCare | 168,722 | 222,915 | 54,193 | 32.1% |
| HealthSun Health Plans, Inc. | 102 | 40,565 | 40,463 | 39669.6% |
| Wellcare by Allwell | 33,585 | 55,621 | 22,036 | 65.6% |
| Anthem Blue Cross Blue Shield | 79,754 | 101,520 | 21,766 | 27.3% |
| Healthfirst Medicare Advantage Plans | 135,125 | 152,720 | 17,595 | 13.0% |
| Anthem Healthkeepers | 51,276 | 66,718 | 15,442 | 30.1% |
| Amerigroup | 25,247 | 39,926 | 14,679 | 58.1% |
If you're an insurer looking to launch (or grow) a D-SNP, let's connect. Contact Jim McDonald, Head of Strategic Growth at 518-940-4882. We also have a D-SNP marketing tip sheet that we think you'll find valuable.
*Direct mail communications (screenshots) sourced from Mintel – a leading market intelligence agency.