3 Emerging Media Trends to Consider When Marketing to Seniors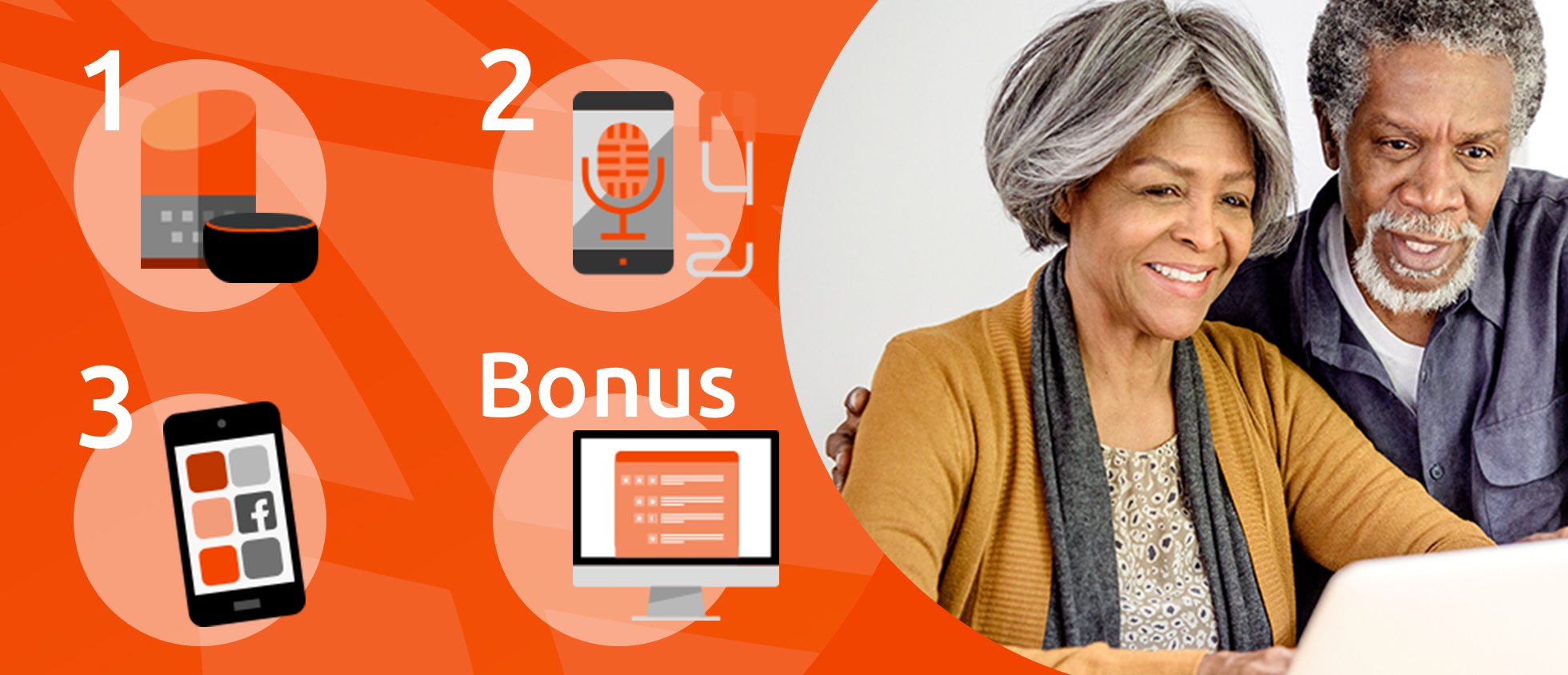 Our recently-released 2019 Senior Media Habits Study uncovered a few emerging media trends that healthcare marketers should pay attention to. We know that current Boomers and future Gen X retirees are going to be increasingly digitally engaged. With this in mind, as savvy healthcare marketers, we need to keep our eye on the ever-changing media habits and preferences of this key demographic. Based on our findings, we delved a little deeper to provide more insights and tips related to each of these trends.
Current Facebook penetration suggests you need to consider paid advertising.
Seniors continue to embrace social media, with 85% accessing it daily, according to our survey. Facebook is the most popular platform by far. To add to this, Sprout Social's 2019 Social Media Demographics found that 65% of 50-64-year-olds and 61% of 65+ year-olds use Facebook. Seniors primarily use social media to connect with family and friends, post photos and videos and to join groups and events. While the number of teenagers using Facebook is declining, Facebook is still growing among users ages 65+, according to eMarketer. With this in mind, Facebook advertising can be a cost-effective platform for health plans to target prospects, website visitors and Facebook page visitors.
eMarketer predicts that about 87% of marketers will use Facebook marketing in 2020. In a previous blog post, we took a look at a few creative examples of health insurers who used paid Facebook ads leading up to and during the 2019 Medicare Annual Election Period (AEP). As a highly targetable channel, Facebook allows marketers to create custom audiences based on location, age, gender and languages. Beyond AEP, Facebook ads were also used to encourage seniors to improve health and wellness, have fun and get out into the community, give important preventive health reminders such as screenings and immunizations, and also provide Medicare education topics.
The increase in podcast listenership suggests there could be an appetite for long-form content (and a good channel for advertising).
While seniors still use the Internet and watch TV every, this year, our survey saw daily use of radio and podcasts surpass that of newspapers. Nine out of ten seniors surveyed said that they still listen to AM/FM radio, but we noticed that podcasts are catching on. This aligns with data from Edison Research which says that podcasting continues to be a growth medium amongst all Americans, including the older demographic. In fact, 51% of Americans over the age of 12 have listened to a podcast, with 22% having listened to one in the past week and 32% in the past month. About 17 million Americans aged 55+ said they listen to podcasts monthly in 2019, which is up from 13 million in 2018. We expect this trend to continue as podcasts are very popular with consumers ages 24-54.
Overall, podcasts are fairly easy to create and easy to access for consumers on smart phones. According to the Pew Research Center, 4 in 10 seniors now own smartphones, a rate that has doubled since 2013. For health insurers, examples of podcasts could focus on Medicare Q&A's, new-to-Medicare educational basics, health and wellness or even ways to encourage seniors to achieve goals in retirement.
Healthcare marketers should also think about podcasts when choosing mediums for paid media. Edison Research found that over half (54%) of all podcast listeners would consider brands that they hear advertised on podcasts.
The growing adoption of smart speakers highlights the need to optimize for voice search.
Smart speaker usage is in its early stages of growth, with only about 29% of seniors surveyed reporting that they own a smart speaker in 2019. However, we found that adoption of smart speakers among seniors is growing surprisingly fast, with a 71% increase from 2018 to 2019. According to eMarketer, "seniors are more likely to have received the speaker as a gift from family, and the holiday promotions of these devices have undoubtedly caused faster adoption among the group." If this is the case, then smart speaker ownership will continue to rise, as eCommerce giants such as Amazon are targeting this demographic directly in advertisements, highlighting benefits such as keeping grandparents in touch with grandchildren, playing music or setting reminders.
Our survey found a 250% increase of seniors who use a smart speaker to search for information! The increased adoption of smart speakers will open the ability for marketers to reach this group with voice search. Spoken and typed queries may turn up different results, meaning that marketers will need to take inventory of website content to ensure it is optimized for voice search. The key thing to remember is that when people are searching for information using a voice assistant, they behave as if they're talking to a human. Keep this in mind.
Also, for consideration, earlier this year, Amazon announced new software allowing healthcare companies to build Alexa voice tools that can securely transmit private patient information. We wrote about Amazon's HIPAA compliance in a previous blog post and provided a downloadable resource for healthcare marketers that shows example interactions for payers and providers along with recommended next steps and frequently asked questions (FAQs).
A bonus trend: The importance of online reviews.
The Internet continues to provide an outlet for seniors to not only research health plans and source information but gain access to online reviews and ratings. Our survey found that more than 50% of seniors said they are at least "somewhat likely" to look up online reviews of the plan/company, and 53% of seniors surveyed believed that a company's review score would "very likely or likely" impact their decision to buy a plan from that company. For some tips on creating a smart online review management strategy, check out a recent blog post.
If you'd like to learn more about how Media Logic can help plan your Medicare AEP marketing or New-to-Medicare marketing campaigns and strategies – let's have a conversation! Contact Jim McDonald, head of strategic growth at 518-940-4882.
Also, in case you missed it – take a look at all of the insights from our 2019 Senior Media Habits Study.