The 2023 Medicare AEP: 7 Key Enrollment and Direct Mail Marketing Observations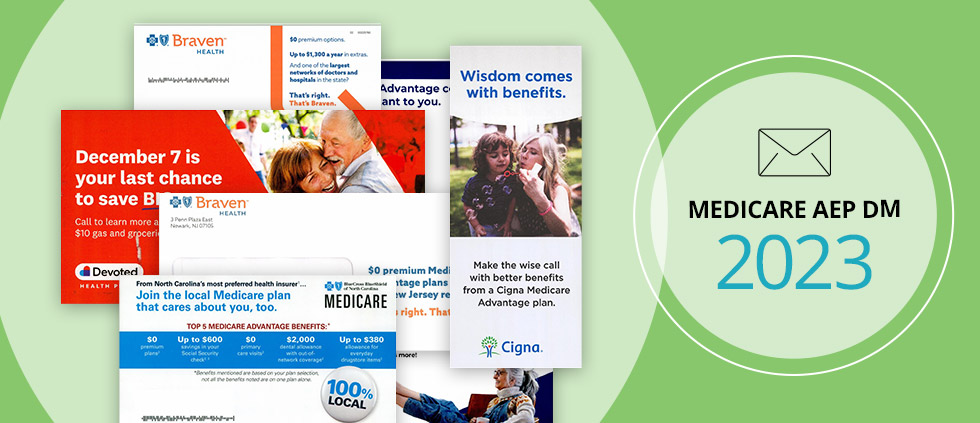 With the 2023 Annual Election Period (AEP) behind us, we took a look at overall enrollment numbers in Medicare Advantage (MA) plans to identify which insurers had substantial enrollment gains. While a lot goes into the marketing of a successful AEP, direct mail continues to be a large driver of interest and likely plays a key role in overall marketing success.
| Plan | Enrollment | AEP Growth (N) | AEP Growth (%) |
| --- | --- | --- | --- |
| UnitedHealthcare | 8,679,962 | 324,035 | 3.7% |
| Humana | 5,320,598 | 305,362 | 5.7% |
| Devoted Health | 122,626 | 47,082 | 38.4% |
| Anthem Blue Cross and Blue Shield | 836,878 | 45,011 | 5.4% |
| Cigna | 577,736 | 25,879 | 4.5% |
| Braven Health | 40,949 | 13,422 | 32.8% |
| Blue Cross and Blue Shield of North Carolina | 107,157 | 9,082 | 8.5% |
| SCAN Health Plan | 282,445 | 7,653 | 2.7% |
According to Deft Research, while survey respondents noting direct mail as an AEP shopping prompt has seen a slight decline in the last 2 years, it remains a leading campaign tactic. In fact, while leading and trailing boomers, the target audience of Medicare marketing, have adapted to the digital world (as seen in our senior media habits survey), 71% of boomers say direct mail feels more personal than electronic communications. And with good reason, it's uniquely positioned to deliver a personalized experience, has staying power and reinforces brand awareness. While digital tactics such as paid search and email are on the rise, marketers employ direct mail to convey key messages – including plan benefits, overall savings and incentives for further engagement.
We compiled and reviewed creative examples of the 2023 AEP direct mail marketing efforts to summarize persistent themes and trends.
Here are seven key observations we made when reviewing direct mail samples from MA plans with the top enrollment gains during the 2023 AEP:
Letter packages continue to be the most popular format for direct mail, over self-mailers and postcards.
Most outer envelopes either took a minimal and official approach (particularly among brands with high awareness) or featured brands with a clean design and simple, singular thought messaging.
Insurers are embracing a less-is-more attitude, featuring scannable key benefits versus dense and deep copy points.
Many plans are focusing on a key benefit, vs emphasis on $0 plan premium (like we saw last year).
Large graphic elements are used to add visual interest and guide the reader.
With a rising cost of living cutting into a senior's fixed wages, out-of-pocket savings seems a predominant feature in many letter packages — one sign of the economy's impact on AEP.
Incentives are often used to encourage the prospect to engage, either by calling or signing up for a seminar.
If you are a Medicare Advantage plan looking for a strategic partner for Medicare AEP marketing, let's connect. Contact Jim McDonald, head of strategic growth at 518-940-4882.
*Direct mail communications (screenshots) sourced from Mintel – a leading market intelligence agency.