How Medicare Marketers Can Use Social Media to Connect with Seniors All Year Long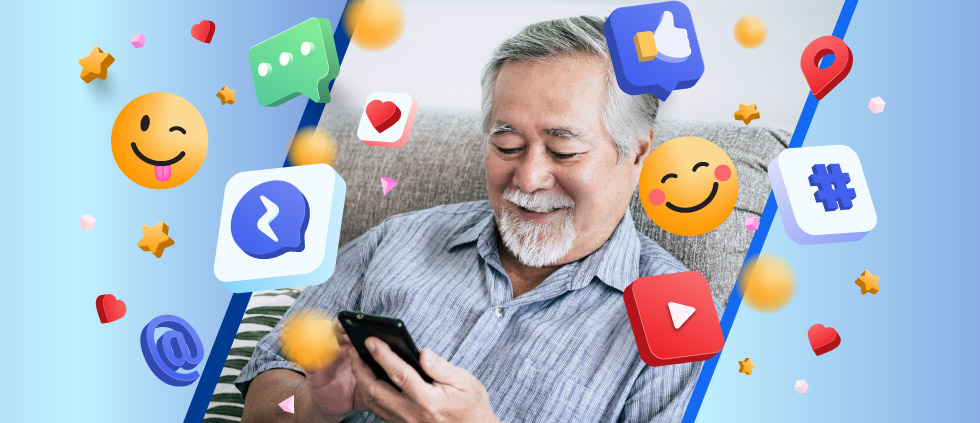 If you're not using social media to reach your Medicare-eligible audience, you're missing out. After all, more than 80% of seniors use social media on a typical day, according to our 2022 Senior Media Preferences Survey. For the best ROI, play into the strengths of organic social media to reach individuals eligible for Medicare all year long.
The primary goal of organic social media is to create brand awareness, educate consumers and build a digital community, not generate immediate leads. Given that only about 10% of the eligible population switch their Medicare coverage during the Annual Election Period (AEP) each year, and that the New-to-Medicare (NTM) market needs education when it's time to make the transition, organic social media can be a powerful tool to connect with audiences year-round. 
On social media, brands can develop a community and foster conversation with the target audience, whether it's on the payer's "main" social media channel or, better yet, on a stream dedicated to the senior audience. To successfully build brand awareness throughout the calendar year, insurers should incorporate content that is relevant to individuals eligible for Medicare without making a sales pitch.
Here are five ways to incorporate Medicare content into your social streams year-round:
Offer education about Medicare and Medicare Advantage (MA) without selling.
Figuring out health coverage is a large part of retirement planning, and education on all aspects of Medicare can help consumers and build trust. Research shows that older adults find Medicare confusing and difficult to understand, we've seen how content marketing can help. Social media, a key tool of the Medicare marketing process, can offer valuable education and tips to the marketplace year-round. Social media platforms are also a great place to emphasize plan benefits and build preference for MA over Original Medicare or MedSupp.
Aspire Health Plan (client) took advantage of the power of social media and launched Medicare Advantage Awareness Month, a content marketing campaign to educate their member prospects about the value of MA throughout the month of August. Posts on Facebook, LinkedIn and Instagram supplied easy-to-understand answers and information about MA plans to help the audience in making an informed decision. With more knowledge about options and plans, seniors will feel better equipped to decide about enrolling or switching.  
Include photos and videos of people who are the age of your target audience.
The NTM demographic is shifting toward trailing boomers who are active and comfortable with technology, and marketers need to try to stay informed on this audience. Individuals eligible for Medicare will connect more with your content if they see themselves represented in it. Ideally, your social media streams would feature photos of actual plan members (with their permission) rather than stock photos to make your feed more fun and relatable. Posting content of real members highlights the relationship between the insurer and its audience and shows mutual trust.
Give safety and health advice that specifically addresses the needs of seniors.
Seniors face different health needs and safety risks than people of other ages. Make sure your social media feeds have a balance that includes advice for all ages in your target audience. Discussing techniques to keep your brain sharp or ways to reduce bone loss can apply to everyone but may have a special significance for older adults. Posts with safety tips, like advice for preventing falls, can show your audience that you are familiar with their struggles and want to help.  
Represent a diverse audience.
As with any group of people, there is a lot of variability within the senior population, and it makes sense for your social media feed to reflect that. Your audience is more likely to feel seen and supported by you if you show an understanding that they aren't one-size-fits-all. Include photos of seniors of different ages and sprinkle in photos of individuals using mobility aids and accessible technologies (like hearing aids and glasses), especially if those resources are covered by your plan. Your social media posts will better represent your members and their lifestyles.
Highlight holidays and observances that are meaningful to your audience.
There are so many national observances throughout the year and not enough time to take part in them all, so be mindful about the ones you do choose to have a voice in! Remember that many individuals who are Medicare-eligible are still finishing up their careers, putting kids through college and starting to think about when and where they'll retire.
To reach your diverse target audience, plan content for a wide variety of observances, including content targeting both the "Trailing Boomers" (like Have Fun at Work Day on January 28, National Time Management Month in February or National Day of Unplugging on March 3) and "Leading Boomers" (including National Let's Laugh Day on March 19, National Senior Citizen Day on August 21 and Active Aging Week starting October 3). You can also tap into their memories of events and culture throughout their lives, like asking them to debate the best movie from the '70s, share where they were during Apollo 11 or think back to when they first listened to "Thriller."
It's important for health insurers to keep the target audience front of mind when developing social content. Chances are that your social media manager doesn't fall into the Medicare-eligible group. Making an extra effort to represent the needs and wishes of the senior population on social media will show your commitment to the group at every level of the organization.
How do you know if your social content marketing is working? Read our blog on measuring the success of your healthcare content performance. If you are looking for a partner to help you create the right kind of content for your audience, reach out to Media Logic today.