What Financial Brands Are Already Getting Right on TikTok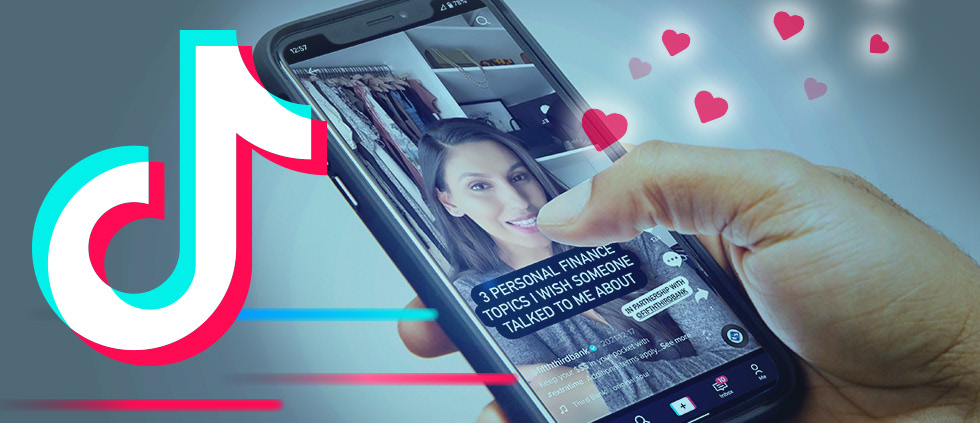 TikTok may be best known for snappy dance videos and trendy audio clips, but the social platform offers a big opportunity for financial services marketers to go deeper. And we're happy to see several banks and credit unions giving TikTok a try.
Done well, TikTok's short-format videos can pack a punch. The key, of course, is figuring out how to master both the message *and* the delivery. Following, we've identified TikToks from banks and credit unions that we think get it right.
TikTok: Then and now
TikTok has been on our radar for a few years, and it's been exciting to watch how this social media platform and its uses have evolved. When we first discussed the use of TikTok for financial services marketing in a March 2020 blog post, we made a few early recommendations:
Consider the platform's core users. (Is your audience on TikTok?)
Understand social media trends. (What kind of content matches current needs and interests?)
Determine a strategy that fits your unique needs. (Can you stay true to your brand and add value?)
These same recommendations hold true as best practices for this evolving platform. Since 2020, TikTok has only gained momentum. As of 2022, it had surpassed Twitter, Telegram, Reddit, Pinterest and Snapchat in monthly active users and ranked as the most engaging social media app, according to Backlinko.
So, how can FS brands make the most of this opportunity? When it comes to developing video content strategy, particularly for Millennials and Gen Z, the strongest approach is steering clear of the hard sell and, instead, connecting with your audience in a more nuanced and subtle way. For example, as we've discussed in previous blog posts, providing sound financial education to customers boosts financial wellness and fosters brand loyalty.
Let's take a deeper look at TikToks from banks and credit unions to see how some FS brands are getting started as they try to build community and connections on the platform!
Tips for financial services success on TikTok
Provide education that truly serves customers
TikTok done well doesn't have to include crazy filters, flashing lights or bumpin' tunes. Sometimes the best route is solid, practical information shared by the right source.
Fifth Third scores big with a no-frills video on quick lessons in personal finance:
The clip features Sabrina Molu of @simplybeautyhacks reflecting on financial lessons she wished she learned sooner. There's no fancy editing here—Molu just shares simple facts about retirement, savings and avoiding hidden fees.
The video plays off a main reason why people come to TikTok: It provides information on complicated topics in a simple, unintimidating way. It also doesn't hurt that the partnership is with a well-established TikTok beauty influencer. Working with "finfluencers" and other content creators is a top strategy for boosting engagement and visibility.
Tell a story and make it personal
Out of the FS brands we've observed on TikTok, Navy Federal stands out with video clips that speak to the heart and humanize the brand.
For example, this video shares the story of military hero Susan Ahn Cuddy in honor of Asian American and Pacific Islander (AAPI) Heritage Month.
The narrative style of the video draws viewers right in and features an employee from Navy Federal as the storyteller. It's engaging, easy to follow and educational. Best of all, it has a feel-good message about Cuddy's incredible accomplishments. The icing on the cake is that the story is a natural fit for the observance of AAPI and gives an obvious nod to Navy Federal's military roots.
Two other videos from Navy Federal demonstrate how the brand uses TikTok to build meaningful connection with viewers:
In honor of Military Appreciation Month, this video spotlights one employee's story of family that served in the military. It's sincere, relevant and heartwarming—all of the best things social media can offer.
This Navy Federal video honors Earth Day by giving a tour of their LEED-certified Pensacola campus and introducing viewers to some of its inhabitants, including Greg the lizard and a family of geese named Taylor and Joe. It's personable, adorable and speaks to the purpose of Earth Day.
Be playful
One major appeal of social media—regardless of the platform—is that it offers an escape from ordinary life and, often, a window into unusual experiences. Many creators have figured out how to capitalize on this using TikTok, and Superior Credit Union is one financial service brand that does this successfully.
Remember going to the bank drive-through as a child and staring in wonder at the capsule system that shuttles checks and cash between teller and customer? Magical! Superior Credit Union plays off that sentiment with a memorable video that shows a different angle of their business: Cue the Super Mario Bros soundtrack and take a ride through the tube!
The clip is fun, playful and a natural tie to one of the credit union's main services. It also scores bonus points for showing the human face of a friendly employee on the receiving end of the tube.
One of the exciting things about TikTok is that there's no singular "right" way to develop content. There are endless ways FS brands can find success on the platform. Creative storytelling, quality financial education and a sense of playfulness just happen to be a few of our favorites! Stay tuned for more insights as we watch this platform evolve, including even more TikToks from banks and credit unions.