"Finfluencers" Show How Financial Education Content Can Be Successful on Social Media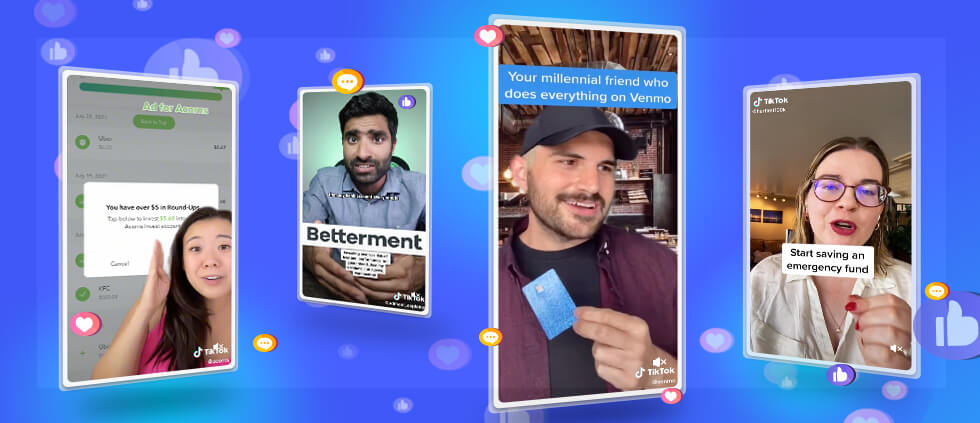 Financial education videos from content creators have been gaining lots of traction on TikTok, Instagram and other social platforms. As Bloomberg notes, "The teens and 20-somethings who steer online conversation — about life hacks, beauty products, Hollywood blockbusters, you name it — are now blazing their way into finance." And, it's important to note, they're not putting on business suits to do it: They're showing up as themselves (i.e. the persona they've used to create followings on social media).
Collectively, these individuals are called "finfluencers," and the videos they're making are not only short and casual but also aligned with specific memes and formats proliferating in social media. The popularity of this type of financial education content offers important clues for crews at banks and credit unions who want their own content marketing to be successful.
Examples of financial education content from influencers on TikTok and Instagram
Just in case you haven't been scrolling long into the night on these platforms, here's an idea of the kinds of financial education videos we're talking about.
In this TikTok, Acorns worked with finfluencer @yourrichbff for a post explaining how its app works. So far, the post has earned over 1.1 million views.
In a partnership with Betterment, Zaid Admani (@admani_explains) money lessons he learned in his 20s.
Here, Tori Dunlap (a.k.a. @herfirst100k) shares a video about creating an emergency savings account as the first step in "getting better at money."
Financial education content tips for banks and credit unions
What can finfluencers teach banks and credit unions about financial education content for social media? We think Maine Credit Unions (MCU) is spot on when it offers three reasons financial education content on TikTok appeals to so many:
Relatability
Accessibility
Digestibility
In other words, financial education videos on TikTok work because they're produced by peers, they're available where audiences already spend time and they're short. Specifically, Maine Credit Unions says, "Having financial education content available on TikTok removes a barrier in the learning process."
But what else do finfluencer videos have in common on TikTok, Instagram and other platforms? And what do they have to teach FIs about their own efforts? Here are five financial education video lessons for banks and credit unions built on why finfluencer posts resonate with their audiences:
Lesson #1: There's an appetite for financial education content.
When it comes to financial education, there's currently an unmet need. As Dunlap told CBS MoneyWatch about her success, "It proved to me that people on TikTok needed this financial advice. I didn't think Gen Z would care, but they do a lot. It proves it's needed in a nonjudgmental, non-shaming way." Social media influencers have swooped into that space, but there's an opportunity for banks and credit unions to contribute their expertise. By doing so, they can address the downside of some of these viral videos, including the problem of misinformation. FTAdviser calls out bad advice, for example, and Bloomberg goes further by calling many social influencers "flat-out wrong."
Lesson #2: There's an audience for financial education on social media.
"A whopping 38.8% of Gen Zers responded that they learned about personal finance from TikTok, YouTube or other social media outlets, like Twitter or Instagram — 34.3% answered TikTok and YouTube specifically," says Go Banking Rates. And CBS News reports, "Search for #personalfinance, and you'll find that videos associated with the hashtag have been viewed 4.3 billion times, while #personalfinancetips content has 33 million views. The proliferation of money talk on TikTok, which has about 1 billion monthly users, points to a swelling audience eager for help on how to handle their money."
Lesson #3: It's about engagement, not sales.
Read the room: Many who are interested in financial posts want the content to be educational, not promotional. Avoid the hard sell and create videos that fit in with the content users are generating on each platform. TikTok has been pleading with brands from the beginning to stop making ads. Instead, it prefers brands to focus on engagement, not products. This means "creating content exclusively for TikTok and not adapting re-sizes for the platform" and "speak[ing] the same language" as the target audience.
Lesson #4: There's no need to be fancy.
Financial education videos that put people at ease are relaxed and informal. As TikTok says, "The community embraces spontaneity and authenticity" and prizes compelling content over production value. In addition, most finfluencer videos keep it simple. According to reporting by NextAdviser, their content is about "building a vocabulary" for viewers and "introducing the audience to personal finance topics, so they may be inspired to learn more on another platform." Many social media users are learning about money for the first time and seem to value introductory-level concepts they can use as building blocks to financial health.
Lesson #5: Voice matters.
As MCU pointed out in its article, financial posts on TikTok are appealing because they're created by someone who's relatable (typically from the same generation the message is intended to reach). In an interview with Bloomberg, the chief communications officer for Wealthfront puts it this way: Finfluencers are "just better at telling our story than we are." The lesson? It's important to choose the right messenger for your financial education content.
To achieve this, banks and credit unions can work with an existing influencer (be sure to follow branded/sponsored content policies, like this one from TikTok) or feature someone from within the organization who has credibility with the audience. For example, in these videos, Venmo taps Millennial TikTok influencer Rod to explain the product's use case, and Teachers Federal Credit Union launches a financial literacy and education summer school with teacher and influencer Miss Sutherd.
Can FIs really do what finfluencers do?
Yes – but don't ignore what's working. Following the lessons will go a long way toward successfully translating your bank/credit union expertise into bite-sized financial education content for your audience. In these TikToks, you can see how Arkansas Federal Credit Union builds on the style of popular posts to break the ice with some humor about financial education and to share tips for making a car purchase.