FNBO's Financial Education Videos for Millennials and GenZ Promise "Nothing to Sell"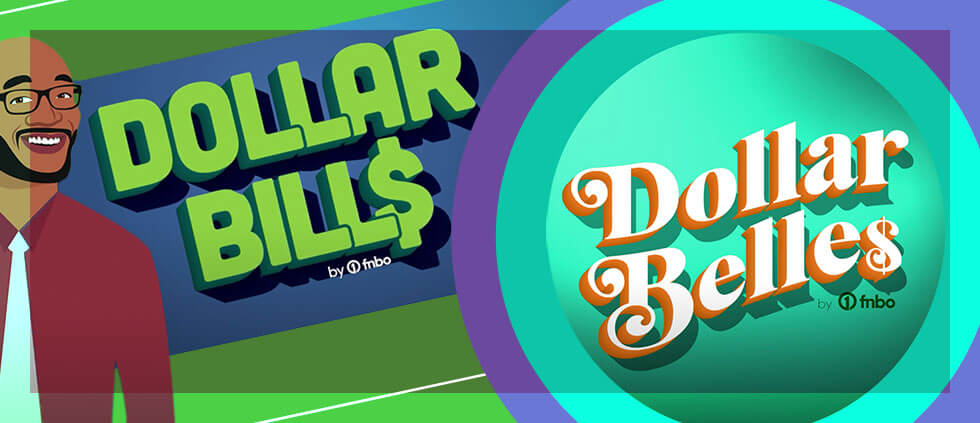 "I'm telling you: New debt is the plague. Don't do it!" That stern warning comes from Johnny, co-host of the "Dollar Bills," a YouTube video series from First National Bank of Omaha (FNBO). In a January 2022 episode on paying off holiday debt, Dollar Bills Justin and Johnny caution that adding new debt to existing debt is like walking backwards up an escalator.
That relatable metaphor is part of a content marketing strategy from FNBO that uses financial education content – instead of product and brand advertising – to nurture Millennial/GenZ customers and prospects. In fact, in a tweet promoting the episode, Justin promises, "Nothing to sell. No cost. Just good old-fashioned information."
The bank's entire Dollar Belles and Dollar Bills YouTube series fulfills that promise: good old-fashioned information. However, FNBO Director of Content Marketing and Social Media Regina DeMars makes sure that the financial education content delivery is far from old-school.
Here's some of what we love about the financial education videos.
First, they're peppy.
At least that's how American Banker described the videos in a 2021 article on FNBO's employee social media ambassador programs: "peppy videos about personal finance, starring three women who work at the bank." And we'd say that's part of what we like about them, too.
For the most part, the social, online audience wants to skip ho-hum flow charts and line graphs. These financial education videos from FNBO are energetic from the get-go with a cheerful cast, fast-paced music and lively animation. Even the YouTube playlist intro copy has a little spunk, describing the Dollar Belles as "three financially-focused ladies here to spill the tea on all things cash-related in your life, from checking to savings to credit and all things money that may be on your mind" and the Dollar Bills videos as "a little series dedicated to the dudes and their dinero."
The brevity of the videos puts a little pep in their step, too. (Duh.) As Johnny says, "Content 101, bruh: Keep it concise." And not to be outdone, Justin cuts right to the task, introducing the financial advice for 20-somethings with this: "Let's get this party started."
In an FNBO article on YouTube marketing (published on the bank's website as part of its "Insights" suite of content), DeMars points out that it's all intentional. She says the financial education videos for Millennials and Gen Z "take a fun, lifestyle approach to the financial topics that our customers care about most. Humorous conversations between real people make it possible for us to answer customer questions in a way that simplifies complex topics, allowing us to establish connections with potential customers long before they enter a branch or open an account online."
Second, they're conversational.
Here, Bailey and Betsy discuss how to (finally) pay off student loan debt.
FNBO selected a style for the videos based on the data. DeMars says, "83% of consumers prefer an informal chatty tone when watching videos. That's why we decided to take a conversational approach to our Dollar Belles video series." And it seems to be working. In a LinkedIn Pulse article on marketing to Millennials and GenZ, DeMars says, "These videos are gaining traction because they address financial topics in a casual, approachable manner. We're seeing success with our Dollar Belles video series [because] we provide Millennials and Gen Zers with the financial knowledge they're seeking in a way they're likely to respond to, on a platform they use."
Third, they're relatable.
The Dollar Belles video description opens with this question: "Is avocado toast really going to bankrupt you?" It goes on to ask, "How can you even THINK about a budget with student loans, cell phone, a car payment AND finding a place with decent rent?" In other words, FNBO isn't going to dump judgment in the laps of Millennials and GenZ as others (comedians, culture, parents, etc.) may have. The Dollar Belles *get* it.
DeMars writes on LinkedIn, "At FNBO, we've seen great success marketing to Millennials and Gen Zers by going to where they are and talking to them in ways they are receptive to hear. We pay attention to research that indicates what Millennials and Gen Zers are looking for in a bank or financial institution and tailor our messages to meet those needs."
Here's a great example from Amelis, a Dollar Belle who commiserates with viewers about the need for (and challenges of) self-care. She offers six tips "to help you live your best life."
In addition to offering relatable content, the financial education videos feature hosts who are relatable: the Dollar Belles and Bills themselves are Millennial/GenZ. DeMars' LinkedIn post states that the series "strengthen[s] our brand's authenticity by featuring real employees in their 20s, 30s and 40s." In addition, DeMars says, the videos "use real-life examples presented from the lives of our employees."
A bloopers reel published in January 2022 – "Plobody's Nerfect" – contribute to the relatability of the videos' cast members.
Takeways
YouTube stats on the videos are respectable but not staggering: Each video has no more than a few hundred views on that platform. However, when you count views on Instagram, Facebook and Twitter, FNBO gets great visibility for its homegrown social media finfluencers. It's a lesson in getting lots of mileage from the same piece of content and just one piece of evidence that FNBO's content marketing game is strong.
The brand publishes strong digital content across web (including "Insights" on a number of financial education topics), social media (including posts in a Cashology Facebook Group), audio (like the Cashology podcast hosted by another Millennial employee who is "eager to strengthen her financial health alongside you") and of course video (as featured in this post). In her LinkedIn Pulse post, DeMars explains why: "Content builds relationships. Relationships are built on trust. Trust drives revenue."
DeMars' description of the strategy brings us back to the beginning and the promised absence of "the sell." The Dollar Belles and Bills videos are branded modestly. Only a teeny tiny "by FNBO" logo sits beneath the really large DOLLAR BILLS logo/text when it appears on-screen: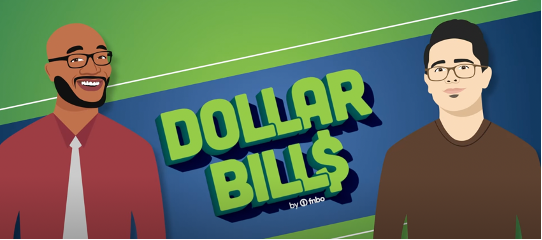 Even in the rare occasion when a video mentions a product that may help with financial wellness, animation helps the product feel unobtrusive: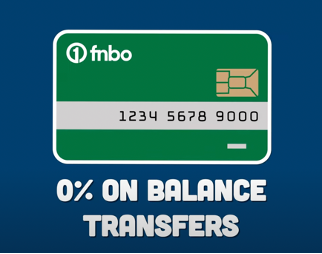 The sell is absent, or nearly absent, and that's just how DeMars – and good content marketing best practice – dictates it. In "Stop Cold Calling and Start Social Selling," DeMars writes that FNBO social content uses "social media channels to find, connect with and nurture sales prospects. The process builds on social interactions where users exchange information and share their expertise." She adds, "Be careful not to 'pitch.' …People are looking for genuine conversations about a problem or issue, so avoid pitching your product or service. Instead, offer your expertise in a way that establishes your authority."
FNBO's Dollar Belles and Dollar Bills playlist currently has 42 short videos on several standard financial education topics ranging from managing and paying off debt, buying a car, budgeting for a home purchase or remodel, investing for retirement, affording travel and pets, saving on weddings and refinancing a mortgage. The series also includes several unique topics like using financial apps, shopping local, creating a financial vision board, making money by renting out your space, donating to charity and supporting small businesses.