FNBO Taps Facebook Groups for "Cashology" Financial Education Hub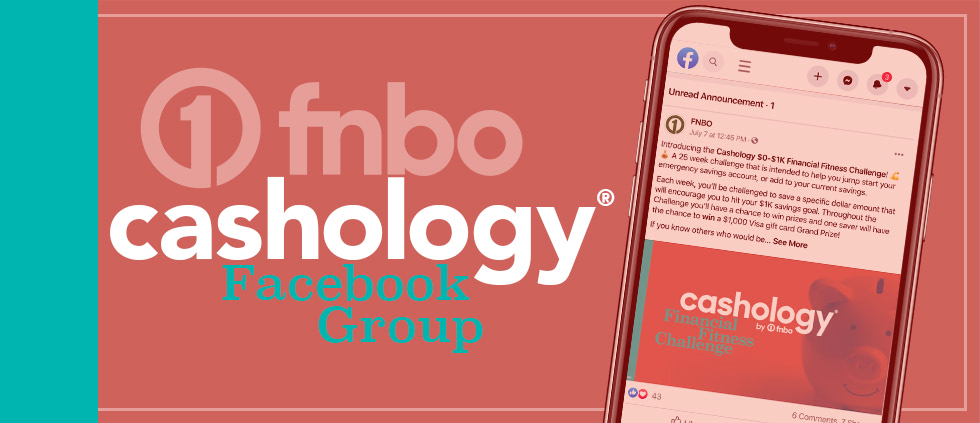 Knowing that financial education plays a role in customer loyalty, banks, credit unions and other FIs have been getting creative in how they share and showcase their expertise. Charles Schwab and Zelle participated in an Instagram-worthy pop-up called Stacks House. Ally Bank launched an augmented reality Monopoly game. And Tangerine Bank hosts Twitter chats.
With these efforts, besides hoping to increase awareness of available financial wellness resources, FIs (very smartly) seem to be seeking better customer engagement, which has become the holy grail of marketing for both campaigns (conversions) and content (social media, especially).
FNBO's Cashology, for example, is part content marketing strategy (with a designated section on the bank's blog) and part online community (with a dedicated Facebook Group), with the latter adding a key opportunity to encourage engagement with financial education. And earlier this month (July 2020), to further boost engagement, FNBO launched a "financial fitness challenge" within the Cashology Facebook Group in tandem with a sweepstakes.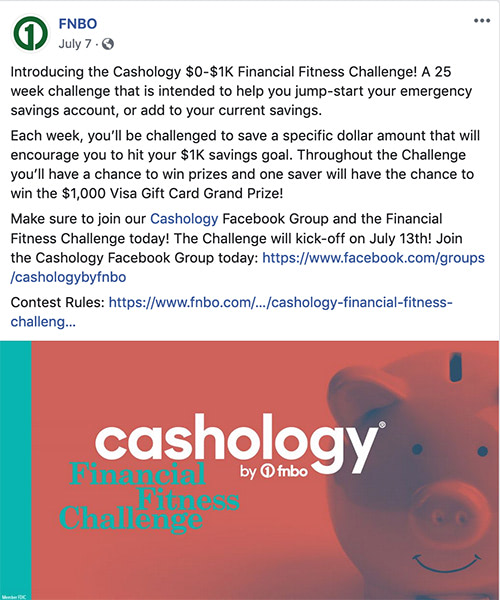 Throughout the 25-week challenge, FNBO will guide customers as they tuck away a specific dollar amount each week toward the goal of saving $1,000 and have chances to win a $1,000 Grand Prize to supplement their savings.
Here, FNBO describes the first step in the challenge, which is to save $5.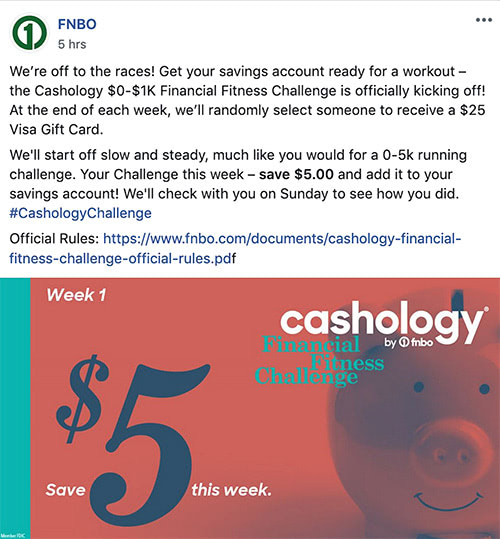 It will be interesting to see how FNBO handles the weekly "ask" as the dollar amounts get more aggressive, but we love how this challenge and the accompanying sweepstakes add a real-world element to the bank's financial education repertoire.
Designed to "help customers develop successful financial habits," the web presence for Cashology – which is promoted in the bank's Welcome Kit – includes blog posts and videos that seek to boost customers' financial IQ in saving, budgeting, credit and retirement. The public Facebook Group invites conversation on those same topics, and the new challenge helps to translate the financial concepts into action: customers who follow along will put money away and watch their balances grow.
And that kind of demonstration matters. If financial tips seem impractical, customers are less likely to trust them, but this approach has the potential to show customers what's possible. In addition, it gives FNBO not only the opportunity to partner with customers as they work toward a financial goal but also a good chance to keep customer attention for an extended – but well-defined – period of time.
We'll keep tabs on the effort and see how it goes!
As marketers, we're delighted that FNBO is tapping Facebook in this way. We wrote about use of Facebook Groups in financial services earlier this year, and it's exciting to see the feature at work as part of a strategy to create engagement with financial education.