Ally Bank Monopoly Campaign Makes a "Play" for Customer Engagement With Financial Education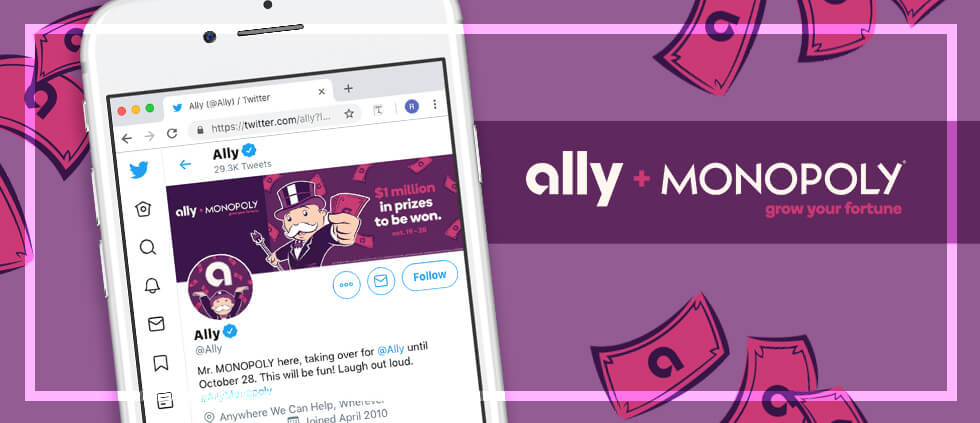 It's 2019. Do you know where your Monopoly game is? If it's been a while since you last checked in with it, you may have missed a few things. Let's bring you up to speed!
First, Mr. Monopoly, the game's tycoon, is now on social media just like you are. (Through a takeover of the Ally Bank social profiles, he's doing it for the 'Gram, taking it to Twitter and posting pics for the fam on Facebook.)

Second, augmented reality brings the Monopoly board to life in the streets of New York, Chicago, Seattle, Charlotte, Detroit and Dallas, and illustrators have created a "Where's Waldo"-looking cartoon version for the web on a microsite published by Ally Bank.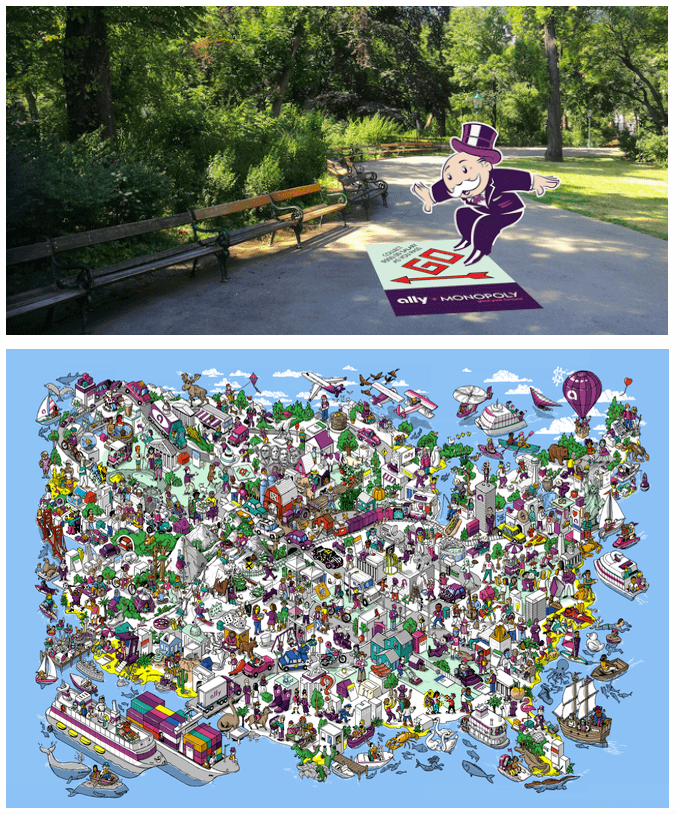 And finally, the incentives for playing are a little richer: prizes total $1 million, including up to $50,000 in cash and a new Jeep Wrangler. ("That's $1 million in real cash, not Monopoly money," as The Detroit News reported.)
We love what Ally is doing with ally + MONOPOLY, a campaign lasting 10 days (October 19-28) and utilizing Twitter, Facebook and Instagram (including Stories), a microsite and augmented reality experiences. From a marketing standpoint, here are some highlights:
1. The campaign is built for engagement.
By virtue of being a game, ally + MONOPOLY is designed to be engaging, both online and IRL (in real life — bonus points for this online bank!). Navigating the boards on the web and in cities streets required players to explore… literally. All the while, customers and other curious participants were exposed to the spirited bank brand and its push for conversations about money.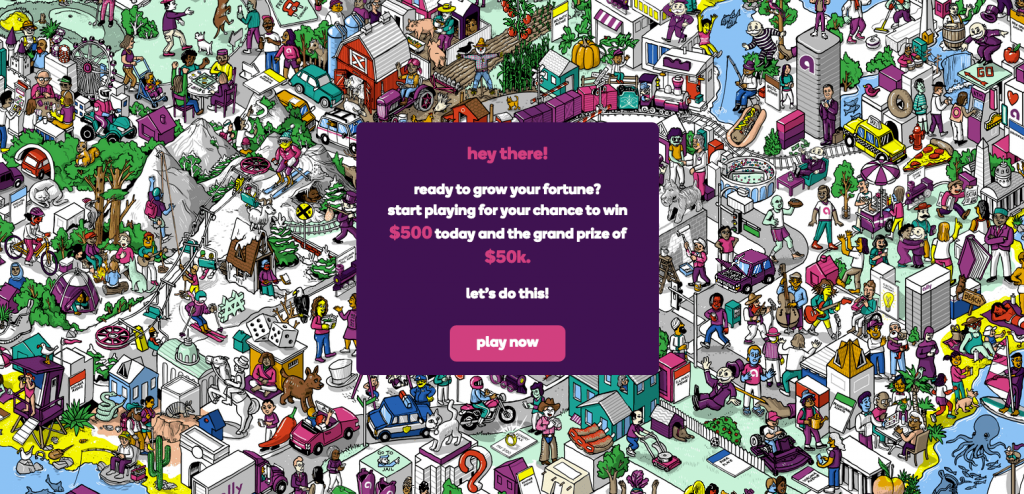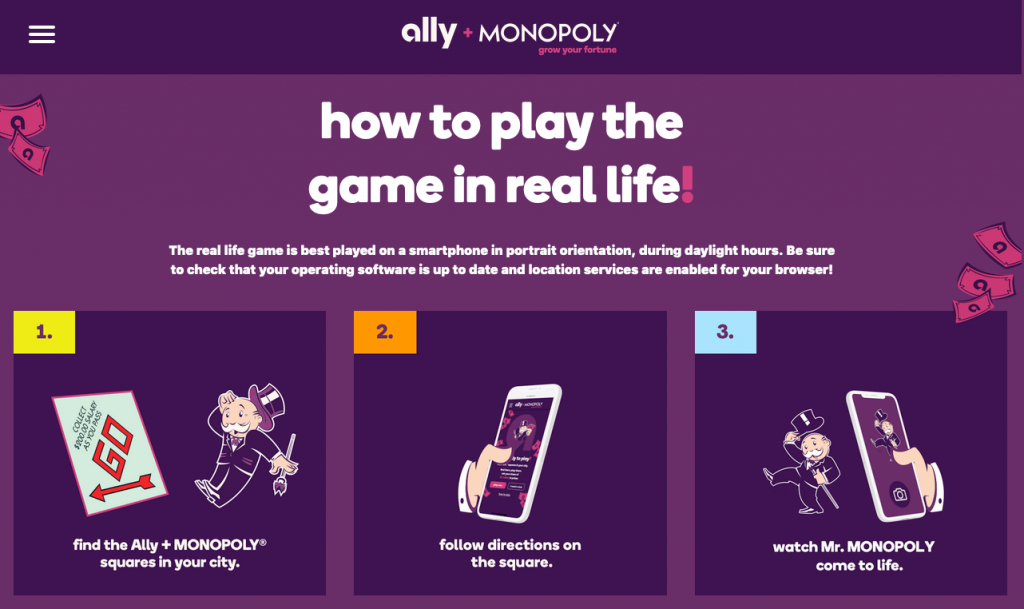 Via the hashtag #AllyMonopoly, the IRL component also lead to the crowning jewel (or should we say silver top hat?) of social media engagement: user-generated content. As you can see, players were delighted and posted some terrific photos using the hashtag.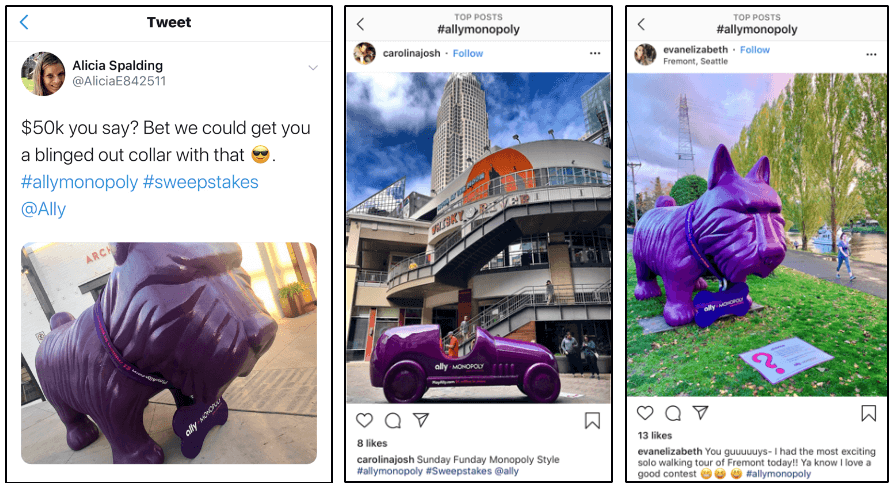 2. The campaign has fun with financial education.
We know that financial education content can enhance customer loyalty, and we keep our eye out for all the ways banks and credit unions are bringing attention not only to financial concepts (like this immersive, pop-up experience) but also to their own expertise (as with this Twitter chat). Ally's campaign is a particularly innovative financial education effort described as part of an "ongoing strategy to make the 'money talk' less intimidating, giving people the confidence to talk about saving and spending, making investments, buying a home and how to recover if they have a financial stumble. Players are going to have a blast with this game – learning about money, winning some great prizes and hopefully taking actions that will change their lives."
It's a lot to ask, and admittedly, ally + Monopoly is light on the actual financial education. However, it's definitely a conversation starter, and money tips are embedded in the game.


3. The campaign feels aligned/authentic.
If you learned to count and make money by playing Monopoly as a kid, you're in good company. According to HASBRO, 86% of Americans played money-related board games a children, and of those, 71% say "playing these games as a child helped make them be more comfortable with money concepts." It makes sense, then, for Ally to put its own spin on the board and re-introduce us to Mr. Monopoly. Ally infuses its personality into the game, using its brand voice in all materials, deploying its LTF (look, tone, feel) across all channels and giving Monopoly's iconic images a total refresh.
4. The marketing campaign incorporates public relations opportunities.
By incorporating a real-world, physical component to the game in six cities (plus a competitive element* tied to a charity in each location), Ally earned coverage in local media outlets, like the The Detroit News (quoted above) and Charlotte Business Journal. Here's how the Detroit Free Press described ally + MONOPOLY activities in that city: "Mr. Monopoly himself was in the streets of Detroit Thursday afternoon, and he parked his giant car game token in front of the Detroit Opera House. To go along with the launch of the game, Ally will host an event … where there will be a Monopoly food truck offering free food, Ally swag and an appearance from Mr. Monopoly. Before the game begins, however, Mr. Monopoly and Ally employees are handing out prizes around downtown. People can randomly receive free Lions or Red Wings tickets, passes to Massage Envy or free coffee and donuts."
5. The campaign is, excuse the pun, playful.
Name a greater rush than passing GO. I'll wait.

-Mr. MONOPOLY#AllyMonopoly

— Ally (@Ally) October 18, 2019
Ally + MONOPOLY is playful, and that's the primary takeaway for regional banks and credit unions. Financial institutions no longer need to — and probably cannot afford to – wring their hands worrying that fun, experiential marketing isn't for them. Creative financial education campaigns like this not only show that FIs can push beyond what they'd consider traditional marketing but also make a good case for it being necessary in order to cut through the noise and get consumers engaged with the brand.
MONOPOLY isn't Ally's first foray into social media shenanigans and augmented reality. It launched its Instagram account earlier this year with a Truth or Dare game to get couples talking about money, and in February, it developed an AR experience to accompany users' viewing of the Super Bowl. Play and experimentation almost seem to be hallmarks of the Ally brand, and that won't be the case for all banks and credit unions. The lesson for them isn't to think outside the board game box like Ally has. Instead, these FIs should do some serious brainstorming about what would excite and engage their specific audience while amplifying (and actively symbolizing/demonstrating) their own brand promise.
* Here's how the charitable giving part of the campaign worked, according to the Ally Bank press release: "Ally's AR version of the MONOPOLY game includes a Community Chest square, where players can raise money for their local Junior Achievement chapter just by landing on it. Ally will make a donation of $50,000 to Junior Achievement in the city with the most plays of the virtual Community Chest. Ally also will make a donation of $15,000 to Junior Achievement in the other five cities, totaling $125,000 nationally."
Tags:
Ally Bank
,
customer engagement
,
financial institution marketing
,
gamification for financial services
,
social promotions for financial services