"Pop-Up With a Purpose" Offers Experiential Financial Education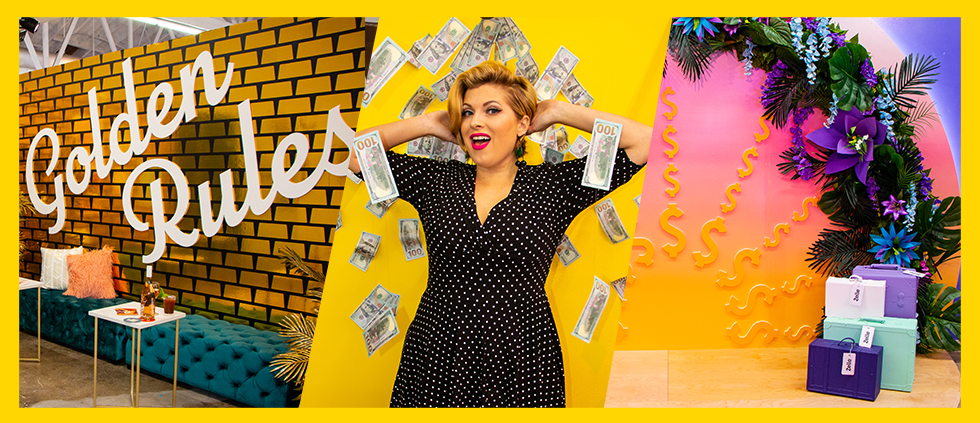 In the Stacks House "money museum," Charles Schwab has sponsored a rodeo room, and Zelle has sponsored an enormous cake lit with dollar sign candles. There's also a Debt Boxing Gym, a Side Hustle Salon and a "Gold Bar" that serves drinks. These interactive exhibits – complete with backdrops for selfies, of course – aren't just fun and games, though. They are designed to cut through the financial services marketing "noise" and present financial education in an engaging, experiential way to Millennial and Gen Z women.
Stacks House describes itself as "a massive traveling Instagram museum for financial empowerment, filled with inspiring exhibits and rich programming to help women boss their finances… a visual spectacle, sensory experience and Instagram playground – with a twist. Inside Stacks House attendees will engage with money-themed rooms, walking away with more confidence, financial literacy and inspiration to build wealth." An article in Marketplace provides additional details: "Throughout the pop-up, walls in different rooms are lined with advice that's supposed to be both practical ("Build a diversified portfolio") and inspirational ("When you make bold money moves, something magical happens. You get what you really want"). Kiosks with surveys and quizzes are sprinkled throughout each room, asking you about the type of debt you have or whether you know the earliest age you can start collecting Social Security benefits."
The experience may also be summarized this way (as Mary Wisniewski, an author for BankRate, writes here): "I'm in downtown Los Angeles in a pop-up designed to inspire Millennial women to save, pay down debt and invest, and I'm riding a mechanical pig branded with a dollar sign." Sound silly? That's part of the point, according to Wisniewski who says, "The pursuit to make people care about money requires trying all kinds of things." In this case, Stacks House is trying "over-the-top, participatory experiences that marry useful information with messages of empowerment. … We're making financial literacy simple, sexy and social."
In other words, Stacks House takes women's financial literacy seriously, but it doesn't let that get in the way of frivolity and humor. As financial expert, author, podcaster and Stacks House founder Farnoosh Torabi tells Marketplace, "We've sort of reached a financial literacy peak, if you will, as far as all the content that's out there — which is really inspiring and great, but we felt that what could really help move the needle even further was providing an experience." Writing for Refinery29, Torabi says the "pop-up with a purpose … supports women in their journey to becoming financially free while having loads of fun."
What we like about the pop-up and its purpose(s)
Without a doubt, Stacks House is an interesting concept. Here's why – even beyond the financial education theme – we think banks and credit unions may want to take note:
Stacks House got our attention. We encounter lots of marketing (from web to events) that focuses on financial literacy, and this cut through the noise, just as it was intended to do. The Stacks House press kit says, "Why start with a pop-up? There's an increasing amount of quality financial content out there dedicated to women, which is fantastic. Our goal is to take that content to the next level and add layers of experience, community and glamour."

From the Stacks House example, banks and credit unions can learn the value of breaking the financial seminar out of its lecture/Q&A box. (Think beyond refreshments when deciding what your events can offer attendees.)
Stacks House is fueled by the cultural moment. From #timesup and #metoo to a record-breaking number of women running for political office and the world champion soccer team calling for equal pay, female empowerment – including economic empowerment – is part of the cultural dialogue right now. Stacks House understands that "for women, money isn't just power – it's freedom. Freedom to make choices, walk away from bad situations and live life on our own terms." Put another way, as reported in Marketplace, Stacks House advances "financial feminism," which Torabi defines as "believing that women deserve income equality and access to financial literacy."

Like Stacks House, banks and credit unions must do more than inform customers about finances. FIs must think bigger than that, and a good place to start is understanding the value of inspiring and motivating customers. (Bonus points here for being nimble enough – or partnering with organizations that are nimble enough – to tap into the topics that are capturing audience attention in any given moment.)
Stacks House starts conversations. Quite simply, as Wisniewski points out, "Stacks House won't solve your serious personal finance problems, but it's not meant to. It's a conversation starter." To build relationships, of course, banks and credit unions must be able to open conversations.
Stacks House targets a very specific audience with meaningful content. Even though some critics and participants say Stacks House founders didn't strike the right balance, it offered substance along with the selfies. Wisniewski, who notes that the "biggest hit" was a panel on earning your worth, also says the experience isn't for everyone and "could feel out of touch." She explains, "It's for a certain audience who can afford to pay $38 and might read Girlboss or Refinery29. It's for an audience who has a bank account but wouldn't dream of going to a branch to learn about financial literacy." As reported by Forbes here, the audience for the inaugural Stacks House pop-up in L.A. was "women who are educated and ambitious and want to evolve their financial lives. They just need to get more confidence and get the right resources."

The bottom line for banks and credit unions? One size doesn't fit all. You must segment your audiences, target your messaging and make it worthwhile.
Stacks House is part of a larger vision. Stacks House isn't a one-and-done event, and it's not just about themed rooms. Its founders are using data gathered from participants' answers to quizzes to determine what it offers next. As reported in Marketplace, "This data collection is all in service of a larger goal: helping She Stacks, the parent company, figure out the types of products and tools it should develop."

Stacks House demonstrates the importance of having a strategy. Banks and credit unions must not only think about tactics but also define a vision. (More bonus points here for FIs who never let an opportunity to capture customer data pass them by.)
Tags:
customer engagement
,
experiential marketing
,
financial services marketing
,
financial wellness