8 Tips to Navigate the Evolving Affluent Market – 2020 Edition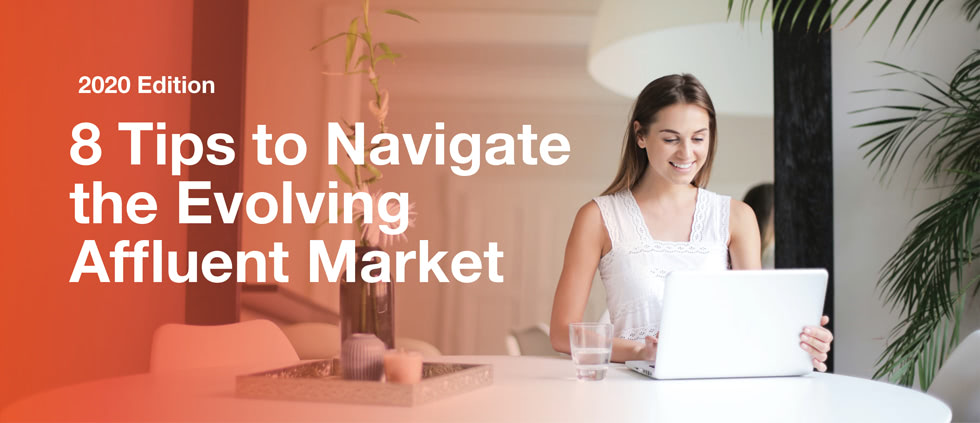 The affluent market continues to be important to financial services marketers, and 2020 has demonstrated that the affluent segment is resilient not only in mindset but also in their personal financial security and a pent-up demand for purchasing.
Millennials and Gen Z cohorts are on the rise in terms of buying luxury items. They may not yet embody the conventional definition of affluence, but many luxury brands are focusing on these high earning, not rich yet consumers (HENRYs) with the intention of establishing relationships now. Financial brands can benefit by understanding the shift in focus that this evolution is bringing – towards brands that value sustainability, are inclusive and embrace new definitions of status.
Brands can also leverage this new insight: 72% of affluent consumers are welcoming of brand outreach with new levels of interest in and click-throughs on advertising. The events of 2020 accelerated online transactions for luxury goods, despite the fact that 60% of affluent consumers prefer shopping in stores.
Based on the most recent research, Media Logic's financial services marketing experts have identified the "next normal" list of marketing tips for reaching affluent consumers. From striking the right tone to revisiting affluent basic requirements like top-notch customer service, these tips can help shape your affluent marketing campaigns for 2020 and beyond.
Access our affluent marketing tips below or click here for a printable, 2-page PDF.